---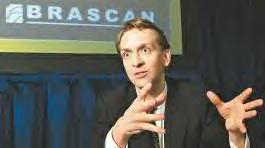 Bruce Flatt, CEO, Brookfield Asset Management
Chicago-based General Growth Properties (GGP.N), in voluntary Chapter 11 protection since April 16, 2009, has set up a creative exit plan that once again would re-establish the company as the second largest mall developer in the U.S.
The company filed its plan with the U.S. Bankruptcy Court in New York City.
General Growth hopes the two-round bidding war plan for the sale of company stock will raise over $6.55 billion, and along with $1.5 billion in new debt issuance, would give it enough capital to emerge from Chapter 11.
Among the big-name players who will be bidding for a piece of General Growth Opportunities, the name of GGP's new company that will be formed after it leaves Chapter 11, are:
Simon Propery Group of Indianapolis, IN; Brookfield Asset Management of Toronto; Fairholme Capital Management of Miami; Pershing Square Capital Management LP, Elliott Management Corp. and Paulson & Co. (NASDAQ: PLCC), all of New York City.
First-round bids are due by April 19. GGP hopes to have a final deal in place and present it to bankruptcy court by July 2 and exit by Sept. 30.

William Ackman
Reuters reports that already in place is a stand-alone plan that calls for Brookfield Asset Management (BAMa.TO), Fairholme Capital Management and William Ackman's Pershing Square Capital to invest $6.55 billion to bankroll General Growth's exit.
In return, these investors between them will get majority interest in a reorganized entity to be called General Growth Opportunities, and warrants to buy another 120 million shares. GGP valued the warrants at $519 million as of March 30.
Brookfield, a Canadian investor in property, power and other infrastructure assets, would get a 26 percent stake in the reorganized company and three of nine board seats. It also could would play a larger role in General Growth's future, Reuters reports.
Brookfield, which manages about $40 billion of real property assets, has offered to provide asset management services for free, assist in corporate finance matters and install one of its own executives to run General Growth Opportunities, the new company that would house non-core assets.
Brookfield made a case for shareholders to back a standalone exit for General Growth, saying the company's shares were undervalued as it has not been able to improve operations because of its bankruptcy.
A sale at this time does not maximize value for existing shareholders, it said.
"We believe this is one of the great real estate value opportunities currently available in the capital market," Brookfield Chief Executive Bruce Flatt said.
Other investors are eyeing General Growth's 265 malls. Some of these suitors have an incentive to unseat the standalone plan before the court approves the warrants, which would make their bids more expensive, Reuters reports.
General Growth said its bidding procedures give potential bidders the opportunity to submit better proposals both before and after the warrants are issued.
Along with the first-round bidding, General Growth said it will conduct a competitive process to obtain investments from parties who can submit binding proposals to co-invest or provide capital on better terms before the April 19 deadline.
It also said if it received additional proposals, including takeover bids, that are better than the offers in hand before the hearing, set for April 29, it may seek approvals for those offers instead.
Simon, which had initially made a $10 billion takeover offer for General Growth, has been weighing a higher bid. A new offer could see Simon partnering with Blackstone Group (BX.N) and sovereign wealth funds.
Another group of investors, including Elliott Management and Paulson & Co., is also interested in coming in with an offer to help fund General Growth's exit from bankruptcy.
General Growth said it has also reached out to certain parties who could be interested in making a proposal.
It wants to select bidders for the second round by April 28, and set a June 2 deadline for bids in that round.
Excluding the warrants, the company's existing shareholders will get 34 percent of the equity of reorganized General Growth and 86 percent of the equity of General Growth Opportunities.
The shareholders get $15 per share in stock, with $5 per share coming from General Growth Opportunities.
Fairholme and Pershing will invest $2.8 billion and $1.1 billion for 28 percent and 11 percent, respectively, of the reorganized company. Their investment however can be reduced to $1.9 billion if General Growth is able to raise the remaining money elsewhere on more favorable terms.
Brookfield and its consortium partners will invest $2.63 billion.
General Growth valued the warrants being given to Brookfield at $260 million, Fairholme at $185 million and Pershing at $74 million. These warrants are to be issued within one business day after the entry of an order approving its request.
General Growth said the equity investment and anticipated new debt of $1.5 billion -- or the reinstatement of a comparable amount of existing debt -- would bring it the cash needed to allow the company to emerge from bankruptcy, Reuters reports.
Unsecured creditors will get par plus accrued interest on their claims under the plan.

Please see related Real Estate Channel postings:
---
Sign Up Free | The WPJ Weekly Newsletter
Relevant real estate news.
Actionable market intelligence.
Right to your inbox every week.
---
Real Estate Listings Showcase