---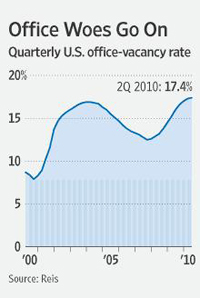 The office-leasing numbers look good right now but they could be deceiving, according to a recent national study by New York City-based Studley.
In the 12 months that ended June 30, office tenants signed 161.3 million square feet in leases nationwide. That is a 5.7% increase over the 12-month period ended in March.
But what the numbers don't show is that tenants are signing up for less space than they previously had. Each employee is being given a little less work room.
Three of the five largest deals of the second quarter in New York City involved tenants either taking the same amount of space or less, according to The
Wall Street Journal
.
"Until tenants shift into expansion mode ... the market will be engaged in a process of musical chairs," states Studley's second-quarter report on New York.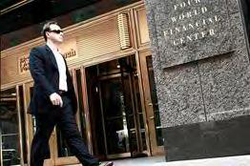 The trend bodes poorly for an office market struggling with a national vacancy rate of 17.4%, the highest since 1993, according to real-estate research firm Reis Inc.
Concerns are particularly acute for the hundreds of office properties that are in precarious financial condition because they are worth less than the mortgages that were made during the boom years. They need to fill space to boost rental revenue -- and values, the WSJ reports.
"People should temper their expectations about how quickly office space will be leased up," said Victor Calanog, research director for Reis. "Where there are leases being signed, companies are trying to be efficient with the space they're using."

Victor Calanog
Businesses aren't expanding as much partly because they are uncertain about the strength of the economic recovery. They also are figuring out how to use less space per employee by setting up more-collaborative work environments.
The
Wall Street Journal
reports law firms are increasing the number of attorneys assigned to a single secretary while eliminating libraries and filing areas. Corporations moving into new offices often are asking architects for open floor-plans and fewer offices. The White House is asking federal agencies to look for ways to consolidate offices and cut the amount of space they use.
NRG Energy is cutting office space in Houston by moving into an open-plan work space modeled on its Princeton, N.J., headquarters. In Houston, NRG Energy Inc. is moving out of 260,000 square feet across two buildings into less than 220,000 square feet of office space in a new property, Houston Pavilions.

Denise M. Wilson
The New Jersey-based power company's employees will work in a space with no enclosed offices, reducing the amount of space per employee the company needs to pay for, and, executives say, helping people work more efficiently.
"You get efficiency from a real-estate standpoint, but you gain even more efficiency from the way people interact or share information," Denise Wilson, NRG's chief administrative officer, says.
Law firms have been among the most aggressive in reducing their space. Law firm Baker & McKenzie recently signed a lease to move its offices into 237,000 square feet down the street from its current home in Chicago's East Loop, allowing it to reduce space per attorney to about 700 square feet from 1,000 square feet, according to Jones Lang LaSalle Inc.'s Bill Rogers, who brokered the deal.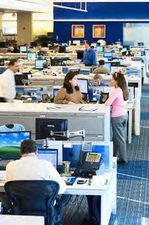 Landlords have taken note. Boston Properties President Doug Linde said in a conference call with analysts last month that law firms were looking to reduce their overall footprint by 10% to 15% -- both because they no longer need many spread-out conference and file rooms and because they have yet to rehire laid-off employees.
"We have seen a clear change," Linde said, according to a transcript.
More efficient use of space could help reduce office demand even when the economy recovers -- adding to the hesitation that most real-estate developers feel about investing in new buildings.
The trend "is an impediment for new construction," says Richard LeFrak, head of LeFrak Organization, a large private developer in New York. "We have all this supply from within. You have to be cautious now."
In New York, accounting giant Deloitte recently asked the city for $11 million in tax breaks that would support a consolidation of its New York offices at 4 World Financial Center in downtown Manhattan.

Doug Linde
Under the lease deal, which isn't final, Deloitte -- which now occupies some 934,000 square feet of office space in the city -- would eventually move those operations into just 390,000 square feet at 4 World Financial Center, with options to expand to 630,000 square feet.
Deloitte would spend more than $90 million on building and fitting out the space with a new, more efficient design, according to its application for the tax breaks.
The federal government also is looking for more efficient office space. President Barack Obama in June sent a memo to federal agency heads urging them to squeeze $3 billion in costs out of their real-estate portfolios by the end of the 2012 fiscal year by, among other things, consolidating into unused office space and increasing the number of people who can work in an office.
---
Sign Up Free | The WPJ Weekly Newsletter
Relevant real estate news.
Actionable market intelligence.
Right to your inbox every week.
---
Real Estate Listings Showcase