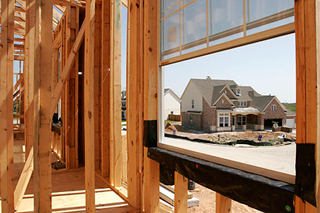 Housing Starts and Permits for October Set New Low Records
Overall housing starts declined 4.5 percent to a seasonally adjusted annual rate of 791,000 units in October, the slowest pace recorded for any month since the government started keeping track in 1959.
Single-family starts declined for a fifth consecutive month, by 3.3 percent to 531,000 units, the slowest pace since October of 1981. Multifamily starts fell 6.8 percent to 260,000 units.
Issuance of building permits, an indicator of future building activity, was down across the board in October.
Total permits registered a sharp 12 percent decline to 708,000 units - again, the lowest rate for any month on record since the series began.
Single-family permits fell 14.5 percent to a seasonally adjusted annual rate of 460,000 units, the lowest level since February of 1982. Multifamily permits fell 12.3 percent to 241,000 units.
Regionally, permit issuance fell 23.7 percent in the Northeast, 3.7 percent in the Midwest, 13.5 percent in the South and 8.8 percent in the West.
The Commerce Department notes two out of four regions posted double-digit declines in housing starts for October, including the Northeast's 31 percent reduction (which may have been accentuated by a recent building code change in New York City) and the Midwest's 13.7 percent decline.
Meanwhile, starts in the South eked out a gain of 1.5 percent and starts in the West bounced partway back from a major decline in the previous month with a 7.5 percent gain in October.
"Today's record low numbers are in sync with results of our latest home builder surveys, and are clear evidence of the need for both fiscal and monetary stimulus efforts by the federal government," says National Association of Home Builders Chief Economist David A. Crowe.
"In particular, Congress should consider significant consumer incentives such as expanding the first-time home buyer tax credit and providing a government buy-down of mortgage interest rates for home purchasers - policies modeled after a successful use of the same dual stimulus to housing demand in the 1974-1975 recession.
"Without a consumer kick-start, the downward momentum will continue longer and deeper."
NAHB Chairman Sandy J. Dunn has been emphasizing the same points.
"Builders are doing everything in their power to address the overhang of unsold homes on the market through aggressive inventory management, including reining in production of new homes and offering substantial home buyer incentives," says Dunn, a home builder from Point Pleasant, W.Va.
"But this simply isn't enough. More needs to be done, and Congress and the Administration need to step in with measures that will help get consumers back into the marketplace and revive economic growth."