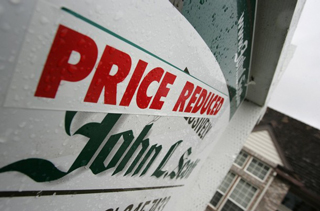 Sales of Existing Single-Family Homes and Condos Up but Prices Continue to Drop
Standard & Poor's says its S&P/Case-Shiller Home Price Indices through September of this year shows continued broad-based declines in the prices of existing single family homes across the United States, a trend that prevailed since 2007.
"The turmoil in the financial markets is placing further downward pressure on a housing market already weakened by its own fundamentals," says David M. Blitzer, Chairman of the Index Committee at Standard & Poor's. "All three aggregate indices and 13 of the 20 metro areas are reporting new record rates of decline."
Blitzer says, "Looking at the returns of the U.S. National Index, prices are back to where they were in early 2004. As of September 2008, the 10-City Composite is down 23.4% from its peak, the 20-City Composite is down 21.8% and the National Composite is down 21.0%."
The decline in the S&P/Case-Shiller U.S. National Home Price Index - which covers all nine U.S. census divisions - remained in double digits, posting a record 16.6% decline in the third quarter of 2008 versus the third quarter of 2007.
Blitzer says this has increased from the annual declines of 15.1% and 14.0%, reported for the second and first quarters of the year, respectively.
The 10-City and 20-City Composites continue to set new records, with annual declines of 18.6% and 17.4%, respectively.
Phoenix was the weakest market, reporting an annual decline of 31.9%, followed by Las Vegas, down 31.3%, and San Francisco at -29.5%. Miami, Los Angeles, and San Diego did not fair much better with annual declines of 28.4%, 27.6% and 26.3%, respectively.
Dallas and Charlotte faired the best in September in terms of relative year-over-year returns. While also in negative territory, their declines remained in single digits of -2.7% and -3.5%, respectively.
However, Blitzer points out, both are at rates of decline lower than those reported in August's numbers. In addition, Charlotte also reported its largest monthly decline on record, down 1.3%. Monthly returns were negative across the board.
Cleveland was the one market that showed any improvement in its year-over-year returns reporting -6.4% compared to the -6.6% reported for August.
In a regional report, the Florida Association of Realtors says Florida's existing home sales rose in October for the second month in a row, showing a 15 percent increase in activity in the year-to-year comparison.
Last month's sales of existing condos statewide increased 5 percent in the year-to-year comparison.
A total of 10,443 existing homes sold statewide last month, up 15 percent over the 9,118 homes sold in October 2007. Florida Realtors also reported higher statewide existing home and existing condo sales in September compared to the year-ago levels.
But prices continued their downward spiral in all markets.
Florida's median sales price for existing homes last month was $169,700; a year ago, it was $222,200 for a 24 percent decrease. The median is the midpoint; half the homes sold for more, half for less.
The national median sales price for existing single-family homes in September 2008 was $190,600, down 8.6 percent from a year earlier, according to the National Association of Realtors.
In California, the statewide median resales price was $316,480 in September; in Massachusetts, it was $295,000; in Maryland, it was $271,520; and in New York, it was $215,000.
Florida's existing condo median sales price last month was $147,600; in October 2007 it was $192,300 for a 23 percent decrease.
Market conditions continue to range widely, according to the latest housing outlook from NAR.
"A pattern of sharply higher sales in areas with large price declines is well established," says NAR Chief Economist Lawrence Yun.
"Affordability conditions have consistently been a major factor in driving sales. Historically during recessions, buyers have responded to incentives and it's important for government to keep that in the forefront of housing stimulus decisions."