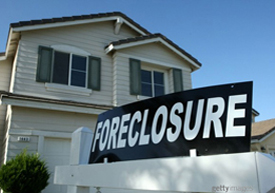 SPECIAL REPORT:
One Million Homeowners Win Foreclosure Breather as 3 Big Banks Goof on Alleged Fraudulent Actions
Bank of America, JP Morgan Chase and GMAC Mortgage Halt Foreclosure Actions in 23 States.
At Least One Bank of America Official Signed Off on 8,000 Foreclosure Applications Without Reading Them.
Other Lenders Acknowledge Automatically Signing Off on "Tens of Thousands) of Foreclosure Actions.
Office of the U.S. Comptroller of the Currency Tells 7 Big Banks to Immediately Check Their Foreclosure Procedures.
The Federal National Mortgage Association (Fannie Mae) followed Up by Directing 1,400 Loan Services to Check all Their Foreclosure-Filing Paper Work.
Connecticut Attorney General Richard Blumenthal Freezes all Foreclosure Actions for 60 Days.
California Attorney General Jerry Brown Demands JP Morgan Chase to Show the Bank Fully Complied With State Foreclosure Law.
Temporary Foreclosure Halt Means Market Won't Be Flooded With More Houses for Sale, Giving Prices a Chance to Stabilize.
Thousands of Lawsuits by Homeowners Against Lenders Involved Expected to be Filed Shortly.
An estimated one million U.S. homeowners, behind in their mortgage payments, are breathing easier today after three of the country's largest banks agreed to immediately stop new foreclosure actions until they could review sloppily-read foreclosure filing by their own staffs.
The lenders are Bank of America, JP Morgan Chase and GMAC Mortgage Co. owned by Ally Financial Inc. They are temporarily halting foreclosure actions in 23 states.
They are Connecticut, Delaware, Florida, Hawaii, Illinois, Indiana, Iowa, Kansas, Kentucky, Louisiana, Maine, Nebraska, New Jersey, New Mexico, New York, North Dakota, Ohio, Oklahoma, Pennsylvania, South Carolina, South Dakota, Vermont and Wisconsin.
Several states are stepping up pressure to halt foreclosures.
- On Friday, Oct. 1, Connecticut Attorney General Richard Blumenthal asked a state court to freeze all home foreclosures for 60 days.
Doing so "should stop a foreclosure steamroller based on defective documents," he said, the
Associated Press
reported.
- California Attorney General Jerry Brown called on JPMorgan to suspend foreclosures unless it could show it complied with a state consumer protection law.
The law requires lenders to contact borrowers at risk of foreclosure to determine whether they qualify for mortgage assistance.
- In Florida, one of the country's largest residential real estate markets, the state attorney general is investigating four law firms, two with ties to GMAC, for allegedly providing fraudulent documents in foreclosure cases.
In Ohio, the attorney general this week asked judges to review all GMAC foreclosure cases for their legality.
The banks so far have not disclosed the total number of foreclosure actions they are reviewing, but banking industry insiders have told the electronic and print media about one million applications are being checked.
A source at JP Morgan Chase told the media about 50,000 foreclosure applications are being reviewed at his bank.
The announcement by the three banks late Friday, Oct. 1, marked the newest scandal emanating from Washington, but this time not directly affecting President Barack Obama's revolving-door stable of Administration executives.
Still, the government quickly became involved by the Office of the Comptroller of the Currency ordering seven of the largest lenders in the U.S. to immediately review their procedures in handling foreclosure applications.
Those lenders are JP Morgan Chase, Citigroup, HSBC, PNC, Wells Fargo, Bank of America and U.S. Bank, which is not affiliated with the federal government.
The Federal National Mortgage Association (Fannie Mae), owned by the government, followed up by ordering 1,400 loan servicers nationwide to re-check their foreclosure-filing paper work.
Bank of America officials acknowledged one of their staffers had regularly signed off on about 10,000 foreclosure actions without actually reading the application.
Unidentified officials at other banks acknowledged to online and print media that their staffs regularly sign off on "tens of thousands" of foreclosure actions without actually reading them at all.
Real estate executives, lawyers and lenders are involved in this latest Washington scandal. Thousands of lawsuits are expected to be filed by homeowners against the lenders involved, alleging fraud in filing the foreclosure applications.
A lawyer for a homeowner in one case already, James O'Connor of Fitchburg, MA, told The Wall Street Journal alleged illegal foreclosure actions by lenders are rampant throughout the industry.
"We have had thousands, maybe hundreds of thousands of foreclosures around the country by entities that did not have the right to foreclose," O'Connor said.
"The general level of sloppiness is pervasive around the industry," Diane Thompson, counsel at the National Consumer Law Center, told the WSJ.
For the homeowners, the action by the banks gives them a little more time to catch up on their delinquent mortgage payments.
For the residential real estate market, the action means fewer houses will be dumped in the for-sale arena, giving falling prices a chance to stabilize.
For the real estate market as a whole, the banks' actions give the industry another black eye at a time when it is struggling to regain the public's confidence.
For commercial statistical houses, such as RealtyTrac of Irvine, CA which RealEstateChannel regularly publishes, the temporary halt in foreclosure filings means the numbers for the next several months will be skewed, says Rick Sharga, a RealtyTrac senior vice president.
That means October and November's reports will likely show an artificially low number of foreclosure starts. Some might interpret the falling numbers as improvement.
But "don't get too excited about the market getting better," Sharga warns.
Provided the paperwork is in order, which Sharga thinks will be the case in many of the stalled foreclosures, REO (real-estate-owned by the bank) actions, or actual foreclosures, will likely spike early next year.
"Don't panic and think everything is sinking," he tells The Wall Street Journal.
Earlier this month, RealtyTrac reported that lenders foreclosed on more than 95,000 properties in August, shattering the report's previous record dating back to mid-1995.
The good news? Delinquencies appear to be slowing down, meaning fewer foreclosures are headed for the pipeline.
Fannie Mae last week said serious delinquencies on single-family mortgages slid in July from June, the fifth-straight month of declines, the WSJ reports.
Barring further economic upheaval, Sharga speculates foreclosure filings should peak next year, followed by a gradual reduction in 2012. This "significant overhang of distressed properties" will spend 2013 being sold off, he tells the WSJ.
He predicts the residential market will be normal again in 2014.
---