---
Condo prices down 51% since 2007.
Median price now at $135,000 v. $275,000 three years ago.
1,000 new units sold from May to December 2009
Majority of buyers are from South America.
7,000 of the 22,000 new units built since 2003 remain unsold.
Most of the unsold units are in the Brickell Avenue sector, just off Downtown.
Biggest winner to date: Melohn Properties of New York City
Biggest losers: Christa Development of Victor, NY and Bluerock Real Estate of Manhattan.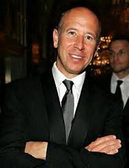 If you can't find a suitable condominium home to buy or rent in Miami-Dade County these days, you are not trying hard enough, South Florida industry watchers repeat every day.
Deals are being made left, right and center. Condo prices are down 51 percent from 2007. The median price of $135,000 is down from $275,000 three years ago.
Miami-Dade County's stock of 22,000 new condominium units built since 2007 are gradually being sold - but the bulk of the buyers are investors primarily from South America.
"In South America, a Brickell address is like a U.S. savings bond," Jay Massirman, a senior managing director of Related Group of Florida, which developed the complex, tells The New York Times. "They know that prices are not going any lower."
He says buyers also know they are buying for less than it cost to build the units.

No surprise there but what is catching the attention of industry watchers in South Florida these days is the new Downtown occupancy number - 74 percent, up from 68 percent.
The majority of the buyers are investors and the majority of the occupants are renters - that's a new trend, according to several seasoned condo monitors.
The Times reports activity is picking up, though buyers who intend to live in their units are primarily interested in top properties in the best locations, according to Robert Kaplan, a principal of Olympian Capital Group, a real estate investment bank in Miami.
The Caribbean condo community at 37th Street and Collins Avenue in Miami Beach is a textbook example of knowing when and how to buy a condo property, The Times reports.
There were buyers for all 103 units in the complex, which includes a small renovated Art Deco building and a new glass tower, but only 14 had been willing to close. The rest had simply walked away from their deposits.
The Caribbean generated heavy losses for its developers, a partnership of Christa Development of Victor, N.Y., and Bluerock Real Estate of New York City, and its lender, the now-defunct Corus Bankshares of Chicago.
But it has reaped a tidy profit for another real estate investor, Melohn Properties, also of New York City, which assumed control of the property after buying the $127.7 million mortgage from Corus last August, The Times reports.
Melohn paid less than half the face value of the loan, according to the building's broker, Diane Lieberman, the owner of SBI Realty in Miami Beach.
There are now just 15 units left at the Caribbean, Lieberman said. Originally priced around $1,100 a square foot, the condos are selling for an average of $600 a square foot, with those on a high floor with wraparound terraces selling at $750 a square foot.
Most of the buyers paid cash, and all plan to use the condos themselves, she said.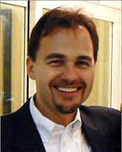 Peter Zalewski,
Peter Zalewski, the owner of Condo Vultures, a brokerage firm that specializes in selling units in bulk, said a dozen other investors had taken a look at the Caribbean loan and passed. "Now they're all having remorse," he said.
Though the Miami market remains deeply troubled, it is no longer moribund, real estate specialists say.
Even though the Caribbean is opposite a stalled project and is north of South Beach, its ocean views and solid construction are attractive, he said.
Brokers say that South Beach, because of its glamorous night life and smaller inventory as well as its proximity to the ocean, continues to do much better than downtown, with its canyons of new high-rise condos.
The Times reports that from May through December last year, 1,000 new units sold in downtown Miami -- an area from Brickell Avenue north to the Julia Tuttle Causeway -- according to a study prepared for the Miami Downtown Development Authority, a quasi-independent city agency.
Most are in the Brickell area, where much of the new construction is concentrated.
Since the study was completed, another 700 units have sold downtown, Zalewski said.
A big chunk of these sales were made at the Icon Brickell, a new 1,646-unit condominium complex that became a symbol of downtown excess because of features like as a $15 million entryway with 100 sculptured columns.
By the end of last year, only 125 condos had sold, with an average price of $543 a square foot, according to Zalewski.
Since January, however, 199 sales have closed at the complex, which is situated where the Miami River meets Biscayne Bay. But the average price in the first quarter was $404 a square foot and about 30 units have sold for less than $300 a square foot.
Overall, condo prices in Miami-Dade County have declined by 51 percent since 2007, when the median price was $275,000, said Ronald A. Shuffield, the president of Esslinger-Wooten-Maxwell Realtors of Coral Gables.
Last month, 2,381 condos in the county went to contract -- nearly twice as many as in March 2009 -- but the median price had slipped to $135,000, he said.
Still, the increase in sales may not translate into higher prices.

Jack McCabe, a real estate consultant in Deerfield Beach, Fla., said rents had fallen so far that a new condo with 1,200 square feet could be leased for as little as $1,200 a month, less than what it cost most owners to cover their expenses. "The mini-boom is not creating a healthy real estate market," he said.
Brokers said more owner-occupiers were in the market now that both Fannie Mae and Freddie Mac had loosened restrictions that made it harder for prospective buyers to get loans.
Some condos in foreclosure had even received multiple bids, said Lucas Lechuga, a sales agent with Keller Williams Realty in Miami. Lechuga said one of his clients lost out on a one-bedroom condo at the Vue at Brickell in downtown Miami that was listed at $142,500 but sold for $225,000.
Buyers do not seem deterred even in cases when the previous owner made off with the appliances, Lechuga said. "It's crazy what I've been seeing in the last three months," he said.
But anyone looking for a bargain at the Paramount Bay, at North East 21st Street and North Bayshore Drive, or at the new Mint, on the Miami River at South West Third Street, will have to wait.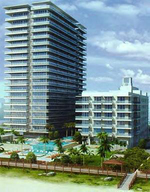 The two developments were part of Corus's $5 billion national loan portfolio. Starwood Capital and several partners bought a 40 percent stake in the portfolio in January in a deal valued at $2.77 billion.
"It will be some time before we are offering units for sale to the public at either property," said Tom Johnson, a spokesman for Starwood, which is managing the portfolio.
To make the portfolio attractive, the Federal Deposit Insurance Corporation took a majority stake and provided $1 billion in interest-free financing.
"Our purchase price for Corus coupled with the unusual financing we have in place allows us to be very patient," Barry Sternlicht, chief executive of Starwood, said in an e-mail message to The Times.
Craig A. Werley, the president of Focus Real Estate Advisors, a Miami consulting firm, and a co-author of the downtown study, said Starwood would be well-positioned in the future when other new buildings had sold out. "They are sitting in the catbird seat." he told The Times.
---
Sign Up Free | The WPJ Weekly Newsletter
Relevant real estate news.
Actionable market intelligence.
Right to your inbox every week.
---
Real Estate Listings Showcase