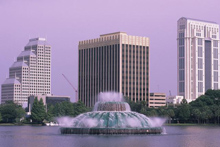 Two Orlando Banks Unscathed by Wall Street Meltdown
"We were fortunate in that we saw a soft subprime market coming and stayed out of it completely when we opened in 2005," Mike McClanahan, founder, president and CEO of Orange Bank of Florida in Lake Mary, FL, tells
Real Estate Channel
.
Orange Bank deals largely in the commercial and retail loan sectors and that side of the business is still sound, McClanahan says. He says he doesn't lose too much sleep at night, worrying about his clientele.
Despite the tumultuous behavior of the financial markets in the past two weeks, McClanahan says Orange Bank "has a pretty good story to tell our customers." Orange Bank and Floridian Bank in Daytona Beach, FL are part of a two-bank holding company with total capitalization of $400 million.
"We (both banks) are sitting on $60 million in capital," the banker says. A recent secondary offering brought in $30 million in new capital. "We hit that one just right," McClanahan says.
The two banks have a total staff of about 110 and have had no serious layoffs to date. "We tweak the staff (size) from time to time," the banker explains.
When will the global financial markets return to some degree of stability? "Once the bailout is under way, the rest of 2009 will be bumpy but 2010 will be a nice year" for most of the market, McClanahan feels.
Also on the commercial side, Christopher G. Hurn, president and CEO of Altamonte Springs, FL-based Mercantile Commercial Capital, calls 2008 "the best year ever" for his firm. MCC provides small to mid-sized businesses with 90 percent loan-to-cost, owner-occupied commercial real estate financing through its SBA 504 loan program.
Despite fears of a dried-up loan market nationally, Hurn tells Real Estate Channel, "Yes, we are still lending money. Absolutely." He says his office traffic has been "a little crazy lately...That's what happens when some of your competitors go out of business."
At Winter Park, FL-based Seaside National Bank & Trust, Ed Timberlake, co-founder and chairman, tells Real Estate Channel his bank's five statewide locations are still making loans in all categories, despite national media hype that most local lending has dried up.
"The reason for that is we are now in our 23rd month of operations and are not mired down, so to speak, with the (financial industry) burdens of the past," Timberlake says.
Seaside continues to make mortgage loans on new properties but there hasn't been much demand lately for refinancings, he says. Foot traffic remains steady at all of the bank's branches in Orlando, Tampa, Palm Beach Gardens, Stuart and Sarasota. No layoffs have been made at any of the locations.
New deposits on CDs, money market and regular savings accounts are healthy. "Customer interest in our CDs has increased substantially, largely because of our CDARS program," Timberlake says. CDARS is a national network of 2,600 banks. The acronym stands for Certificate of Deposit Account Registry Service.
"When a customer, for example, comes in with say $1 million to invest in CDs, we can place that money, in $100,000 or less amounts, with 11 CDARS members and the customer would be fully protected by the FDIC on his entire investment," Timberlake explains. The Federal Deposit Insurance Corporation guarantees principal and interest in funds up to $100,000 for single investors at a single bank.
"The beauty of it is the customer receives one regular statement and negotiates the terms only with us," the banker says.
What is his gut feeling on when the financial markets will be back to normal?
"That all depends how you define normal," Timberlake says. "They won't be back to normal for a good while yet." He says the comeback will be evident "through 2009 at least," but hesitates pinpointing a specific date.
"If I knew the answer to that one, I would be a wealthy man," Timberlake says.