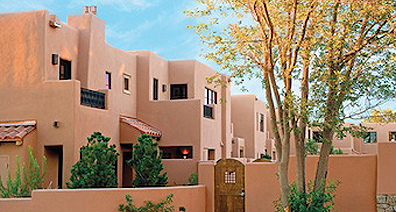 Fairmont to Manage New Mexico Fractional Development
The Residence Club at El Corazon de Santa Fe, a fractional ownership property in downtown Santa Fe, New Mexico, has announced Fairmont Heritage Place, the private residence club offer from Fairmont Hotels & Resorts, will take over the management of the development.
The property will undergo an upgrading of its amenities, including an expanded clubhouse and reception area, a new owners' fitness area, a private owners' park and furniture and fixtures in the Club's Residences will be refurbished. Existing and future owners will also be invited to participate in Fairmont's Ownership Benefit Program.
"This is a wonderful opportunity for both the current and future owners at the Residence Club at El Corazon de Santa Fe. We're very excited about becoming part of Fairmont's prestigious Heritage Place collection," said Rob Harper, property developer with Unity Hunt, Inc., based in Dallas, Texas.
David Shaklee, vice president, residential development, Fairmont Raffles Hotels International said, "Fairmont Heritage Place owners value our distinctive collection of exquisite properties around the globe that offer unique experiences, yet consistently excellent hospitality. El Corazon de Santa Fe is a great addition to our portfolio."
The Residence Club at El Corazon is a fractionally owned residential property, with prices starting in the mid $100,000s for a one-eighth deeded interest in a fully furnished residence.
"With a population of 68,000, and established over 400 years ago, Santa Fe combines small-town charm with the sophistication of a world-class destination. Consistently in the top 5 favorite cities in America, Santa Fe holds a powerful appeal for those who love arts and culture as well as the outdoors, offering everything from its world-class Opera and sophisticated culinary scene to fine art galleries and beautifully groomed golf courses, skiing, and fly-fishing," says El Corazon's developer.
---