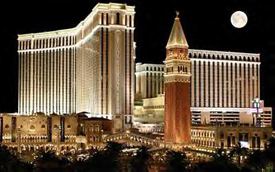 Vegas Casino Operator Ready to Invest $3B in South Florida, Tampa or Orlando
Gambling Expansion Issue Gets New Attention of Florida Legislators
Global Hotel Investor Sheldon Adelson Eyes Integrated Destination Resorts, Not Slot Parlors or Gambling Dens
Adelson Says His Project Would Create 7,000 New Permanent Jobs
Gov. Charlie Crist Tries Again on New Revenue Deal With Seminole Tribe
Fort Lauderdale Lawmaker Ellyn Bogdanoff Pitches Development of Beachside Hotel-Casinos
Umatilla Lawmaker Alan Hays Wants State to Own Casinos and Hire Private Operators
Lake Wales Lawmaker J.D. Alexander Again Opposes Gaming Expansion
Bradenton Lawmaker Bill Galvano Says Pro-Gambling Expansion Move Gaining Momentum in State Capitol Corridors
A new gambling bill would still take about three years to pass, if statewide voters approved it.
(TALLAHASSEE, FL) -- Florida's perennial gambling expansion topic is up again and this time around it has a new face and voice at the discussion table.
Sheldon Adelson, a billionaire global resort developer and CEO of Las Vegas Sands Corp (NYSE:LVS), tells
The Miami Herald/St. Petersburg Times
he is ready to invest up to $3 billion in a resort casino that would create 7,000 new permanent jobs and generate millions to the state's lean coffers.
For a development site, he favors South Florida but says he would also consider Orlando or Tampa. The site would have to be no more than 20 minutes from an international airport.
Adelson said his project would resemble a mega convention center housing malls, theaters, spas, hotels, restaurants and casinos.
Adelson and his family are currently investing billions in new mega resort casino projects on the Cotai strip in Macau China. His corporation is also opening its fourth resort in Singapore in April, a 50-acre, $5.5 billion enterprise.
He didn't mention it but his project could conceptually resemble the twelve-year-old, 2,686-room, 308-suite Bellagio Resort & Casino in Las Vegas, according to some industry watchers.
"We're not interested in putting up slot parlors or a gambling den," the entrepreneur told the newspaper. "We want destinations and integrated resorts."
Adelson further commented, "This is our specialty and we would have a very good interest in getting in, providing the State doesn't allow so many (other similar casino-type projects) that the gambling market would be saturated."
Please see related Real Estate Channel postings :
Adelson is no stranger to Florida politics. He and his family contribute heavily to statewide campaigns. The Adelson family gave Gov. Charlie Crist a total $19,000 for Crist's U.S. Senate campaign.
Adelson has also hired a Tallahassee lobbyist and made several trips to the state Capitol to promote his casino resort development concept.
One big reason for his development interest in Florida now is that he sees a new avenue of revenue for his corporation and the state coming from South American travelers, he told
The Miami Herald/St. Petersburg Times
.
The newspaper reports that Florida lawmakers have been battling for the last two years over a gambling deal that would allow the Seminole Indians to have slot machines and the exclusive operation of blackjack and other games at its seven reservations housing 231 tables in exchange for payments to the state.
Even though the tribe is a sovereign nation, it still needs Florida's permission to have blackjack since the games are illegal in the state.
By allowing the tribe to expand its gaming operations, Adelson says the state is "losing out on job creation. The state is (also) missing out on tax revenue and the chance to do regulation right."
Despite having no valid contract, the Seminoles have expanded their operations, opened a new casino and set aside $225 million to pay the state if the agreement is reached, reports
The Miami Herald/St. Petersburg Times
.
The Seminoles operate their flagship Hard Rock casinos in Hollywood and Tampa.
The newspaper states gambling now brings Florida $7 billion a year in revenue, one of the largest gaming pots in the country. Florida's 27 pari-mutuel facilities employ 26,000 workers.
That revenue chest includes the ever-expanding state-run Lottery; 27 pari-mutuel facilities; eight Indian-operated casinos that gross $1.9 billion in 2008; 5,620 slot machines in South Florida (Broward and Miami-Dade counties); and an unregulated and untaxed market made up of cruises to nowhere and penny slots in strip malls.
Some high-profile legislators are reversing their previous positions on the gaming subject.
Alan Hays, a Republican from Umatilla who has voted No on gambling expansion since his election to the House of Representatives in 2004, now wants the state to get into the gambling business directly by owning casinos and hiring private operators, as the state does with its lottery operation.
Hays says that under the governor's proposed deal with the Seminoles, if the tribe hypothetically makes $4 billion in gambling profits in a certain period, the state would net about $800 million and the Indians would get $3.2 billion.
"That one line right there shows you there is a ton of money that can go into Floridians' pockets," Hays tells
South Florida Sun-Sentinel
. "We can reduce taxes or we can certainly fund a whole lot more education with $3.2 billion than we can with $800 million."
Ellyn Bogdanoff, a Republican from Fort Lauderdale, is pitching a Gaming Equalization Act that she hopes could persuade developers to build beachside hotel-casinos in her home turf. She previously was against all gambling expansion in South Florida.
Bill Galvano, a Republican from Bradenton, says the debate over gambling expansion is heating up once again throughout the state. Galvano heads the Select Committee on Indian Compact Review.
"Surprisingly, there has been a lot of discussion" on legalizing full-service casinos, he tells
South Florida Sun-Sentinel
. But "putting it into reality is a much more difficult task."
It would take a statewide vote to allow slots outside of Broward and Miami-Dade counties. The bill would also need local referendums to authorize casino construction.
Neighboring Palm Beach County has been unsuccessfully trying to get legal gambling authorized for the Palm Beach Kennel Club in West Palm Beach.
Palm Beach County Commission Chairman Burt Aaronson says his county should also be allowed to benefit from the new employment opportunities, business and tax revenues gaming could generate.
Aaronson and his colleagues see legalized gambling operations as an economic lifeline in many pockets of the county.
One site he envisions for a new casino is near Lake Okeechobee to help provide needed jobs for residents in the agriculture-oriented cities of Belle Glade, South Bay and Pahokee. Unemployment in those locales is being reported at 40 percent.
Aaronson also notes the area surrounding the Palm Beach International Airport where gambling expansion could quickly help the local economy.
His colleague, Commissioner Priscilla Taylor, a former state legislator, agrees. As an example, she cites the Kennel Club which has more than 600 employees and attracts more than 750,000 visitors a year.
Palm Beach County this year is paying seven lobbying groups a total $230,000 to lobby for state issues ranging from gaming to transportation.
Not every lawmaker, however, is excited about the prospect of expanding gambling throughout the state.
J.D. Alexander, a Republican from Lake Wales and chairman of the Senate Ways and Means Committee, tells South Florida Sun-Sentinel he is "troubled by broad expansion of gaming."
Alexander says he wants to promote family values, not gambling expansion.
"I (always) have this vision of (actor) Jimmy Stewart walking down Main Street in (the movie) It's a Wonderful Life," he tells the newspaper.
Dan Adkins, owner of the Mardi Gras Gaming house in Hallandale Beach, supports the current gambling expansion drive but doubts it will take off quickly as some legislators envision.
Still, he thinks lawmakers will gain some new ground this year, especially in reaching an agreement with the Seminoles, "an incremental step for the pari-0mutels and a look at the future," he tells
South Florida Sun-Sentinel
.
"I think it's the smart thing to do - looking at the big picture" of (legalized) gambling in Florida.
---