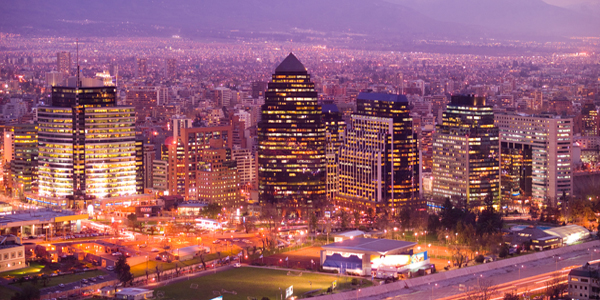 Economic Growth Powers Chile's Office Sector to Third Largest in Latin America
Due to demand driven by Chile's continuing economic growth and high levels of Foreign Direct Investment, over the next 18 months Santiago will reportedly add approximately 658,000 square meters of Class A and AB office space to the commercial market, the second largest projected office stock addition in all of Latin America.
Given building density and limited available land in the heart of the "Sanhattan" commercial center, one part of Santiago undergoing significant office sector growth is the area near the Parque Araucano. It is expected that approximately 200,000 square meters of office space will come on line in this area over the next 16 months. Another sector witnessing rapid office building construction is Avenida Las Condes.
One of the most important commercial projects under development in Santiago is the Costanera Center in the district of Providencia, which includes 4 office towers. One of these towers, the Gran Torre Costanera, is now the tallest building in South America at a height of 300 meters. Another important project is the Parque Titanium, a mixed use project with three towers next to the Rio Mapocho.The project will have more than 55,000 square meters of office space situated on a six hectare park.
Following the delivery of this new stock, according to data prepared by Jones Lang LaSalle Santiago will have a total of 3,328,000 square meters of office space, the third largest amount in Latin America. While this number trails the commercial centers Mexico City (4,600,872 square meters) and Sao Paulo (3,784,349 square meters), it is noteworthy that the population of Santiago is significantly less than Mexico City and approximately half of the population of Sao Paulo.
New office space in Santiago is needed to ease vacancy rates and reduce current upward pressure on office rents. Santiago currently has office vacancy rates of approximately 3%, one of the lowest in all of Latin America. Another key factor adding to office space demand is the low levels of unemployment, which fell to 6.6% in Santiago in September and could fall according to one study below 6% by December. Business and consumer confidence has also been rising in Chile, which tends to cause businesses to seek greater amounts of office space on the expectation of increased hiring. As new office is brought on line vacancy rates will increase but it is expected that in the medium term they will remain significantly below Latin America averages.
One factor that could serve to slow the pace of construction is increasing construction costs. Between September of 2011 and August of 2012, the Construct Cost Index prepared by the Chilean Construction Chamber increased by roughly 400 points, or approximately 9%.