---
Has the runaway train of residential home prices in Hong Kong derailed? It certainly looks like the express has ground to a halt, if not come off the tracks altogether.
Like Singapore and mainland China, the Hong Kong government has rolled out a string of measures over the last two and a half years to combat the rapid rise in residential real estate. Home prices have outpaced economic growth so significantly that they're now becoming a social problem, with regular demonstrations bringing thousands of people out on the street at a time.
The latest measures are having an impact. Home prices have fallen for two weeks in a row. So far the drop is only 0.5 percent--and even taking that into account prices are still 6.2 percent higher this year--but with the supply of new apartments projected to climb to an eight-year high in 2014, buyers are getting more and more cautious.
Nomura property analyst Paul Louie noted that "public opinion appears to be finally starting to turn" on home prices, with market participants predicting a 5 to 10 percent pullback in home prices.
The slowdown has been most dramatic in terms of the number of deals. Total residential property transactions fell 52 percent in March, compared with the same month last year, according to the Hong Kong Land Registry.
"The activity has stopped," Victoria Allan, the founder of the real-estate brokerage Habitat Property, said. "We're seeing people pull their properties off the market. A lot of people are just sitting tight, saying we'll just hold what we've got and we'll do nothing."
The slowdown is a sharp contrast to recent Hong Kong home buying activity.
Last year, home prices rose more in Hong Kong than anywhere else in the world, surging 23.6 percent, according to the brokerage Knight Frank, making it one of only six territories to post double digit growth (the others were Dubai, Brazil, Turkey, Russia and Austria).
Hong Kong residential has also been the world leader since the onset of the global financial crisis, with prices up close to 90 percent since the third quarter of 2008, according to Knight Frank. That's around 30 percentage points higher than second-place India. Taiwan and China placed third and fourth, providing evidence of how the fulcrum of global economic growth has shifted to East Asia.
The rapid increase in prices in Hong Kong prompted the government to impose measures to make it harder to borrow money to buy homes and more expensive to sell them - owners who sell within six months must pay a 20 percent tax on the sale price. In late February, the government doubled stamp duty for all classes of property.
Anyone who is not a permanent resident - a status that takes seven years to acquire - now also has to pay an extra 15 percent on top of the property's purchase price.
Critics contend that such measures fly in the face of Hong Kong's free-market economy. But the government has pledged to check the advance in prices.
"Individual buyers have to be very cautious about their decision," Anthony Cheung, Hong Kong's secretary for Transport and Housing, said in announcing the most recent set of measures. "We are not making the decision for them, but through the increase in the ad valorem stamp duty rates, we want to increase the cost of transaction so that they will do their own 'stress test' in order to make a wise decision."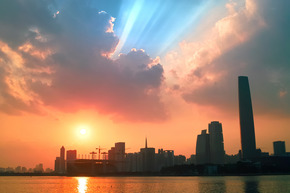 Although owners are getting more flexible on their asking price, analysts sees little forced selling. Many speculators have shifted their interest to commercial property, which until recently was unaffected by the government measures.
The increase in stamp duty now applies to all property classes, and some market players say that means nonresidential property is likely to see the greatest impact from these latest moves.
"You'll see slippage in the commercial, industrial and retail market - double stamp duty market affects that more," Ms. Allan said. "In residential, we've seen so many measures for quite a while. I'm not seeing any distressed vendors."

Sign Up Free | The WPJ Weekly Newsletter
Relevant real estate news.
Actionable market intelligence.
Right to your inbox every week.
---
Real Estate Listings Showcase