---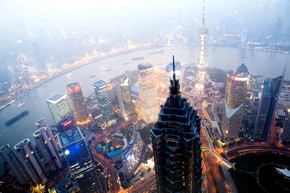 Despite a slowing economy, first time homebuyers were the main market-driver of Shanghai's residential property markets in 2012, says global real estate consulting firm Jones Lang LaSalle.
Government tightening measures continued in 2012 which included Home Purchase Restrictions (HPRs), which remained firmly in place in Shanghai in 4Q12.
Improving sales momentum in 2Q12 and 3Q12 carried through to 4Q12 as demand from first-time homebuyers held up well and continued to facilitate a sales recovery this year in Pudong. The sales volume of commodity housing in the primary market rose by 25% q-o-q to 3.1 million sqm in 4Q12, concluding 2012 with 9.5 million sqm sold, up 30% from 2011 and comparable to 2010 before the implementation of HPRs.
High-end momentum picks up slightly due to sales increase in mature areas
In the high-end segment, 4Q12 saw 452 units sold in Pudong, slightly up from 433 units in 3Q12 as some projects in mature areas achieved a noticeable sales increase during the quarter, offsetting the sales decline in emerging areas. For example, the Palace sold 36 units in 4Q12 compared to 11 units in 3Q12 and Shanghai Arch sold 23 units in 4Q12 compared to 13 units in 3Q12. Primary sales prices for high-end apartments stabilized at around RMB 67,600 per sqm as few developers offered further discounts to promote sales. In the land market, developers remained active acquiring land. Future Land Development Holdings spent RMB 1.74 billion on three residential-use (or mixed-use) land plots in Jiading District in December. All three plots were transacted at a premium of more than 50% over the reserve price.
Tighter corporate budgets restrict demand in the serviced apartment market
In the leasing market, demand remained largely stable as MNCs from automotive, pharmaceutical and retail industries continued to deploy new expatriates to Shanghai. However, as corporate budgets for housing allowance tightened due to the economic environment, demand for centrally located serviced apartments was diluted by high-end non-serviced apartments with lower rents.
As a result, some recently opened serviced apartments saw slow leasing progress and landlords chose to hold rents flat for the second consecutive quarter. Fraser Residence in Luwan District finished its refurbishment and re-opened in October, with 324 renovated units. With demand holding stable, new supply in 4Q12 pushed up the overall vacancy rate to 12.9% in 4Q12 from 11.3% in 3Q12.
Government will continue to reign in investment demand in the residential market
Jones Lang LaSalle believes China's HPRs will continue into 2013. "Sales momentum in the mass market is likely to remain stable next year as the government continues to improve affordability for first-time buyers and even upgraders to some extent," noted Joe Zhou, Head of Research for Jones Lang LaSalle Shanghai. "In the high-end segment, we maintain our view that sales will remain subdued in 2013 as the majority of buyers with strong affordability are not eligible for new home purchases due to the HPRs," he added.
Sign Up Free | The WPJ Weekly Newsletter
Relevant real estate news.
Actionable market intelligence.
Right to your inbox every week.
---
Real Estate Listings Showcase