---
Editor's Note: In 2006, Rachelle and Ben Smith left their life in Florida behind and bought a house in Panama, on a mountain with views of both the Pacific and the Caribbean. Seven years later they have put the home on the market. In this first column in a series, Rachelle shares their experiences buying--and now selling--a home in Panama.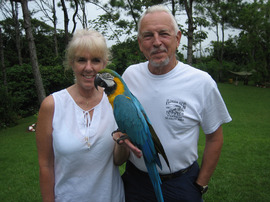 It was February, 2006, when we got a phone call from a friend who wanted to know if we were interested in flying to Panama and looking at property. She had met a realtor who was bringing a group of retirees to Panama to look at retiring there. We said, why not? We still didn't know where we wanted to retire.
We arrived in Panama on March 3, 2006, three days before we were to meet up with the agent, Marie. I had told my husband that for me to move to a foreign country, I needed to feel safe and know the people accepted us into their country. To start, we booked a hotel downtown, so we could walk all over the city and talk to the people.
Our first morning we took off for a walk down Balboa Avenue, the coastal strip in the city. Wow... I had never seen rush hour traffic quite like this before. I think the road only had four lanes but I swear the drivers made eight lanes out of them. The blowing horns were mind boggling. Then the smell of the Panama Bay hit us and we decided eating along Balboa wouldn't be a wise idea, if we wanted to keep it down.
But I have to say I fell in love with the city and people. Even if we met someone who couldn't speak any English, as our Spanish was very poco, poco, they always wanted to help us and welcome us to their country.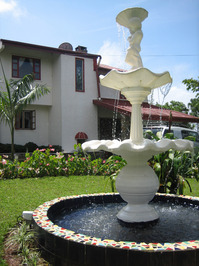 The morning we met Marie we found out she grew up in Panama, but had married a military man stationed in Panama and moved to the states. She knew we wanted to live near the beach so she had a ReMax realtor lined up to show us properties. We definitely wanted to live on the water after living on a boat three years.
But in 2006 the beaches here didn't have a lot of infrastructure and safety wasn't the best. We looked for three days and decided we probably wouldn't buy on this trip as it was almost time to go. We went to the Remax office on our fourth day, tired of driving 2-3 hours to the beach area then fighting traffic at rush hour coming back into the city. But Marie said they had a property on a lake to show us. The property was about an hour from town and the roads weren't the best, but they are putting in a new highway and it will be finished in a year, she said.
We said okay but we weren't excited about a lake. When we got to the property they had said it had a house but what they meant was a foundation and we weren't interested in building a new house. As we explained out feelings, a member of the family that owned the property said he had a house in an area called Cerro Azul, up on the mountain. It was only 30 minutes away, if you want to look, he said.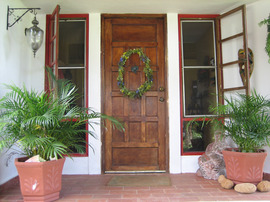 We were already at the bottom of the mountain, so once again we said, why not? It was only 30 minutes. We were in two cars, since we had to pick up our guide, the member of the family that owned the property, and we were following them up the mountain. But the car we were in had a bad clutch and we had to roll backwards to get a better start on making it up the hill. We didn't think we were ever going to get up the mountain and our guide couldn't remember exactly where the house was and he had to call a caretaker to bring us a key. I estimate it was at least three hours before we actually saw the house.
But when we pulled through the gates and turned towards the house my husband and I just looked at each other and said together, this is beautiful. We got out of the car and we knew, this is it. We walked the grounds for quite a while before we even went in the house and, honestly we didn't really care what it looked like inside. We were pleasantly surprised how it felt so comfortable and cozy. My husband and I were standing out on the master bedroom veranda on the second floor and looking at the views and it was incredible. To have a view like this in the U.S. or Canada, it would cost a small fortune. The realtors called the owners agents and we made a deal right then. We went back to the ReMax office and wired the deposit money, to hold the property while we arranged financing. We came to Panama with the intentions of buying a very small house but ended up spending double what we wanted. We wanted to finance the house in Panama and Marie said that wouldn't be a problem, with one third down.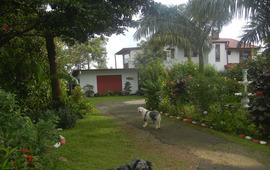 The next day, our last day of our scheduled trip, Marie took us to Scotia Bank to open an account and see about financing. They let us open a bank account as long as we wired money to the account right then. I had done my homework before we came here and had read quite a bit about buying property here and what kind of documents we would need for this so I had copies of almost everything we needed to get a loan. So we wired money for a third down and opened our account and got financed all in one day.
Since then, the laws have changed and it's not quite so quick, but it still can be done quickly. Next on our list was hiring an attorney who would handle the transaction and get our pensonado visa, which offers expats an array of benefits.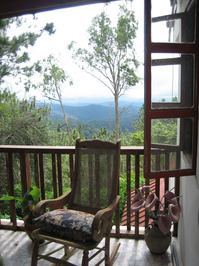 Things in Panama go at a much slower pace than what we are used to and it took five months to close on the house that we bought on our fourth day of looking. In August it became ours and we couldn't wait to move. We have owned the home for seven years now and it seems so surreal to live in this beautiful cloud rainforest.
Things have changed with our family since we have moved to Panama. We now have 15 grandchildren and are ready to end our adventure here and let someone who is ready to start theirs take our place.
Rachelle and Ben Smith's three bedroom, three bathroom house in Los Altos de Cerro Azul is listed at $399,000. Click here for the listing.
Sign Up Free | The WPJ Weekly Newsletter
Relevant real estate news.
Actionable market intelligence.
Right to your inbox every week.
---
Real Estate Listings Showcase