---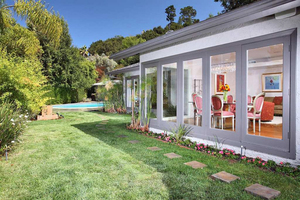 After a two-year house hunt, "CSI: Miami" star Rex Linn has bought a Sherman Oaks, Calif., home for $1,415,000.
The actor had been renting a less-than-1,000-square-foot John Lautner-designed house nearby for 20 years but decided he was ready to pull the trigger on a bigger place after he became engaged in June. The one-bedroom, one-bathroom midcentury rental is called the Foster House.
"It's the first house I lived in when I moved here from Oklahoma City," Linn said.
The landlord had "500 applicants" to rent the house, Linn said, and didn't like the actors who lived in the neighborhood. "So I actually fibbed a bit," Linn said. "Told him I worked for a construction company."
The former Texan tried to buy the Lautner house for the last 10 years, but the landlord wouldn't sell.
"It will be pretty emotional for me to leave," Linn said.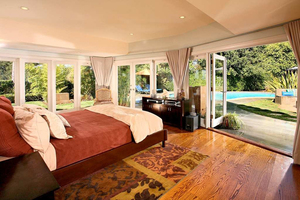 CSI Miami star Rex Linn Home interior (Photo by Keith Gaynes)
The 3,355-square-foot home he will share with fiancee Renee DeRese has amenities Linn should enjoy: a solar-heated swimming pool, a backyard cabana bar and a fire pit. There are four bedrooms and five bathrooms. But the most important feature to Linn is the kitchen.
"I walked into this kitchen, and it was like walking into Disneyland for the first time," he said.
An enthusiastic cook who likes to smoke and barbecue meats, he has been operating out of an 8-foot-long kitchen with a stove and small refrigerator and has been hand-washing his dishes for two decades.
He recently walked a friend through the remodeled 1963 house and stopped to point at the dishwasher.
"Oh, my God, it's a Bosch," the friend said.
"Huh? No, it's a dishwasher," Linn replied.
The new house, like his old one, will be the regular site of parties every fall Saturday.
"I live for college football," he said.
The house is in great shape, Linn said. "But I will add some Texas to it."
Linn, 53, has played Sgt. Frank Tripp on "CSI: Miami" since 2002. Much of the former banker's acting career has been in movies, including "Cliffhanger" (1993), "Tin Cup" (1996), "Rush Hour" (1998) and "Appaloosa" (2008).
---
From 'Show Boat' to Showplace
The Santa Monica, Calif., estate that was the home of late film star and singer Kathryn Grayson for 65 years been purchased by designer Elaine Culotti for $7.7 million. It came on the market at $8,995,000 and was in escrow within three weeks.
Culotti, of Porta Bella Design, plans to undertake a historical restoration to bring the Elmer Grey-designed English Tudor back to its original grandeur. She is the lead designer for this year's Esquire House show house.
Built in 1926, the mansion Culotti bought sits on more than an acre with views of the Riviera Country Club golf course. Throughout the house are hand-crafted leaded-glass windows and English oak paneling. The living room features stained-glass windows, a minstrels' gallery and a cathedral ceiling. The 5,381-square-foot residence also has a library, a formal dining room, a breakfast room, a walk-in butler's pantry, seven bedrooms and four bathrooms.
Grayson was an operatic soprano who starred in "Anchors Aweigh" (1945), "Show Boat" (1951) and "Kiss Me Kate" (1953). She died in February at age 88.
---
He'd Prefer a Buyer, Not Static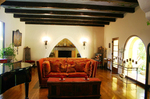 The Los Feliz, Calif., home of radio personality Danny Bonaduce has come on the market at $4.2 million.
The Spanish villa, built in 1926, has been restored and has a new courtyard pool and roof.
The house has four bedrooms and six bathrooms in more than 7,000 square feet of living space decorated with hand-painted ceilings. There are mountain, ocean and city views from more than a half-acre site that's gated at the street.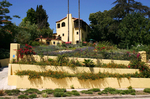 Bonaduce, 51, played the middle son on the 1970s sitcom "The Partridge Family." He started in radio in the 1980s and has hosted shows in Los Angeles and Philadelphia.
The three-story house had been listed in 2007 at $4.5 million. He and former wife Gretchen Hillmer paid $2.6 million for the property in 2005, according to public records.
---
'Model' Home Sells in Valley
The Studio City, Calif., home of the late model agent Nina Blanchard has sold for $1.1 million.
Listed in March at $1,395,000, the single-story contemporary house was custom built in 1955 and has three bedrooms, four bathrooms and about 2,600 square feet of living space. The site covers more than half an acre.
Blanchard, who died in February at 81, founded a Hollywood modeling agency in the early '60s bearing her name. Its roster came to include Cheryl Tiegs, Christie Brinkley, Shari Belafonte and other top models.
She purchased the house in 1995 for $650,000, according to public records.
---
Sign Up Free | The WPJ Weekly Newsletter
Relevant real estate news.
Actionable market intelligence.
Right to your inbox every week.
---
Real Estate Listings Showcase