---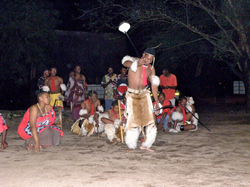 Swaziland is defined by its contrasts. It has an absolute monarchy complete with King, yet interacts freely and openly with democracies around the world. The country has the highest incidence of AIDS in the world, yet its citizens generally seem happy and easygoing. Swaziland's rural areas are vast with beautiful sweeping vistas, yet the cities and towns are crowded and chaotic. In addition, the country has a population of approximately 1.1 million people, and is landlocked by South Africa and Mozambique.
Before leaving Swaziland, we visited several private game parks and drove through many small towns in route to the border with South Africa. On the map, the towns appeared to be fairly large; however, most only consisted of a few buildings, which included a gas station and several small shops. Finding a grocery store to buy provisions to cook our own meals proved difficult, as eating out every meal was cost prohibitive.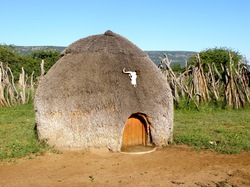 Most of the small private game parks were very disappointing. After SanWild and Kruger, we were used to seeing a large diversity of free-roaming game. However, the majority of the private parks offered a limited variety of animals such as giraffe, wildebeests, gazelles, zebras and ostriches. Some allowed guests to self-drive while others had guides who drove large, multi-passenger Land Rovers. Generally the private parks were small, and consisted of no more than 50 acres.
The last private park we visited before leaving Swaziland gave us any opportunity to stay in traditional Swazi beehive huts. They are constructed of tightly woven thatch over a rounded superstructure made of tree limbs and thick vines. Entering and exiting is no easy task, as access is through a small, low door. Oversized or non-limber people should stick with more traditional accommodations. The structures were surprisingly large inside and could accommodate up to three people. There was a communal bathroom a short walk from the beehive complex, which made nighttime sorties a bit challenging.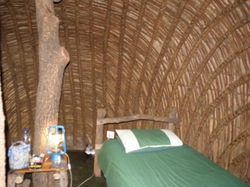 The remainder of our trek through South Africa was largely dictated by where the best surfing spots were located. If it was good enough for Kelly Slater, then it was good enough for us. His picture was nearly everywhere and when anyone learned we were from the U.S. they would ask if we knew him. Ironically, after returning to the States at the end of our trek we settled in Cape Canaveral, next door to Kelly's hometown. In addition, the boys have met him several times at surf competitions. Although the answer then was no, it's a definite yes now.
Driving in South Africa can be challenging. Learning to drive on the opposite side of the road is easy. Avoiding the crazy drivers is not so easy. For starters, the paved shoulders are used as an extra lane. Since most of the roads are two-lane, slower drivers are expected to use the shoulder to get out of the way of faster traffic, which are virtually all South African drivers! A left hand flasher signal communicates thank you. For me, getting over was more about survival and less about being courteous. For them, passing at the top of a hill or a blind curve was all in a day's driving experience. Another constant danger is the animals that graze along the sides of the roads and in the medians. Signs are posted everywhere warning drivers of the "free range" cows, goats, horses and donkeys. It's quite common for traffic to come to a complete standstill until the offending beasts decides to move out of the road. And horn blowing only makes them go slower. Their speed is inversely proportional to most South African drivers.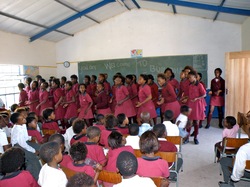 A portion of the drive south took us through a region called the Wild Coast. It is aptly named and consists of tribal villages, spectacular scenery, rugged coastline and secluded beaches on the Indian Ocean. The region is located between Durban and East London. Nelson Mandela was born in this area near the small town of Umtata.
We visited friends in East London, which is approximately three hours north of Port Elizabeth. There, we were immersed in two distinct cultural experiences. The first was during a visit to a local school where children from several grades put on a performance for visitors. All ages got into the act and it was extremely entertaining. The second experience occurred while visiting a local Xhosa Village where Mama Tofu, the resident sage, held court and educated us on the traditions of her people. She also tried to teach us to speak Xhosa, which is extremely difficult as it uses a series of strategically placed clicks throughout the conversation. It requires a highly supple tongue that would make a contortionist proud.
The next stop on the way to Cape Town was Port Elizabeth. It was home to Addo Elephant National Park, which has one of the largest concentrations of wild elephants in South Africa. Next week's article will feature it and several other national parks we visited while in route to the southern most point on the continent.
And remember, "Travel is the ultimate education."
---
Sign Up Free | The WPJ Weekly Newsletter
Relevant real estate news.
Actionable market intelligence.
Right to your inbox every week.
---
Real Estate Listings Showcase