---
Mendoza, Argentina - A City with Plenty to See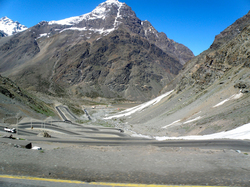 The bus ride from Santiago, Chile to Mendoza, Argentina lasted eight hours and was very comfortable; an experience we were unaccustomed to during our past excursions. Seats that reclined, an onboard bathroom that did not reek after only two hours and a snack including fresh fruit, bottled water and cookies were luxuries we did not know existed on Latin America buses. It was an experience we could get used to.
The drive took us over the Andes and through spectacular scenery. At one point we ascended thousands of feet on a long and winding road that eventually went through a mountain pass into Argentina. As the crow flies, from the bottom to the top it may have been one mile; however, the switchback road that hugged the mountainside was at least five miles in length. It ended at the Customs and Immigrations Post located near the centerline of the border between Chile and Argentina.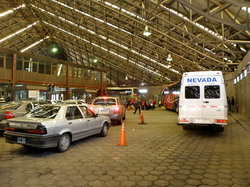 The joint Customs and Immigration process was extremely efficient. Officials from both countries were located in the same huge building and processed people and cargo going in either direction - a system other countries should imitate. Several buses, including the one we were on entered the enormous building that was obviously designed to shed snow during heavy weather. Everyone was asked to get off the bus to wait their turn to be processed. In addition, there were approximately 50 cars already in the queue and more arriving all the time.
The luggage was removed from the bus, scanned and reloaded without us having to touch it. One small black bag was held up and its owner was asked to retrieve it, which no one did. We'll never know what was in it, but something obviously raised a red flag and its owner preferred to remain anonymous. Unlike all of the other border crossings by bus, this one gave us a sense of security. When it was our turn, we lined up and had our passports stamped out of Chile and then walked to another booth where an Argentinean official stamped our passports acknowledging we were now officially in Argentina. The entire process took less than an hour and that was with several buses ahead of us including one with a large group of school children.
T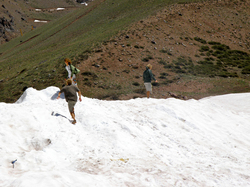 he rugged Andean mountain range is breathtaking. It is often referred to as the Alps of the Southern Hemisphere and extends for nearly 3,000 miles. Close to the pass, the height of the range is second only to the Himalayan Mountain range in Tibet. It is snow covered year round and at a distance looks much like Mount Everest. Almost everywhere along the route are cascading waterfalls of varying sizes and heights.
We arrived at a modern, well-equipped bus station in Mendoza by mid-afternoon. Due to the lack of Internet service the previous week, we had no hotel reservations when we arrived. After getting a recommendation from the hotel booking office at the bus station, we found two taxis and headed to the downtown area. The hotel was on a beautiful tree-lined street just two blocks from the main boulevard. Unfortunately, it was completed booked through the weekend due to a medical convention in town, which did not bode well for finding any other affordable accommodations. The desk clerk called other hotels, but could not find any availability. He even allowed us to leave our gear in the lobby while we went looking for a place to stay.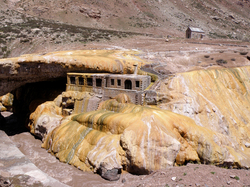 After much walking and checking at various hotels we found one close by that was affordable and had plenty of available rooms, which is never a good sign in a town that's suppose to be fully booked. It was another Bates Motel, which we have learned are more abundant than any other franchise worldwide. We stayed only one night before finding an apartment hotel that provided adequate room, a small kitchen and the most valuable luxury of all, quiet.
Mendoza is very modern with excellent restaurants, stores of every kind and more ice cream shops per capita than any comparable city. It's a popular destination for both Chileans and Argentineans who want a place to go for some rest and relaxation. The city also provides a great base of operation for sightseeing, whitewater rafting, mountain climbing and visiting the world famous vineyards that are within a short drive.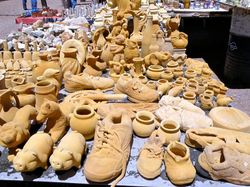 We stayed in Mendoza for five days, which gave us an opportunity to post new blogs and pictures on our web site, plan our next destination and go on two tours. We may profess to be travelers and not tourists, but every now and then it's nice to let someone else worry about what's next on the travel agenda. The tours were very different and at opposite ends of the spectrum - one to the mountains and the other through the desert to the Argentine version of the Grand Canyon.
The first tour retraced our bus ride to the border between Chile and Argentina, but with multi-lingual commentary including English. Chile had the fewest English-speaking people of all the countries we had visited so far, and our Spanish was too basic to understand much more than simple phrases. However, Argentina was more accommodating and the young woman who was our tour guide was excellent. The tour offered a number of stops along the way including a famous bridge that was used by the early liberators of the country and a sulfur-spewing natural spa that had a history dating back to the Incas. As we drove toward the border, the tour guide told us that during the winter (our summer) when snow closes the mountain pass, it's common for thousands of trucks hauling freight to become stranded causing a huge disruption to commerce between the countries. Fortunately for us, there was only enough snow on the ground for one or two good snowball fights.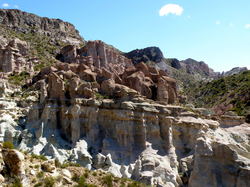 The second tour was two days later and lasted more than 15 hours, much of the time was driving, something we had a lot of experience with. Like the previous tour we drove past acres and acres of vineyards. Most had a unique contraption that can be deployed easily to protect the grapes and vines from severe hailstorms, which occur frequently during certain times of the year. They are mechanical devises that use the same black mesh found at most U.S. nurseries. The mesh is spanned between two metal arms. They are retracted when the weather is good, and extended when hail threatens. The arms and mesh are cantilevered into place over the valuable crop to protect it from damage.
Before entering the desert portion of the drive, we saw a large refinery and learned that Argentina produces a lot of natural gas, something we did not expect. The country ramped up its gas production quickly after 2001; however, in 2008 demand was quickly outstripping supply and created a looming energy crisis. Like many other countries, Argentina's desire to be less dependent on foreign energy imports was well intentioned, but fatally flawed when it could not sustain adequate production levels over time.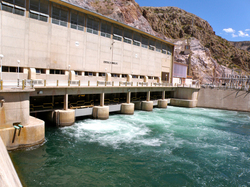 We finally arrived at the rim of the canyon and exited the bus to look at it. To borrow from a politician's rebuttal during a one well-known political debate, "I have seen the Grand Canyon, and this is no Grand Canyon." It was impressive and well worth the visit, but did not have nearly the expanse (both depth and breadth) of its U.S. counterpart. We drove deep into its bowels and saw unique rock formations, strata with colors of every hue in an artist's palette and even a brief sighting of a rare and elusive Andean Condor. At the bottom of the Canyon was a hydroelectric power plant that was fed water from higher up via a gigantic pipe sunk deep underground.
We were in Mendoza during the 2008 Presidential election. During our entire trek through Central and South America, when the locals learned we were from the U.S. they wanted to know whom we supported. Argentina was no exception and even the guide during the second tour gave unsolicited political commentary - both in English and Spanish. Although we could not name the President of their country, most knew our political leaders and were well informed regarding U.S. politics and their collective impact worldwide. We even learned there was an Obama party the night of election.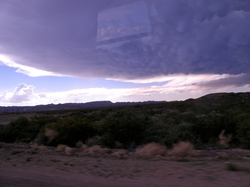 There was much more to see in Argentina, but unfortunately we had to move on to Uruguay to remain on schedule. We were due to fly home in mid-December 2008 and still had a lot more road to travel before departing Sao Paulo, Brazil. As a result, we took an overnight bus from Mendoza to Buenos Aires and then a ferry to Colonia Del Sacramento, Uruguay. The bus we traveled on was superior to most airlines we have flown, and included a steward, meals, large comfortable seats which transformed into equally comfortable beds and a round of bingo. The U.S. has a lot to learn, and the bus system in Argentina is just one example of a transportation system we should emulate in this country. Check back next week to learn who won a bottle of wine at the end of the fierce and highly competitive bingo game.
And remember . . . "Travel is the ultimate education."
---
Sign Up Free | The WPJ Weekly Newsletter
Relevant real estate news.
Actionable market intelligence.
Right to your inbox every week.
---
Real Estate Listings Showcase