---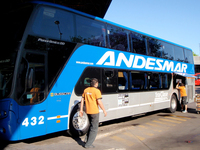 Our next destination was Uruguay, with a transit through Buenos Aires. We wanted to spend more time in Argentina, but had to keep moving to stay on schedule. There was so much more to see and do in this beautiful country, and we will return to experience more of it in the future.
Our last meal in Mendoza, before heading to the bus station, was at an excellent vegetarian restaurant. Everything was extremely fresh and prepared from scratch just minutes before serving it buffet style. It was mid-afternoon, and since we did not know when we were going to eat again, everyone took advantage of the all-you-can-eat vegetarian-style smorgasbord.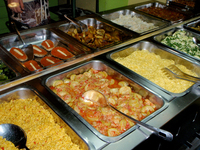 At the bus station, we gave our gear to an attendant, boarded the enormous double-decker bus and proceeded to the top level. We were surprised to see the huge leather seats and well-appointed surroundings. A smartly-dressed steward (similar to a flight attendant) helped us find our seats and took our bags to stow overhead. Needless to say, we had not encountered this level of service and luxury on any of the previous buses in Latin America - or any airlines we had flown either.
Before pulling out of the bus station the steward used the PA system to welcome everyone and express his sincere hope that we enjoy our journey - both in Spanish and English. Immediately after, he began handing out bingo cards. It seemed a bit odd, but as they say "When in Rome or in this case Argentina . . ." We used the pencils he gave us to poke holes in the box to keep track of the numbers; however, it took us longer than our fellow passengers to translate the letters and numbers he called out into their English equivalent. Because we were slowing down the process significantly, he translated for us. His assistance and patients paid off, as I was the lucky winner of the grand prize, a bottle of wine.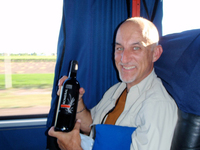 The steward had the precision and determination of an android. After the rousing game of bingo, he gave everyone a tray with a generous selection of snacks and a drink, which was followed approximately an hour later by a full meal including wine. Later that evening, our resident android went through the bus at precisely 9:00 p.m. and transformed our comfy seats into equally comfy beds - while we were still in them. He made sure all of the curtains were drawn, which created a cozy ambience. I did not believe it would help me sleep, but surprisingly it did, and we all experienced one of the best night's slumber in a long time.
At precisely 6:00 a.m. the steward came whizzing through saying good morning and throwing open the curtains. It was as if he was the Energizer Bunny with fresh batteries. He sprung into action and reconfigured our beds back into seats, served breakfast including a choice of coffee or tea, cleaned up and was done by 6:45 a.m. We arrived in Buenos Aires at around 8:30 a.m., which gave us plenty of time to catch the ferry across the river to Colonia del Sacramento, Uruguay.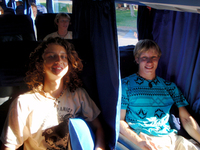 As you might have guessed, this was a First Class bus and although it cost a little more, was well worth every Argentine peso. The U.S. needs this type of well-organized bus system. It is safe (an alarm sounds if the driver goes above 55 m.p.h., and the bus immediately slows down), efficient and cost-effective. We traveled more than 750 miles, which is approximately the same distance from Jacksonville, Florida to Washington, D.C., and paid approximately $70 USD per person. We were served a generous snack, two meals, enjoyed a movie (in English) and a good night's rest. And let's not forget the entertainment (bingo), and the bottle of wine I won. The food was better than most airlines we've flown, and the steward far more attentive than many of his high-altitude counterparts.
Unlike the U.S., there was a lot of competition among bus companies, which helped keep the prices low in spite of fuel costing around $4.25 (November 2008) USD per gallon. There was no subsidy and the rates we paid were consistent with the other options we had to choose from. If other countries can offer this level of bus service and make a profit, then why can't the U.S.?
Next week's article will chronicle our trek through an interesting country we do not hear much about in the U.S. Based on unfounded perceptions, we were expecting more third-world than first world, but were pleased and surprised to visit one of the most modern and progressive countries in the Southern Hemisphere. Like many other countries in South America, Uruguay has had its share of political turmoil, and has overcome all of the issues to become a vibrant country with an abundance of caring and friendly people.
And remember . . . "Travel is the ultimate education."
---
Sign Up Free | The WPJ Weekly Newsletter
Relevant real estate news.
Actionable market intelligence.
Right to your inbox every week.
---
Real Estate Listings Showcase