---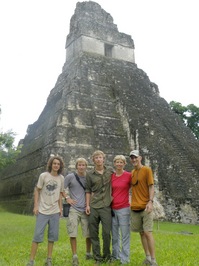 Our amazing adventure came to an end on September 26, 2009 when the plane touched down in Los Angeles. We caught a red-eye to Florida where we were reunited with family the following morning. That leg of the trek lasted seven months, and with the personal conflicts we experienced in New Zealand a distant memory, we would have gladly kept traveling. The only thing that stood in our way was a severely depleted bank account.
Here are a few facts regarding our year-long odyssey:
Total distance traveled: 61,000+ miles (equal to 2.5 times around the earth)
Distance traveled by bus: 5,386 miles
Distance traveled by car/van/motor home: 14,422 miles
Distance traveled by air: 41,477 miles
Video: more than enough to put a room full of insomniacs to sleep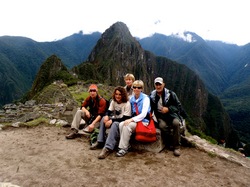 And last but not least, if dollar bills were laid end-to-end for the entire trek the total would amount to $651,224,640. I only wish we could have picked a few of them up along the way. Our original estimate was $200 per day, not including airfare. Surprisingly, when all of the receipts were totaled, debit card transactions tallied and credit card bills paid, our costs were almost exactly $200 per day. Not bad given that we arrived at the number using a variety of guidebooks and web sites. Including airfare and other related costs, the grand total for our trek was nearly $100,000, and worth every penny.
Our theory when we made the decision in August 2005 (and still is today) is that if we gave our three teenage sons a real world, hands-on, immersive education they would have the tools needed to succeed in life. We sincerely believe they did not need an Ivy League education to be successful, and with their newfound knowledge could attend a local community college and a state university. The boys are well on their way to proving our theory correct. They are attending the local community college and will eventually transfer to a state university, and who knows where they will go from there. One thing is certain, travel and exploring the world will always be part of their lives.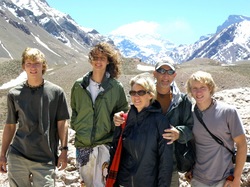 Our ultimate goal was also realized by instilling in our sons a sense of adventure and a deep desire to see and experience the world first-hand. As proof, Morgan and Zach took a semester off from college and went to Costa Rica for three months where they worked with crocodile biologists to catch, tag and release more than 12 crocs. In addition, they volunteered at a wildlife rehabilitation center, learned how to safely handle venomous snakes from a herpetologist, and of course surfed. We are confident the 21-century survival skills they learned during our trek gave them the confidence and tools to have a great experience and most importantly return safely.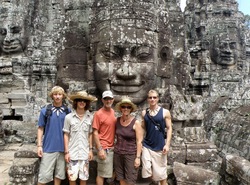 People ask us all the time, what was our favorite country, and the answer is always the same . . . "that depends". There was no one place that we believed fit all the criteria for perfection. Instead we prefer to identify our "favorite" place based on specific criteria. For example, Australia - surfing; Africa - wildlife; Vietnam - least expensive; Brazil and Fiji are tied for friendliest people; New Zealand sheer beauty; Guatemala, Peru and Cambodia for the most interesting ancient ruins, and the list goes on. If we are pressed to give a specific recommendation, then we suggest Costa Rica to most Americans, especially if they have never been out of the country. It's relatively close, reasonably priced, English is widely spoken, and it has myriad activities for everyone.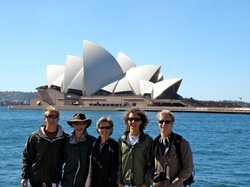 Returning to a "normal life' has been far more difficult for Catrell and me than the boys. Our only salvation is we steadfastly believe it's only temporary, and that the two of us will hit the open road again in three to five years. At the risk of sounding judgmental, getting back to a "normal life" at times seems trivial and superficial. The meetings we attend and most of our friends cannot wrap their heads around what we did and why. Many express their admiration for the gift we gave our sons, but that's where the conversation usually ends. Only fellow trekkers "get it"; however, they are not the people we want to convert to travelers. We are not suggesting anyone take the drastic steps we did to accomplish our dream - sell virtually everything we owned, cash in nearly all of my retirement and take a year off without any income. With proper planning, fiscal discipline and a savings strategy, any family, individual or couple can travel. Even if it's only two weeks per year to a specific place (either domestic or international), we guarantee a hands-on immersive experience will be enriching, educational and broaden their understanding of the world around them. My favorite quote is by Mark Twain and sums up why we believe travel is so important, "Travel is fatal to prejudice, bigotry and narrow-mindedness and many of our people need it sorely on these accounts. Broad, wholesome, charitable views of men and things cannot be acquired by vegetating in one little corner of the earth all one's life." Amen Mr. Twain!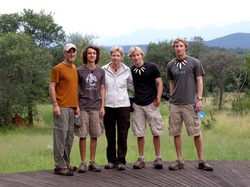 Since travel is our passion, we recently started our own full-service travel agency. We believe our experience and expertise make us uniquely qualified to help individuals, couples, groups and families find the best travel options. We can also give first-hand advice on many of the places people want to explore. Our travel agency is called Cooney World Adventures and builds on the brand we created during our around the world trek. It's amazing what adding an "s" can do. You can follow both Cooney World Adventure and Cooney World Adventures Travel Agency on Facebook. Just click "Like" and you'll become one of our groupies.
It's been nearly 18 months since we returned from the second leg of our trek, and not a day goes by that we don't think about the places we visited, the people we met and the mind-blowing things we learned. As a result of our trek, we believe Morgan, Zach and Harrison are better global citizens and have memories that will last a lifetime. And for Catrell and me, it was a wonderful way to bond with our sons before they decide to seek their own paths in life.
And remember, "Travel is the ultimate education."
---
Sign Up Free | The WPJ Weekly Newsletter
Relevant real estate news.
Actionable market intelligence.
Right to your inbox every week.
---
Real Estate Listings Showcase