---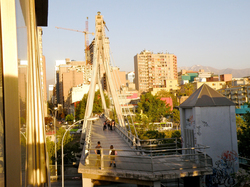 Our initial introduction to Santiago, Chile was less than ideal. For starters we arrived at the airport at 3:00 a.m. without a place to stay. Next, the visa fee to enter the country was $131 USD per person, which added up to a whopping $655 for all five of us. And last-but-not-least, we had been going for almost 24 hours without sleep or much to eat - never a good combination.
It was nearly 9:00 a.m. before the hotel booking office opened in the airport terminal. Which meant we had been loitering in a back portion of the restaurant on the second level for nearly five hours. It was time to move on!
Hotel availability was scarce, at least for what we could afford. We chose the cheapest option the booking office had to offer and arranged for a taxi to take us there. It's never a good sign when the taxi driver cannot find a hotel, and even worse when after several drive-bys we were the ones to point it out to him. At that point, sleep and food were all we cared about, so we checked into a no frills version of the Bates Motel.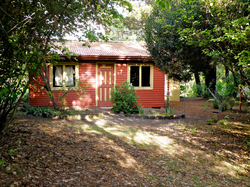 The next day, the first order of business was to find a better place to stay. We needed some time to regroup and plan the next several weeks, as our stay in Peru had been so jam-packed we could not even think about future destinations. Fortunately, we located a two-bedroom apartment that was affordable, and located across a major pedestrian footbridge from the city center. We found it online and ironically were communicating directly with the owner who lived in California.
Santiago and Chile in general were very different from any of the other Latin American countries we had visited so far. It was ultramodern with many conveniences not seen since leaving the States. The city had two Starbucks, which offered free wi fi and gave us an opportunity to get some much needed planning done. In addition, it was easy to buy anything we needed, even if their system for actually making a purchase seemed a bit arcane. For example, we needed several 220-volt to 110-volt power converters, and told the salesman behind the counter what we wanted. After verifying our request, he indicated where we should go to get a receipt. The person at the counter verified and stamped our receipt and pointed to where we had to take the receipt to pay and pick up our merchandise. Regardless of the size of the purchase, it was the same procedure in nearly every retail store we went in. A lot more labor intensive than in the U.S., but it seemed to work for them.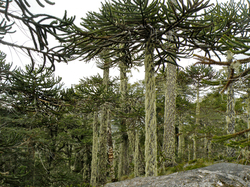 Chile is an anomaly from most of its South American cousins. First, Chileans speak a version of Spanish that sometimes confounds fellow Spanish speakers. We were told even their immediate neighbors have difficulty understanding them. The country also has a first-class road network that would rival many parts of the U.S. Its bus system is equally well developed and is clean and reasonably priced. The buses also pull large vans that are used to carry cargo and mail, which makes it one of the most efficient transportation systems on the world.
When we first walked around Santiago, we sensed something very strange about the city, but could not put our finger on it. Finally it struck us. The place was unbelievably orderly, there were no buses or cars belching exhaust fumes, no constant blaring of horns, and pedestrians actually had the right-of-way. This was in stark contrast to Lima, where vehicular mayhem was the norm. We preferred the order and relative quiet of the big city. That was until Friday night, when the city dwellers near our apartment partied from 5:00 p.m. to 5:00 a.m. Saturday morning. It was the worst night's sleep during the entire trek (which is saying a lot), but after five days in the city we were leaving for Los Angeles, Chile, which was six hours by bus south of the capital.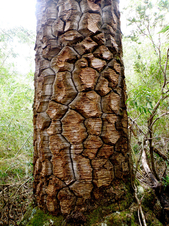 Los Angeles is at the very top end of Patagonia, which represents a large part of the country that plunges south toward Antarctica. The city of more than 166,000 is located just two hours south of Concepción, the epicenter of the devastating earthquake that occurred on February 17, 2010. The region is best known for its rugged landscape, natural beauty, pristine lakes and raging rivers. We stayed in a small cabin at a lodge called El Ricon, and took day trips to two of the most spectacular national parks we had ever seen.
The first was Parque National Nahuelbuta, which was famous for the monkey-puzzle trees that grow there. Some of them are over 2,000 years old and measure more than six feet in diameter. The bark looks like a cross between an elephant and giraffe's hide - the texture of the elephant combined with the pattern of the giraffe. It appeared as though someone had glued the pieces of a jigsaw puzzle to the outside of each tree, because when we saw dead trees the "pieces" (bark) had fallen off exposing the smooth surface of the tree trunk underneath. In addition, green moss hung from most of the trees giving the surroundings the appearance of a whimsical fairyland.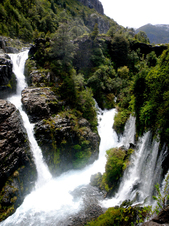 The second park we visited was Parque Nacional Laguna Del Laja. It is best known for its thundering waterfalls, active volcano, snowcapped mountains and moon-like landscape. The huge lake was deep azure and ice cold, and spanned several hundred acres. The frigid wind was so cold it made the 10 layers of clothing we were wearing seem almost nonexistent.
After four days at the lodge, we retraced the six-hour bus ride to Santiago. We knew we would return to the capital after Los Angeles, and had spent a lot of time finding a hotel near the bus station. Our plan was to spend one night and leave early the next morning by bus for Mendoza, Argentina. As with most of our well thought out plans, everything went awry.
For starters, the hostel owner had promised to have a car waiting for us at the bus station when we arrived. When no one appeared, we took two taxis (unlike their Peruvian counterparts, they did not allow more than four people in a cab) to the hostel. The owner, and person we booked the rooms from five days prior, was standing outside his establishment. He immediately told me that he was sorry, but the city had just shut him down the day before for various infractions he chose not to mention. Since he had no recommendations and we had no back up plan, off we went looking for a place to spend the night.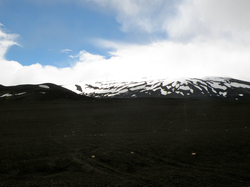 After much searching and walking we finally found a hostel that made the Bates Motel franchise we stayed in the first night in Santiago seem like a palace. Thankfully it was only for one night, and the next day we crossed the Andes into Argentina.
We spent five days in Mendoza, Argentina and were there during the 2008 Presidential election. It was interesting to hear what the locals had to say about our political leaders and what the election meant to them. Even though we could not name their President, they were intimately knowledgeable of ours, and had many well-informed opinions.
And remember . . . "Travel is the ultimate education."
---
Sign Up Free | The WPJ Weekly Newsletter
Relevant real estate news.
Actionable market intelligence.
Right to your inbox every week.
---
Real Estate Listings Showcase