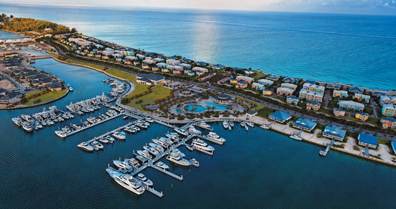 SPECIAL REPORT:
Bimini Bay Resort Readies for New Era of Development
(BIMINI, BAHAMAS) -- Nestled on the North coast of Bimini's Northern-most Island lays an upscale master-planned resort community called Bimini Bay Resort - now making big plans for the next wave of island development.
In a one-on-one interview with the developer of the 1,887 acre oceanfront community, Rafael ("Ralph") Reyes, President of RAV Bahamas LTD, told the
World Property Channel
they are in the process of creating and branding their resort's next development phase as "Miami's backyard playground."
Given the project's close proximity to Miami, and that over 75% of its current buyers have come from South Florida, a "Miami's backyard playground" theme seems to make sense.
Located just 53 miles off Miami's South Beach, North Bimini's 7-mile long by 700ft-wide sleepy Bahamas island has emerald blue-green waters, 1,900 friendly native Bahamians, snorkeling and fantastic fishing (It is known as the Bone fishing capital of the world), all just a 20 minute flight or 2-hour boat ride from South Florida's coastline.
Historically Bimini has been home to such notables as Ernest Hemingway and famed prohibition boot-legged William S. McCoy, who the term 'The Real McCoy' was based on, and a favorite of President Richard M. Nixon, according the Bahamas Tourism Board.
Bimini Bay Resort originally started selling luxury homes and condos in phase one during late 2003. Today, there are only about 15 homes left out of the original inventory of 350 units (4% unsold inventory today).
"Like every real estate development in the Caribbean over the last few years, Bimini Bay has felt the global real estate slowdown, but the game is about to change," says Reyes.
Currently the developer is making a strong sales effort to sell out the remaining residential units at discounted prices to reflect "current market conditions." Today condo and home prices sell from $300,000 up to the $1.5 million price range, depending on product and location. Reyes commented, "This strategy is now working well because we have just had a record month in June of 10 home sales."
Bimini Bay Resort currently consists of luxury homes and condos, the largest yacht marina complex in the Bahamas (2 sections that have 230 slips that can accommodate up to 203 ft. yachts), three restaurants, two pools, an open-air shopping village and a tennis center.
The development team recently brought in top-tier resort operator Rock Resorts a few months ago to manage both the project's home owners association (HOA) and growing resort business.
Many of the currently homeowners have now placed their homes and condos in Rock Resorts rental pool, which generates additional income for the owners when not using the property themselves.
Rock Resorts is a wholly-owned subsidiary of publically traded Vail Resorts (NYSE: MTN), which was originally created by Nelson Rockefeller in 1956 with developments on Caneel Bay on St. Johns island in U.S. Virgin Islands.
"Rock Resorts has brought significant creditability and operational expertise to our project," said Reyes.
Phase Two
The Northern end of Bimini Bay Resort is a mile-long stretch of pristine white sand beach that will soon be developed for a new beach club restaurant, luxury day spa, oceanfront hotel, small casino, a "Nikki Beach" style oceanfront bar and lounge, 30 or so Maldives-styled 'over-water' bungalows and 91 new up-scale oceanfront homes called Rockwell Beach Estates.
Reyes continued, "There will be 91 home sites straddling from Oceanside to bayside complete with their own backyard boat dock, of which 26 will be estate homes in the $2 million to $4 million price range and the remaining 65 units will be Bungalow style homes with central living areas shared by several connected private bedrooms."
In addition, there are plans to develop approximately 30 over-water hotel Bungalows on the Bay side (east side) of the property.
The hotel component is currently being designed, but Rock Resorts will manage and operate the hotel.
In a separate interview, Bill Lee, the general manager of Rock Resorts told the
World Property Channel
, "We are actively involved in the development of this project because we can see its potential. It truly is the best of both worlds: a modern resort with old style authentic island living experiences."
The Game Changer
The key driver for all of this new development activity is a soon-to-be-started daily high-speed ferry service from downtown Miami directly to Bimini Bay this fall.
The new ferry service called Balearia Bahamas Express will accommodate over 240 passengers on each trip with daily morning departures from Miami at 9:30 AM, and returning to Miami each night at 8:30 PM. The ride will be only 90 minutes (each direction) and pricing is expected to be around $99 (USD) - round trip.
This daily Miami-to-Bimini-and-back ferry service will open a potential flood gate of daily, weekend and longer-stay vacationers from both South Florida residents, and those vacationing in Miami who may want to take a short vacation-within-a-vacation excursion to Bimini.
Bill Lee stated, "This new ferry service will be a game changer for Bimini Bay because it will offer a large number of our core audience (South Florida families and couples) very easy, convenient and cost effective access to our island resort on a daily basis. That's why we are now positioning our resort as Miami's backyard playground!"
---