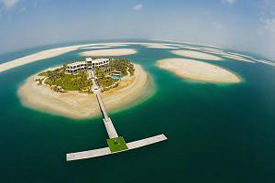 Dubai Jails British Developer
The real estate developer who bought the "Britain" island in Dubai's the World project is facing seven years in jail for writing bad checks.
London-native Safi Qurashi is the owner of Premier Real Estate Bureau, described on its Web site as "Dubai's leading agency for affordable luxury waterfront homes since 2005." In its heyday, the firm generated £400 million and employed 80 people, according to the British press.
Qurashi, 41, has been convicted of writing more than £50 million in bad checks, a crime that carries severe penalties in the United Arab Emirates. "A growing number of Britons" have been jailed under the check fraud laws, which are being strictly enforced in the wake of the real estate downturn, the Guardian reports.
Qurashi's attorneys are appealing the verdict, calling the trial a miscarriage of justice. The checks were apparently given to a Russian investor to complete a property deal.
"The cheques were a security deposit and should never have been cashed because Safi did not owe him money," a friend of Qurashi's told the Guardian.
In 2009, Qurashi and business partner Mustafa Nagri reportedly paid £43 million for the Britain island in the World, the collection of 300 man-made islands off the coast of Dubai. They announced plans to build 100 villas on the island, with prices in the $20 million range for the best spots. But development on most of the islands in the World has stalled, along with much of Dubai's property market.
---