---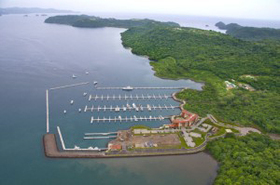 By all accounts, Peninsula Papagayo changed the development landscape on the northwest coast of Costa Rica. Anchored by a Four Seasons, the 2,300-acre project attracted a new high-end clientele and helped spark a wave of luxury development on the Guanacaste coast.
Papagayo was not immune to the global recession, but there has been a distinct turnaround in sales activity in the last few months, says Peninsula Papagayo sales executive Steve Grubba.
In an interview, Grubba discusses the recent activity, how the development is proving the experts wrong and why "condo" is a dirty word.
What kind of sales activity are you seeing?
We started to see a turnaround in the market beginning in December of 2009, towards the end of the month. That was the first normal high season in terms of occupancy since the recession began. Customers began returning to consider property. Fewer "bottom feeders" and more serious customers began to take property tours with us. In December, we put out two contracts worth over $2 million each on Four Seasons private villas. That was the start of the 2010 high season. We are now up to 14 contracts on the year with sales ranging from $800,000 up to over $2 million.
What is selling? What kind of property?
To our surprise, we are still selling lots. The buyer has changed. We no longer see speculative buying. The people who are now buying actually plan to live here or spend a significant amount of time here. We had several "luxury property consultants or experts" tell us that we would no longer be able to sell undeveloped properties. It turns out that they were incorrect. I currently have six lots in escrow.
What is still a challenge for me to sell are our condos. For some reason, one of the most affected products for us is completed condos. Personally, I believe that the word "condo" has become a bad word associated with financial loss as a result of the U.S. real estate market bubble burst. I have "villas" that continue to sell. I cannot fully describe the difference between a "villa," a "condo" or a "townhome," but I can tell you which one will sell and which will not, based on the name. I feel that our next set of condo type properties will likely be called villas, cottages or something of that nature. I actually do have two condos in escrow right now. The prices of the condos have come down by such a significant manner that they are extremely attractive. I would associate the term "condo" with "time share." It has become sort of a bad word. Now, we need to come up with our term similar to "fractional ownership."
How do your prices now compare to a year ago?
It depends on the product. Our Four Seasons branded product is fully maintaining its pre-recession values. We continue to sell branded product for prices that compare to 2005 and 2006. Villas in the Four Seasons Costa Rica have sold between $1.9 million and $3.5 million. We have Four Seasons Private Villas which are 3-bedroom, 4-bathroom units with a small pool. I currently have two on the market in the $2.5 to $2.65 range. These are re-sale units. The owners should not have to take a loss on their units. There is a pretty steady demand for them. There is also a very high demand for the larger estate homes in the Four Seasons. Unfortunately, I do not have any available at this time. Those homes in this market would sell in the $6 to $8 million range.
Our lots have been reduced in price by about 30 percent across the board to realign ourselves with the world market. I have found that buyers will not consider you seriously if you cannot show that you have responded to the recession. Our condos have been reduced by about 40 percent from the pre-recession high.
Who is buying? Where are they from?
Our buyers continue to be from all over the globe. The majority, I would say, are Americans from the direct flight paths. I have buyers here from Germany, Holland, Austria, England, New Zealand, Lichtenstein, France, China, Venezuela, Cuba, Canada and we cannot forget Costa Rica, our second largest group.
How are these buyers different from the buyers of, say, two years ago?
No change. Most of my current pending sales are people who were considering property prior to the recession. Seven of my last 10 sales looked at property with me prior to 2008. We have kept in contact and they have determined that the market has bottomed out. Current buyers, as mentioned above, are end users.
Along those lines, which of Papagayo's amenities seem to be resonating with buyers these days?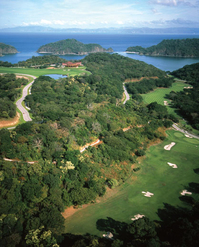 We are extremely lucky to have the ownership group that we have. We are 70 percent owned by a U.S. based charitable foundation and 30 percent owned by Florida Ice and Farm Co., the Costa Rican beer company--they are the largest publicly traded company in Costa Rica. These groups remain strong throughout the recession. When most development around the world came to a halt, they added on Marina Papagayo--a $40 million marina that will soon be the largest marina in Central America. They also added on a $20 million Prieta Beach Club & Spa. The facility needs a better name. It is far beyond your average beach club and rivals the public areas of the Four Seasons. It contains four pools, three restaurants, a large bar, a workout facility, a kid's club, a full service spa with eight indoor treatment rooms and about 200 meters of beach frontage where we offer full resort services. I cannot think of many other developments that took such risks during the recession.
I believe that customers will no longer consider buying pre-sale properties with a promise of upcoming amenities. The recession taught them that if it is not standing, you cannot believe that it will be built. We are extremely fortunate to have all of our amenities in place. We have over $400 million invested in Peninsula Papagayo. It's here. You can touch and see it. That puts customers at ease.
What role is the marina playing in sales?

We are not getting as many buyers out of the marina as we had hoped. The yachts come through on a regular basis and we have done quite a few tours with the owners. What I have found is that if you cannot engage them on site, you've lost them. It is almost impossible to get the owner of a $50 million yacht on the phone once he has departed.
Our biggest successes in the marina have come from the owners of sports fishing boats in the 40 to 80 foot range, not the mega-yacht owners. Additionally, many of our property owners have purchased boat slips and now keep boats in Marina Papagayo. Slips are also available for sale starting at $4,500 per foot.
How is your marketing different these days? What is working?
We are still not spending on marketing. We are very fortunate to have the Four Seasons Costa Rica on site directing buyers to us. My sales either come from the Four Seasons, Marina Papagayo or a referral from a current owner. Every pending sale that I have right now is from one of those three sources. Even in the peak years of 2005-2007, we did not do much in terms of marketing.
As the market recovers, how is it different than a few years ago?
The buyer is different. There are no longer buyers with speculative interest keeping demand high. Buyers can no longer be rushed, squeezed or coerced in any way. Your sales team must be extremely service oriented to sell in this market. You must treat the customer extremely well and spend quite a bit of time with them or they will simply go elsewhere. There are wonderful opportunities in every corner of the world. I consider myself fortunate to have that customer in front of me and will not risk playing games with them.
---
Sign Up Free | The WPJ Weekly Newsletter
Relevant real estate news.
Actionable market intelligence.
Right to your inbox every week.
---
Real Estate Listings Showcase