---
In the Costa Rica second home market, the sweet spot has moved.
Once a market dominated by Americans looking for homes priced more than $1 million, the bulk of buyers active in the market today are targeting homes priced between $250,000 and $500,000, property experts say.
At the $250,000 level, "demand is strong," said Hector Delgado of Orixon Realty, a San Jose- based company working with investors in Costa Rica. And the bulk of the interest is coming from Europeans.
"Americans bought properties for $1 million [at the height of the market] and now they are selling to Europeans for half a million," he told World Property Channel during a recent property show in Palm Beach, Florida.
Throughout Central America, property executives tell similar stories. While activity and sales are returning to Costa Rica, Panama, Belize and other vacation home destinations, the buyers are dramatically different from pre-crash days.
The "flippers"--buyers who simply wanted to buy and quickly resell a home--are long gone. The majority of the shoppers in the last year have been "lifestyle" buyers, looking for a bargain place to retreat or retire, agents say.
But a new group of buyers is becoming more active, says Claudia Gonella of Reveal Real Estate, a Central America property firm which recently expanded into Nicaragua.
"There seem to be more buyers looking to purchase for capital gain and rental income," Ms. Gonella said.  "I would not class these people as speculators-- they are not looking for a quick flip, but a longer term return."
These buyers are more conservative than investors of past years, with a lower appetite for risk, she says.
"This buyer type is not buying in remote areas in the hope that development will arrive, but in more established and developed places, such as prime tourism spots, and doing due diligence very carefully," Ms. Gonella said.
Property experts agree that the bulk of the activity is in an affordable price range that was once hard to find in the region. A poll of Costa Rica property professionals earlier this year by Costa Rica Real Estate, a sales site, found "the price points $200,000 to $450,000 are drawing the most attention on real estate websites throughout the country."
In Belize, developers are seeing a similar phenomenon.
"Before the sweet spot was $1 million plus, but the market has changed," said Wayne Robbins, a sales representative for The Placencia Group, which is developing a master-planned project with a private airport, marina and golf course on the Placencia peninsula.
Homes in the project range from $120,000 to $5 million. Americans were once a key market in the region, but the developer has been focusing its marketing on Canada and other "snow bird" countries, until recently.
"In the last six months we started marketing in the U.S. again," Mr. Robbins said. "We see the economy coming out of it."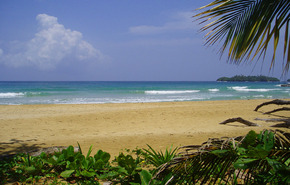 Many developers have turned their attention to buyers from Venezuela and Colombia, who have helped fuel Panama's growth. At the same time, the influx of Europeans has been spurred in large part by an increase in European developers and hotel companies, who brought buyers and investors with them, experts say. In November, Spanish hotelier Riu opened its second Costa Rica property, the 538-room Riu Palace in Guanacaste.
Americans are returning, but the numbers have been small, executives say. In many cases, they are either retirees or small investors looking to diversify their financial portfolios, after getting burned in the stock market.
"In 2007 the market was full of very aggressive Americans," said Mr. Delgado. "They would ask how much it costs and they would pay it. Now they are more conservative."
Sign Up Free | The WPJ Weekly Newsletter
Relevant real estate news.
Actionable market intelligence.
Right to your inbox every week.
---
Real Estate Listings Showcase