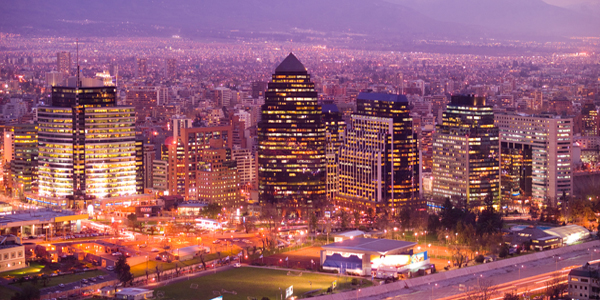 Chile Breaks Residential Sales Record in 2012
The Chilean residential real estate sector looks set to ring in the new year on a festive note.
According to the Chilean Chamber of Construction, it is projected that a record or more than 69,000 residential units will be sold in 2012, beating 2011 results by 18%. Residential demand has been primarily driven by the strong economy, which is currently expected to expand 5.7% in 2012, the second highest in Latin America behind Peru and the sixth highest in the world. Unemployment in Chile has also fallen to 6.2%, the lowest level in four years.
Another factor driving demand has been increasing credit availability. According to the Chilean Superintendence of Banks and Financial Institutions, real estate credit volumes continued to expand in November and the Central Bank has commented that standards for granting credit have become less strict. Short term mortgage rates fell nearly 1% from October to November to 4.9%.
In addition to bank financing, a growing force in Chilean residential real estate finance markets are the Cajas de Compensación, which provide loans to individuals that traditionally have had difficulty accessing traditional bank finance. The credit volumes of these institutions have reportedly increased nearly 78% between October of 2011 and October of 2012.
Another factor facilitating purchases has been flexible credit terms offered by real estate development companies, such as allowing buyers to make down payments in installments. For residential properties in vacation areas, there are increasing options for buyers to rent out space when they are not using it. Third party management of residential properties to boost investment returns will likely become increasingly common as investors look to beat tepid local stock market returns and developers try to sell down product volumes in the face of increasing competition.
Demand from Chile's emerging economic groups, which is comprising an increasingly important part of the residential real estate sector, has been strengthened due to government-sponsored housing subsidies. Between 2011 and 2012, the Chilean government has provided over 73,000 housing subsidies.
Reflecting high demand and sales volumes, residential prices have risen. Based on data provided by the Chilean Construction Chamber, the Housing Price Index reached 132.2 in October, an increase from 130.7 in September and 125.8 in October of 2011. On a quarterly basis, the general Housing Price Index increased 5.1% and the index component for apartments jumped 11.2%. The increase for 2, 3 and 4 bedroom apartments was 9.2%, 15.5% and 11.8%, respectively.
Despite the increase in sales and housing prices, there has been a significant drop off in requests for residential sector construction permits, suggesting that developers may be beginning to take a more cautious medium-term view in the face of the large amount of residential space due to come on line and the Central Bank's increasing concern about the sector. In its report for the month of November, Chile's National Statistics Institute stated that total authorized construction space dropped 20.7% compared to November of 2011.