---
American businessman Jon Huntsman is the developer of Huntsman Springs, a 1,350-acre golf resort community in the Teton Valley, Idaho but is far better known as a hugely successful industrialist and immensely generous philanthropist.  All profits from Huntsman Springs go towards the Huntsman Cancer Institute.
With a prior background in developing innovative food packaging including the iconic Big Mac packaging for McDonaldsMr Huntsman set up his own company, Huntsman Chemical Corporation, in 1982.   His skill at buying failing petro-chemical companies and turning them around helped create a multi-billion dollar business and today Huntsman Corporation is the largest manufacturer of polystyrene in the USA. The company is headquartered in Salt Lake City and employs over 12,000 people worldwide.
Jon Huntsman is best known for his inspirational philanthropy and is second only to Bill Gates for the amount he has donated to charities. With his wife Karen he has given over $1 billion to a range of causes including abused women and education for the under privileged but since several members of his own family fell victim to cancer he has focused the bulk of his donations on cancer research. The Huntsman family are the founders and main benefactors of the globally renowned Huntsman Cancer Institute at the University of Utah.
Jon and Karen Huntsman have nine children and fifty-six grandchildren. Their son David is CEO of Huntsman Springs.
(Q) You could have chosen to build a resort anywhere. Why did you choose Driggs Idaho for Huntsman Springs?
(A) I was born and raised in Idaho and for me this location is just gorgeous. It is 45 miles from Jackson Hole in Wyoming, one of the great summer and winter destinations, and Yellowstone National Park is about 45 miles in the other direction. It is a wonderfully pristine area of mountains, lakes and rivers, a place for families to be together and enjoy nature year round.
We have plans for 650 detached homes at Huntsman Springs as well as additional condos and townhouses with a 120-room five-star hotel. So far 26 homes are built and sold with a further 22 nearing completion this year. We are only in our third year of development and have a way to go but I see this as a 40, 50 or even 60-year project that will involve several generations of the Huntsman family.
I am not a developer.  I am an industrialist.  Huntsman Springs is something our son David is running and his daughter who has just graduated with a degree in Philanthropic Management will also become involved eventually.
(Q) What does the area mean to you?
(A) My father was a schoolteacher and I come from humble origins in Idaho. Today Karen and I live between Salt Lake City and Houston Texas where our company has headquarters but Idaho is still a family place to me. When I arrive at Huntsman Springs I feel an instant sense of relaxation and freedom. There is only one stop light (traffic light) in the entire county. It is like stepping into a different world with the exquisite beauty of the Teton Valley and the National Park.
The animals, plants and nature are exceptional. Yesterday my wife called me from there while I was travelling in Europe to tell me that a moose and two calves walked right in front of her. She said it was so beautiful and that she wished I could have seen it with her.
We both feel that Huntsman Springs is a place where we can breathe deeply, where we instantly feel better.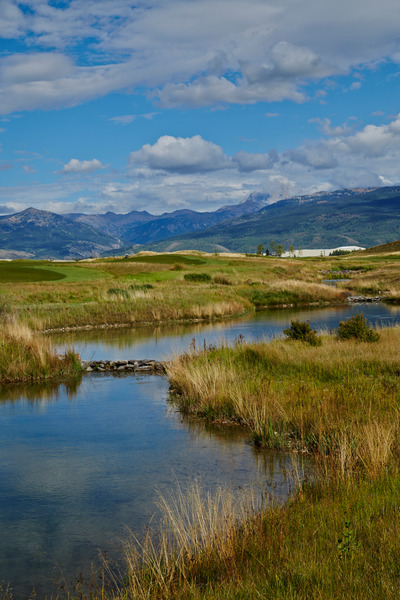 (Q) Who has bought property at Huntsman Springs?
(A) Many of our buyers are from Texas and Southern USA where it is very hot in summer and where they look for a cooler alternative. The resort has an elevation of 6,200 feet so the temperature is ideal in summer.  And with a ski resort around ten miles, that's ten minutes, away it is somewhere owners can enjoy year-round.
From Europe it is straightforward to reach with only one change of planes needed. Several USA airports connect directly with Jackson 30 minutes away including Chicago, Houston, Dallas, Denver and Newark.
Most owners have children and grandchildren who use the resort too and we operate a good rental pool. All the owners appreciate the quality of the location and the property. The cost of comparable homes is around 60 per cent of those at Jackson Hole so we represent a moderate cost relative to our competition.
(Q) What other facilities will Huntsman Springs have?
(A) There is a wonderful golf course (designed by David MacLay Kidd) which was voted the third best course in the USA out of 11,000 by Golf Week Magazine and "Best of the Best" by the Robb Report.
Even more important than the golf to me is the fly fishing we provide. This is a fast growing sport with men and women and we have stocked our seven private lakes with large trout. We also have a carefully monitored policy to sustain the fish population.
This year we added a fitness centre and tennis courts as well. We have bring our world-class Native American art collection and also a classic car collection.  Huntsman Springs is a work in progress but we have already invested $200 million and are here for the long-haul.
(Q) What was the inspiration for you donating all profits to your Cancer Institute?
(A) My mother, my step-mother and my brother died of cancer, as did my grandmother at the age of 42. I have had cancer four times. I vowed to my mother that I would do everything in my power to eradicate this malady, this scourge on our planet that kills 7.5 million people globally each year and 550,000 in the USA alone. Everything we do in all of our non-public businesses, all profits are directed towards that goal.
My quest in life was never to become wealthier or to be driven by profits and my position today is as much a surprise to me as to anyone else. I look for a way to give back to society. The Huntsman Cancer Institute employs 2000 full-time researchers, clinicians and oncologists. It is the fastest growing and most complete cancer research facility in the world with the largest chemotherapy unit and we continue to develop it. Last week we began work on a $105 million children's cancer wing there.
(Q) Who have your own role models been?
I have always looked to surround myself with exceptional people whose talents I couldn't equal to complement me. I employ exceptional scientists for example who I aim to pay well. Our success has always been a team effort with a joint sense of purpose from my staff who join with me in giving back to society in a positive way.
On a personal level my role models would be my mother and my grandfather, a strict disciplinarian. My family were early converts to the Mormon faith in the eighteenth century but more recently were not so active. I have tried to rekindle that. I have raised 9 children to be active and faithful and family means so much to me.
Sign Up Free | The WPJ Weekly Newsletter
Relevant real estate news.
Actionable market intelligence.
Right to your inbox every week.
---
Real Estate Listings Showcase