---
A Miami-based architect is suing Arquitectonica, alleging the rival architecture firm stole its plans and designs for a 46-story tower on the Miami waterfront.
Sieger Suarez Architectural Partnership seeks $70 million in damages from the firm and Regalia Holdings, developers of Regalia, the residential development in the final stages of construction in Sunny Isles.
The Sieger Suarez firm worked on designs for the residential tower in 2000 with a previous development group, but was eventually removed from the project when the development stalled.
"The lawsuit has no merit," Arquitectonica attorney John Shubin told the Daily Business Review. "It should have been filed years ago, and it is not only untimely but there is absolutely no similarity between the project that is out of the ground and project that Mr. Sieger prepared and conceived."
But Sieger Suarez argues the designs used for the tower are "strikingly similar" to Sieger Suarz's designs.
"The bottom line is that if you use someone's plans and designs without their permission, you may have committed copyright infringement and, if so, you should be liable for that infringement," Jason Gordon, a partner in Heller Waldman, the firm representing Sieger Suarez, said in a statement.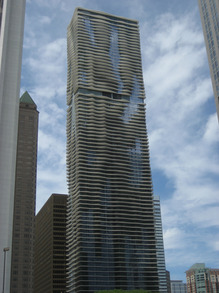 Claims of stolen designs are common in the architecture community, but they rarely make it to the lawsuit stage. Many projects look similar. For example, to some, Regalia's undulating façade may appear similar to
Aqua
, the residential tower in Chicago designed by Studio Gang Architects (although both were in development at roughly the same time). Zaha Hadid recently protested that a developer in China copied one of her designs
But copyright law is complex. Designs can appear similar without infringing on copyright. The courts have traditionally held that an "idea" can't be copyrighted.
The Regalia's case is further complicated by Suarez's previous involvement in the project.
"At no time after Sieger Suarez's involvement with Regalia ceased did it grant permission to anyone to utilize its plans and drawings for Regalia," the lawsuit states.
But Arquitectonica's attorney says the firm received a copyright for its Regalia plan, "which in our minds is further evidence our plans bear no resemblance to the old plan."
Regalia is an upscale project offering 39 apartments, with a typical unit stretching 7,615-square-feet, including the balcony. Here's a promotional video for Regalia:
Sign Up Free | The WPJ Weekly Newsletter
Relevant real estate news.
Actionable market intelligence.
Right to your inbox every week.
---
Real Estate Listings Showcase