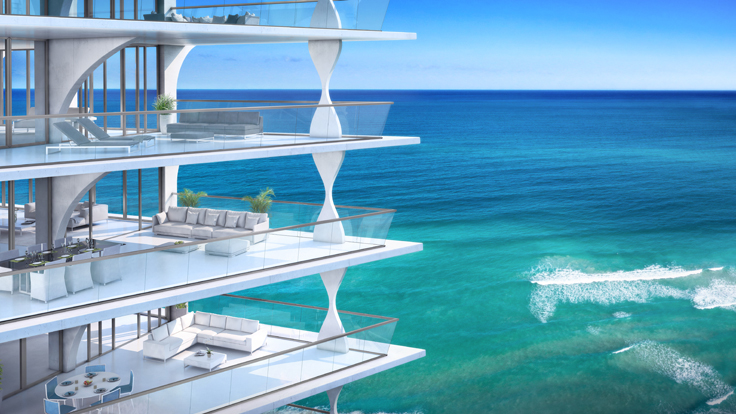 Interview: Edgardo DeFortuna on the New Miami
Buenos Aires-born Edgardo DeFortuna founded Fortune International Realty in 1983 and grew the company into Miami's biggest family-owned real estate firm by catering to the fast-growing Latin American clientele. Later Fortune began developing its own Miami projects, which put it a the epicenter of the 2008 market collapse.
Fortune survived the crisis and today it is building again. Mr. DeFortuna's latest project is Jade Signature, a 57-story apartment tower designed by Pritzker Prize-winning Swiss architecture firm Herzog & de Meuron under construction in Sunny Isles. With apartments priced between $2 million to more than $25 million, the project generated $300 million sales in the first three weeks of sales--another sign of the changing Miami market.
In an interview with WPC News, Mr. DeFortuna discusses who is buying - and why -- in the new Miami, which is very different than the old Miami. (Edited excerpts.)
What do you see in the market that is not getting reported?
I think the market continues to be very, very strong. There are basically two types of markets. One that is more investor driven. That is more on the business district and here on Brickell and Biscayne Blvd., with units that are relatively smaller and buyers who are buying to rent out in most cases or to use on a temporary basis or for children when they are here at university, something like that.
And then there is a very differentiated market in the beach area all the way from South Beach to Sunny Isles, where the buyer is really looking for themselves to use the apartments as a second, third or fourth home. But [this buyer] really studies the product very well and is very aware of the characteristics of both the project and the amenities, and really takes their time... And is not as conscious about cost as about the quality the developer is delivering. This is different trend from what we've seen in the past...
Now they are really studying every aspect of it and they are deciding between units and takes a long time. But it is arguably a better buyer because it is really somebody who is looking forward to living in the building.
What are they looking for?
Everything from what the amenities are to the connection between the pool and the beach to what the services are going to be -- the restaurant service, the spa service, the location of the pool, how the sun impacts the pool. Does the apartment have columns that bother me when I decorate my unit? What's the access? What type of kitchen? Every single detail is looked at.
It's great we have hired [architects] Herzog and de Meuron because they are really masters at analyzing every detail, from how the glass doors open to what the wind in the terrace will be and how usable the terraces are and the impact on the sun on the beaches.
Where are the buyers coming from?
They are really coming from everywhere. We're seeing a lot of influence of Europeans. Despite the economy in Europe, it's getting better for Miami. And the northeast has picked up significantly in the last year, especially in the last six months. The New Yorker and the buyer that comes from the north U.S. is very significant now. And, of course, the Latin American component is still the most prevalent, specifically Brazil, Mexico, Argentina, Venezuela, in that order.
You're seeing a return of European buyers?
We're seeing European buyers. French buyers are very strong. Italian buyers are very strong. And, in some segments of the market, the Russian component is strong, especially in high price units.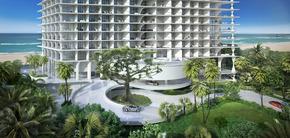 And how might their interests be different than American buyers?
A little different in both taste and need for space and size of unit. Without offending anybody, the Russian buyer is getting a lot more sophisticated these days and understands simplicity is also a very good quality. Before they used to love the very ornate, very heavy decorated buildings. Now they are appreciating the simple touches and classic design of some of the buildings in Florida.
Going back to the designer aspect, from a marketing perspective, can you quantify how much value a name designer brings to a project?
We've had inquiries we would never have received before, basically unsolicited. We have not done any advertising. It was all word of mouth and people that are fans of Herzog and de Meuron are calling and saying, "Can I take a look at this building, I'm very curious about it." We have never seen such excitement about any of our buildings. It's not exclusively to Jade Signature. The number of very high end architects coming to Miami is making this a very attractive city and very attractive proposition for buyers to look at different alternative.
Is it a competitive advantage to have that designer name?
I think so. I definitely think that it has really taken Miami to a different level. Many buyers, especially the very high end sophisticated buyer, used to skip Miami and go to New York or Chicago, some of those cities. Now they are focusing on Miami. They really want to be in Miami.
What are your plans for the Jade brand?
I don't know. It's getting harder and harder to get great locations. We were very fortunate to get 300 feet of oceanfront in Sunny Isles, which is a community that allows you to really excel both in architecture and product, because the height limitations are very good, as far as allowing you to do 65 stories. It lets you really flow with the design. In some cases it's more difficult. Obviously in South Beach the historic nature of most of the buildings [makes it difficult] to design something that is attractive, with some exceptions. We are always looking for another piece of property that would be appropriate for the Jade brand. We have identified a couple we are pursuing.
What are you doing differently today to market your properties?
It's a lot more exclusive, quote-unquote. We're really not reaching out or putting ads in the newspaper. Of course, we are putting some advertising - not necessarily to get customers but to get exposure and press in the high end magazines. It is really more of a one-to-one, traveling to Sao Palo, Paris and meeting with the people and really explaining why they should buy here--more than I am going to send them the brochure and tell them the price per square feet and they buy or not.
It's really more of a personal touch and all the details, not only on building but also on the marketing side, that make the difference.
Video: Jade Signature
Jade Signature Sneak Peek Video from Jade Signature on Vimeo.