---
According to the latest S&P/Case-Shiller Home Price Indices for May 2014, the Composite Indices increased at a slower pace. The 10-City Composite gained 9.4% year-over-year and the 20-City 9.3%, down significantly from the +10.9% and +10.8% returns reported last month. All cities with the exception of Charlotte and Tampa saw their annual rates decelerate. 
In the month of May, the 10- and 20-City Composites posted gains of 1.1%. For the second consecutive month, all twenty cities posted increases. Charlotte posted its highest monthly increase of 1.4% in over a year. Tampa gained 1.8%, followed by San Francisco at +1.6% and Chicago at +1.5%. Phoenix and San Diego were the only cities to gain less than one percent with increases of 0.4% and 0.5%, respectively. 
The chart above depicts the 10-City Composite and the 20-City Composite Home Price Indices. In May 2014, the 10-City and 20-City Composites posted year-over-year increases of 9.4% and 9.3%, respectively. 
"Home prices rose at their slowest pace since February of last year," says David M. Blitzer, Chairman of the Index Committee at S&P Dow Jones Indices. "The 10- and 20-City Composites posted just over 9%, well below expectations. Month-to-month, all cities are posting gains before seasonal adjustment; after seasonal adjustment 14 of 20 were lower. 
"Year-over-year, nine cities - Las Vegas (16.9%), San Francisco (15.4%), Miami (13.2%), San Diego (12.4%), Los Angeles (12.3%), Detroit (11.9%), Atlanta (11.2%), Tampa (10.2%) and Portland (10.0%) - posted double-digit increases in May 2014. The Sun Belt continues to lead with seven of the top eight performing cities. Eighteen of 20 cities had lower year-over-year numbers than last month; San Francisco and San Diego saw their year-over-year figures decelerate by about three percentage points. 
"Housing has been turning in mixed economic numbers in the last few months. Prices and sales of existing homes have shown improvement while construction and sales of new homes continue to lag. At the same time, the broader economy and especially employment are showing larger improvements and substantial gains."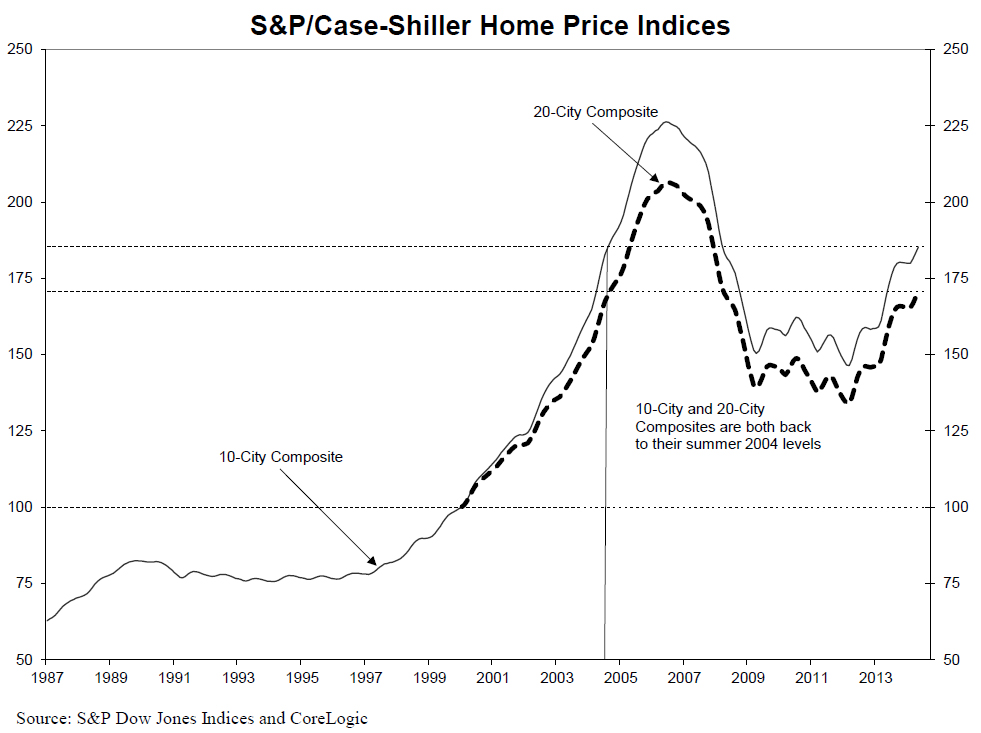 The chart above shows the index levels for the 10-City and 20-City Composite Indices. As of May 2014, average home prices across the United States are back to their summer 2004 levels. Measured from their June/July 2006 peaks, the peak-to-current decline for both Composites is approximately 17-18%. The recovery from the March 2012 lows is 26.5% and 27.3% for the 10-City and 20-City Composites. 
While all cities continue to post year-over-year increases, gains weakened in May. Charlotte was the only MSA to see its annual rate improve; it posted 4.7% year-over-year in May versus 4.5% in April. Tampa held steady with a gain of 10.2%. Despite seeing their rates decrease by two to three percentage points, Las Vegas remained the top performing city with a return of +16.9%, followed by San Francisco at +15.4%. 
All cities reported increases month-over-month with nine cities - Charlotte, Cleveland, Detroit, Las Vegas, Los Angeles, Miami, Minneapolis, New York and Tampa - showing larger increases in May than in April. Charlotte posted its largest monthly gain since April 2013 while Minneapolis, New York and Tampa showed their highest since August 2013. New York showed the most improvement with a gain of 1.0% in May versus 0.1% in April. Boston posted +1.1% in May, down from +2.9% in April. Dallas and Denver continue to set new peaks while Detroit remains the only city below its January 2000 value. 
Sign Up Free | The WPJ Weekly Newsletter
Relevant real estate news.
Actionable market intelligence.
Right to your inbox every week.
---
Real Estate Listings Showcase