---
A grand estate in Greenwich, Connecticut known as Copper Beech Farm is on the market for $190 million, which would make it the most expensive home in the United States.
The current owner is timber magnate John Rudey, who reportedly purchased the property 31 years ago. The Victorian mansion was built in 1898 and was once owned by Harriet Lauder Greenway, the daughter of industrialist George Lauder who helped found U.S. Steel.
It is the first time the property has been publicly listed since 1904,
according to the listing
.
"This extraordinary Great Estate has no peers in Greenwich... there simply are no more in existence,"
the listing proclaims
, attempting to justify the price tag.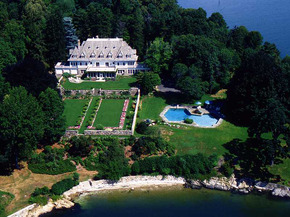 The 50.6-acre estate sits 40 feet above water and includes two undeveloped islands and about a mile of private shoreline in Greenwich's exclusive Mead Point area. The 13,519-square-foot house features 12-bedrooms and 7-full bathrooms. Special touches include rooms with 12-foot ceilings, a marble bathroom, solarium and two oval bedrooms.
The Colonial estate also features a 75-foot pool, grass tennis court, greenhouses, six garages and a "stone carriage house complete with a clock tower, and a large upstairs with lovely water views has ample garage space for cars and farm equipment, plus the milking stalls from its original days," according to the listing.
But the house has some quirks. The main kitchen is still in the basement with the staff quarters. And there are still old "speaking tubes" from pre-electricity days in the rooms, according to the
Wall Street Journal
.
The question now is whether Mr. Rudey will get the asking price.
"It's one of these things where you cannot look and say 'It's worth X,' because there's nothing like it," listing agent David Ogilvy told the
Wall Street Journal
.
Finding comparative sales will be difficult. The last 50-acre waterfront estate in Greenwich was sold and subdivided in 1954, Mr. Ogilvy told the paper. But the property could appraise at more than $200 million, if it is sub-divided, he said.
The asking price easily beats the $135 million price tag for the Dallas estate of Texas mogul Tom Hicks, who put the property on the market earlier this year.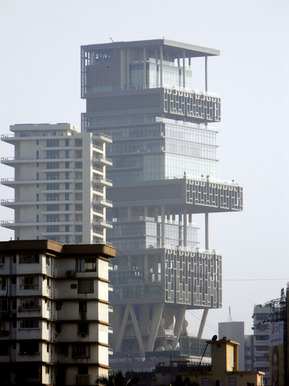 "It is likely there is not a market in Dallas for a $135 million estate but I have no doubt there will be offers because where else can you have 25 acres and horses and be 8 miles from downtown?" one agent
told RealEstalker
. "But then, never underestimate the power of oil money."
Listings with high price tags are not new, but the sellers don't always get their price. For example, Leona Helmsley's Dunnellen Hall originally listed for $125 million in 2007 and sold for $35 million in 2010. And Candy Spelling, wife of deceased TV tycoon Aaron Spelling, sold her mansion in Beverly Hills in 2011 for $85 million after originally listing the estate for $150 million.
In the same 'hood as the Spelling estate, Suzanne Saperstein has listed her Fleur de Lys estate for $125 million, but there have been no takers. Ms. Saperstein first posted the property for sale in 2007, shortly after she divorced billionaire entrepreneur David Saperstein. The famed Versace home, Casa Casuarina, in Miami's South Beach is
listed at $100 million
, after being reduced from the original $125 million.
After the Greenwich mansion, the most expensive home listed for sale in the U.S. is a
penthouse in New York City's Pierre Hotel
, priced at $125 million. A penthouse in One 57, a tower in development in New York, sold last year for $90 million.
Determining the most expensive home in the world is a bit more complicated. Antilia Mumbai, the 27-story home built in the center of Mumbai by businessman Mukesh Ambani, is often characterized as a $1 billion property, but it has never been on the market.
Villa Leopolda, an estate in the south of France owned by Lily Safra, wife of financier Edmond Safra, reportedly sold to Russian oligarch Mikhail Prokhorov in 2008 for $750 million, but the deal fell through.
The richest confirmed sale is likely the penthouse in One Hyde Park, which sold in 2010 for $225 million, reportedly to Ukrainian businessman Rinat Akhmetov.
Sign Up Free | The WPJ Weekly Newsletter
Relevant real estate news.
Actionable market intelligence.
Right to your inbox every week.
---
Real Estate Listings Showcase