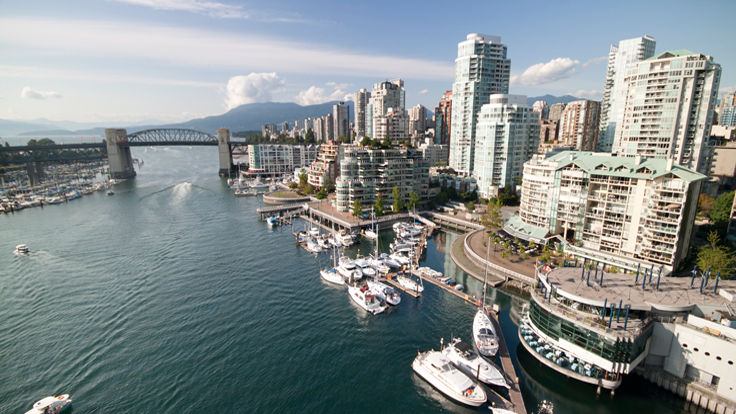 Market Report: No Drop-Off for Vancouver
While housing markets around the world collapsed post-2008, home prices in Vancouver continued to steadily increase, fueled in large part by international buyers.
From 2009 to July 2011 the average price of a home in Vancouver rose from $528,821 to $630,251, according to data tracked by the Real Estate Board of Greater Vancouver.
But the market has shifted in the last two years. The average price now stands at $601,900, representing a 2.3 percent drop from last year, in part due to measures implemented by the government last summer to cool soaring prices in Vancouver and Toronto. Measures included limiting new mortgages to no more than 25 years and requiring buyers to put at least five percent down on homes.
However, the cooling measures had a minimal effect on prices in Vancouver.
"We have not had that drop that was predicted, mostly because the sellers said 'we don't have to sell,' and weren't putting their homes on the market," Ray Harris, REBGV president elect, told
WPC News
. "We were seeing historic lows in the number of listings and it's being balanced by the numbers of buyers."
Prices have actually increased 2.3 percent over the last six months, according to REBGV data. Residential property sales were up 40.4 percent in July compared to a year earlier and 11.5 percent higher than the previous month, according to association's data. The sales volume was the highest since 2009.
"For four consecutive months we've been in a balanced market which means the list-to-sales ratio is over 14 percent," Mr. Harris said. "Last year we saw we were below 12 percent which means we were in a buyer's market and what's interesting is the prices only dropped about 4.8 percent in the last year."
The British Columbia seaport city historically has been named one of the most livable cities in the world, attracting an array of international buyers, particularly from China.
"We have a lot of influence from Asia, a lot of people from mainland China are purchasing in Vancouver," said Mike Rampf, an agent with Remax Crest in Vancouver who owns VanCity Living, told
WPC News
.
But it is a misconception to attribute Vancouver's increasing sales and prices only to Chinese buyers, agents say.
"We're noticing a lot of people downsizing," Mr. Rampf said. "The baby boomers are selling their bigger houses and looking for large two bedroom, three bedroom condos so they can have a turnkey solution and go on their vacations and enjoy their retirements."
When the government moved to enact the cooling measures there were concerns that Vancouver could be approaching a bubble situation.
"I have been listening to the market, and quite frankly I don't like what I hear," Finance Minister Jim Flaherty said last year in a news conference in Ottawa. "Some calming of the market is desirable."
But there have been no steep drop off since the measures went into effect. Today, the average price for a home in the downtown area of Vancouver is $901,000, Mr. Harris said.
"We are not seeing a huge negative trend in prices, we are seeing them balancing out and I think that has a lot to do with people just moving to the city" Mr. Rampf said. "If a house has what most people are looking for, whether it be town house, condo or a farm it will generally sell pretty quickly."
Experts expect more homes to come on to the market as existing homeowners look to sell, but developers are moving to restart construction after a lull. Housing starts were up 40 percent in July compared to a year earlier, from 1,435 to 2,012, according to the Canada Mortgage and Housing Corporation.
In June Vancouver-based Holborn Group and the TA Global Group of Kuala Lumpur announced
plans to build the 63-story Trump International Hotel and Tower in Vancouver
, with 218 luxury residences.
But market observers believe the international buyers will help maintain steady demand, despite the projected increase in supply.
"We're seeing more family oriented groups coming from different countries...Chinese, Indo Canadians, from India, Pakistan, all over the world," Mr. Harris told
WPC News
. "We truly are a melting pot."
Benchmark Performance over Time