---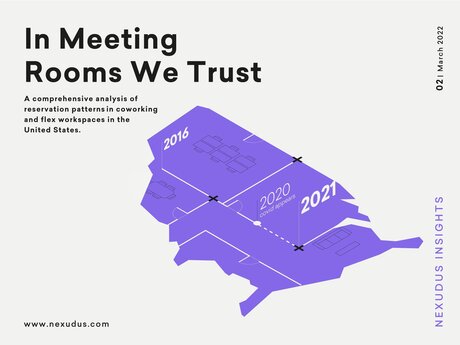 Nexudus, the leading white-label platform to manage coworking and flex workspace, has published what is believed to be the largest ever study of reservation patterns across the flex space industry in the United States.
Part of a wider global analysis of more than 3.5 million of anonymized data points from across 90 countries, the company's US-specific report takes a detailed look at how flex space resources were used across the USA from January 2016 to September 2021. Resources such as meeting rooms, hot desks, event rooms, and even 3D printers, provide an essential source of additional profit for flex space operators. Nexudus' study gives detailed insight into how the size of a space affects resource bookings, how pricing varies between members and non-members, and how the time of day impacts overall usage and demand.
Designed to help flex space owners and operators make more informed strategic decisions, the
report also reveals how the industry has evolved in light of macro-economic factors like the COVID 19 pandemic and the advent of hybrid working.
Key insights include:
Bookings made by non-members are on average 36% more profitable than a booking made
by a member.
Resources with a maximum capacity of less than five users account for 45% of all bookings. Creating resources with capacities of between 10 and 19 users is not advisable, as they have the worst ratio of booked time vs. available time.
Early in the morning (6 AM), the average duration of a booking is 160 minutes while the duration of a booking in the middle hours of the day is between 120 and 90 minutes long. At 6 PM, resource bookings increase in duration once again, approaching 140 minutes.
Spaces with fewer than 40 members see more activity after 6 PM, a time when work activity is not usually carried out.
The final price of a resource among the bookings made by a member and a contact varies between $55 to $75 per hour.
Larger spaces get a higher final price from the bookings of resources made by members who have an existing office plan.
Larger spaces achieve higher turnover on bookings made by users with a dedicated desk plan (50%)
The full report is available for download via the firm's website: https://www.nexudus.com/nexudus-coworking/insights-trends/
Commenting on the findings, Carlos Almansa, Co-Founder at Nexudus, said:
"The USA is not only the birthplace of the flexible workspace industry, but is also the world's largest flex space market. A study of this scale is incredibly valuable in helping owners and operators to understand how the market has changed, and how they can create and operate spaces fit for today's users. The use of meeting rooms in flexible workspaces sets the day-to-day pace of a facility, but is also an essential source of profit for these workspaces. Having a deeper insight into how these resources are used is critical in maximizing both operational efficiency and return on investment."
Sign Up Free | The WPJ Weekly Newsletter
Relevant real estate news.
Actionable market intelligence.
Right to your inbox every week.
---
Real Estate Listings Showcase