NEW YORK, NY --
Last week Life House began its foray into international markets with the three new 4-star boutique hotels with locally rooted food & beverage in the heart of Playa Del Carmen, Mexico. The portfolio, which was formerly branded under the established Cotelier Hotels brand, will initially be operated under the company's tech-enabled hotel management platform, Life Hospitality, with the subsequent conversion to Life House-branded hotels in the near future. The addition of these three hotels the Life House portfolio grows to over 20 hotels under management, with numerous more signed and to be announced prior to year-end.
The Cotelier Hotels portfolio encompasses 3 unique properties, including the Calixta Hotel, Marquee Playa Hotel, and the Newport House Hotel, in the heart of Playa Del Carmen, all of which feature private beach club access and locally-rooted bars & restaurants. The hotels will initially retain their locally-inspired branding and design while benefiting from Life House's tech-enabled operational platform, which enables owners of hotels to enhance the guest experience and maximize top and bottom line performance through the automation of Accounting & Finance, Revenue Management, and Digital Marketing functions and centralization of nearly all salaried positions - positioning the company to add value in the context of the market's challenging seasonal labor environment.
"From the beginning our mission has been to make hotels more seamless and more profitable for hotel owners and make travel more meaningful & substantial for travelers and we are excited for the opportunity to expand our solutions internationally with such a strong local partner in Cotelier Hotels and their beautiful properties", expressed Rami Zeidan, Founder & CEO of Life House. "Now more than ever, there is a need to leverage technology to reduce the operational cost structure and de-risk the ownership of independent hotels."
Life House has committed dedicated resources towards expanding its Mexico business, with advanced discussions already underway for projects in Mexico City, Tulum and Cabo San Lucas. The company is actively seeking acquisition, joint venture, and 3rd party management opportunities in the Yucatan Peninsula markets including Cancun, Cozumel, Isla Mujeres and Merida. Beyond the Yucatan, Life House has prioritized Mexico City, Riviera Maya, Puerto Vallarta, Riviera Nayarit, Ixtapa and Huatulco.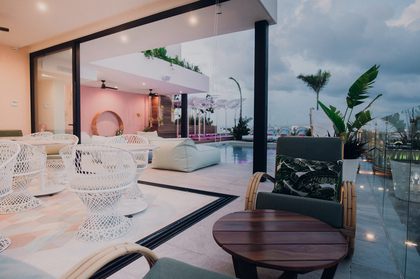 "I have been impressed by the Life House team and their track record with respect to leveraging technology to add value for owners of independent hotels," said Steve Farrar, Owner of Cotelier Hotels. "Given their flexibility from a branding standpoint, we are able to transition day-to-day hotel and F&B operations without the need to incur any material switching costs from a pre-opening standpoint".
Despite tremendous difficulties posed by Covid-19, given Life House's ability to de-risk the ownership experience by driving non-speculative cost savings to the bottom line for owners during a period of uncertain demand, Life House has experienced its strongest growth to-date with successful launches of several new hotels in the midst of the pandemic - including its largest, a 375-key full service hotel in Atlanta, GA.
"With a model that is predicated on mitigating cost exposure for owners of independent hotels without diluting the execution of core back-office functions, we are optimally-positioned to support hoteliers throughout Mexico navigate the forthcoming challenges as international travel remains restricted for the foreseeable future," explains Bryan Dunn, Head of Growth for Life House. "We look forward to empowering these beautiful new hotels with the goal of expanding our partnership with Steve and his team throughout many dynamic markets across Mexico".
About Life House Hotels
Life House is a New York-based, venture-backed and vertically-integrated hotel brand, management, and software company. Life House has built a proprietary technology stack to power a platform that makes hotels more seamless and more profitable for hotel owners and travel more meaningful and more accessible for travelers. Life House operates and brands 4-star hotels, and operates independent hotels under its Life Hospitality management platform.
For more information visit:
https://www.life-hospitality.comAbout Cotelier Group
Cotelier Group is a full-service real estate development group operating out of Playa del Carmen, Mexico. Cotelier Group provides development and project management services to investors and owners of residential, commercial and hospitality related projects throughout Mexico. Comprised of a multi-disciplinary team, Cotelier merges its strengths to form a powerful project development and management system for investors.
www.cotelierhotels.com, https://coteliergroup.com/
Press Contact
Bryan Dunn
Head of Growth