According to International property consultant Knight Frank, political uncertainty continues to have a tangible impact on sales activity in London's Prime Residential marketplace.
While the overall number of exchanges was marginally higher in the first six months of 2019 compared to the same period last year, it was not a uniform trend over the period.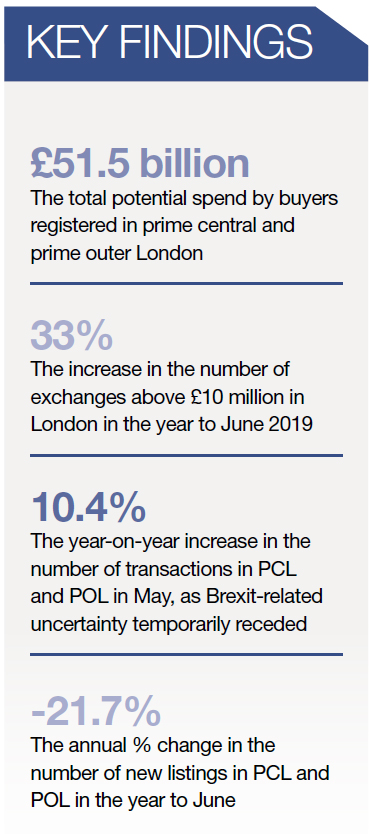 Transactions declined year-on-year in January and February, underlining the mood of uncertainty as the original Brexit deadline of March 31st approached without a political consensus on the way forward. The first failed meaningful vote on Brexit took place on January 15th.
Between March and May, the number of exchanges increased compared to last year, reflecting how a greater degree of confidence returned as the March deadline was delayed and the prospect of a disorderly "cliff edge" Brexit receded. Indeed the rise in May was 10.4%.
However, transaction levels fell marginally again in June 2019, demonstrating how political uncertainty returned following the resignation of Theresa May at the end of May and as the Tory leadership election got underway.
The new prime minister has pledged to boost the UK economy, which should drive activity in property markets, all else being equal. Anticipating any short-term impact on pricing from a stamp duty cut, as proposed by Boris Johnson, is less straightforward given the potentially distortive effect on supply and demand.
However, such a move would reduce trading frictions and should therefore raise transactions and tax revenues in the long term.
Meanwhile, pent-up demand continues to build. The total available budget of prospective Knight Frank buyers in London rose to £51.5 billion in Q2 2019, as stamp duty-related price adjustments drove demand. Despite strong demand supply remains constrained.
The supply of new properties remains more subdued as vendors hesitate due to the political uncertainty. New listings in PCL and POL were 21.7% lower in the year to Q2 2019 than the previous 12 months.
Higher-value markets continue to outperform for reasons that include the fact price growth was more modest than the wider market between 2009 and 2015. The number of exchanges above £10m increased by 33% in the year to June 2019, compared to an equivalent 3% decline between £1m and £2m.