According to Knight Frank's latest
Global Property Index
, and despite localized outbreaks, a number of global cities are seeing sales volumes continue to recover with April so far looking to be the low point for residential activity.
New outbreaks have emerged in parts of the US (Southern & Western states), Spain (Catalonia, Galicia) as well as Melbourne which has led to the city entering lockdown again and the state border closing between Victoria and New South Wales, for the first time in 100 years. Perth has also moved to limit international arrivals to 525 a week.
The UK has also announced its long-awaited 'traffic-light' list of 74 countries and territories which Brits can travel to without self-isolating from 10 July. Whilst France, Spain, Italy and Germany are included, Portugal, the US and Canada are currently omitted. In the case of Australia and New Zealand, despite being on the list, their borders remain closed. People resident in Scotland, Wales and Northern Ireland will still have to self-isolate on their return from "amber" rated countries under the terms of the deal.
In the Eurozone, Capital Economics has revised their GDP forecasts upwards for 2020 as activity has rebounded faster than they anticipated.
In the UK, Chancellor Rishi Sunak announced a slew of measures to boost the UK's economy including a stamp duty holiday for homes priced below £500,000 which will start with immediate effect.
Europe
Knight Frank's new Spain Covid-19 report highlights how the private rental market (PRS and build-to-rent) in the country's main cities is expected to flourish as banks become more cautious when it comes to lending to individuals but continue to look more favorably on funding residential development.
New research confirms where the most expensive homes in Spain are located. Data from online platform BrainesRe pinpoints the 25 Spanish towns where average prices exceeded €3,300 per square meter in the first quarter of 2020, including eight municipalities in the Balearic Islands.
In the UK, June provided further evidence that price declines are bottoming out in prime London property markets, as quarterly declines narrowed across the capital. In prime central London, prices fell 3.6% in the three months to June, which was down from a figure of -4.4% registered in May.
Yesterday, UK Chancellor Rishi Sunak announced a stamp duty holiday for UK buyers until 31 March 2021, to breathe some life into the UK's housing market.
Asia Pacific
Several cities across Asia Pacific saw residential activity picked up in June, with China and Hong Kong leading the way. Melbourne and Jakarta saw sales volumes slip due to the ongoing challenges of Covid lockdowns. Asking prices are now increasing in five of the 19 cities we track and sales are edging higher in eight locations.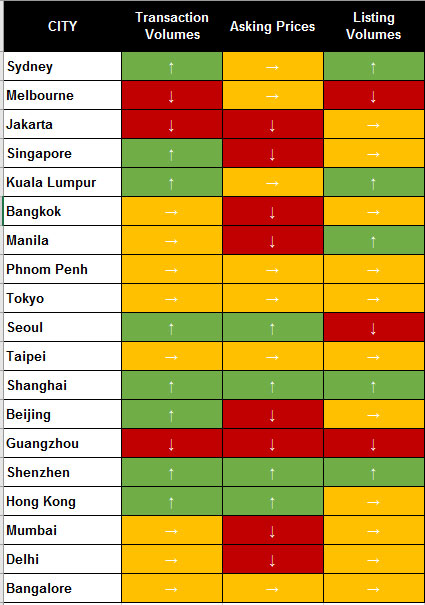 For Singapore, despite its slowing economy and the impact of US-China tensions, prices have dipped by only 1% since Q4 2019 according to Knight Franks new report - Where next for Asian Investors?
Cross-border activity across the region is expected to increase in the second half of 2020, supported by low interest rates, currency fluctuations and some discounts. With many investors looking for stability, diversity and developed markets, Singapore, Australia and the UK are likely to be three of the markets most heavily in demand.
In amongst the rapid fire of legislation responding to Covid-19 came some subtle changes to Australia's foreign investment rules. The main change for foreign purchasers is the increased timescale from 30 days to six months for the application process, our local team have produced a useful guide with all you need to know.
The latest price data from CoreLogic show a modest fall in June, declining by 0.7% following a 0.4% fall in May. Despite recent declines, residential prices are still up 13.3% and 10.2% over the year in Sydney and Melbourne respectively.
Plus, it's not only the UK revisiting stamp duty, a draft review of Australia's tax and federal-state funding arrangements includes, amongst other proposed changes, a recommendation to replace stamp duty with a land tax.
US & Canada
In the US, the average value of a home purchase mortgage application hit a record high of $359,000 at the end of June, according to the US Mortgage Banks Association. However, it's unlikely that this will translate to house price growth according to Capital Economics given that previous spikes in 2008 and 2011 were not accompanied by an acceleration in house price growth. One potential explanation for the increase in mortgage size is the relative strength of new home sales compared to existing homes given that a new home is on average 12% more expensive.
News this week that foreign students at US universities and schools will no longer be eligible to stay in the country if their courses move fully online due to coronavirus, could have repercussions for key housing markets where student populations account for a key component of housing demand.
Gzero, a subsidiary of Eurasia Group, a political risk analysis firm, estimates around one million foreign students are now awaiting confirmation of their university or school to confirm teaching plans for the next term.
In Canada, Greater Vancouver, which is now in Phase 3 of its Restart Plan, saw 2,497 homes change hands in June, up from 1,506 in May, this represents the fifth highest number of monthly sales since May 2018. Despite the pandemic, sales volumes are up year-on-year with 11,471 sales in the first half of 2019 compared to 10,992 in the first half of 2019 indicating a degree of resilience in what has been a subdued market in recent years due primarily to tax changes.
Middle East
Knight Frank's new UAE Residential Market Review outlines how prior to the onset of the Covid-19 pandemic, Dubai's property market had started to show early signs of a recovery in demand. In the year to February 2020, transaction volumes increased by 24% compared to the same period a year earlier, making it the strongest start to the year the market had witnessed since 2017.
Despite strict containment measures during lockdown, activity in Dubai's residential market did not come to a complete halt. Whilst transaction activity has certainly slowed, the depth of the contraction has been relatively limited. In the year to June 2020, transaction volumes have decreased by 14.4% compared to the same period a year earlier. Average prices, which fell on average by 5.6% in the year to May 2020, are likely to remain under pressure, as a result of demand softening and the influx of supply expected in 2020.