---
According to new research by CBRE, U.S. homebuyers today face average monthly mortgage payments that are 37% higher than the average monthly apartment rent.
Historically, monthly mortgage payments for newly purchased homes have been roughly on par with monthly apartment rent payments. However, the emergence of a cost-of-ownership premium results from relatively high home prices and rapidly rising mortgage rates. The average monthly mortgage payment for a newly purchased home, including taxes, has increased 70% since the end of 2019. Half of that increase came from higher mortgage rates, with the balance due to higher home prices.
Home prices have fallen by 9.7% since Q2 2022 but not enough to significantly offset the impact of higher mortgage rates. For monthly mortgage payments on newly purchased homes to come back into line with CBRE's forecast rental rates at the end of 2023, home prices would have to decrease an additional 24% this year assuming no further rise in interest rates. By comparison, following the Global Financial Crisis, home prices declined by 19% from 2007 to 2012. This barrier to entry for home ownership likely will buoy multifamily demand as the housing market stabilizes over the near term. 
The payment premium for homebuyers today varies by market and over time. Some markets such as New York and San Francisco have seen premiums increase due to higher home prices and relatively slower multifamily rent growth since the onset of the pandemic. Other markets like Miami and Kansas City have seen significant increases in both rent and home prices due to in-migration from higher-cost markets.
Conversely, markets such as San Diego and Phoenix are still seeing high premiums but are relatively in line with their long-run historical trend. These historical premiums are often the result of a large swing in home values during the housing boom of the early 2000s. For example, Phoenix has a current cost-of-ownership that is double its average rent, but in 2006 it was nearly triple the amount.
The relatively low number of homes for sale is another obstacle for would-be homebuyers. Since the beginning of the pandemic, active listings of for-sale homes have remained below trend. Nationally, active listings are 34% less than in Q4 2019.
With average mortgage rates at 6.42% as of March 2023, many Americans are now unable or unwilling to buy homes. A little more than half of all active U.S. mortgages were originated since the start of the pandemic, according to Black Knight Inc. With most of these loans being used to refinance existing mortgages, this has led to nearly 97% of all active U.S. mortgages having interest rates below current levels.
Despite a spate of new multifamily construction deliveries over the next 24 months, CBRE expects any negative impact on market fundamentals will be temporary. The overall U.S. housing shortage and higher mortgage rates are keeping demand for rental property strong. While some additional home price correction can be expected, ultimately it will be lower mortgage rates that will have the biggest impact on monthly mortgage payments as inflation comes down and the Fed begins to lower interest rates.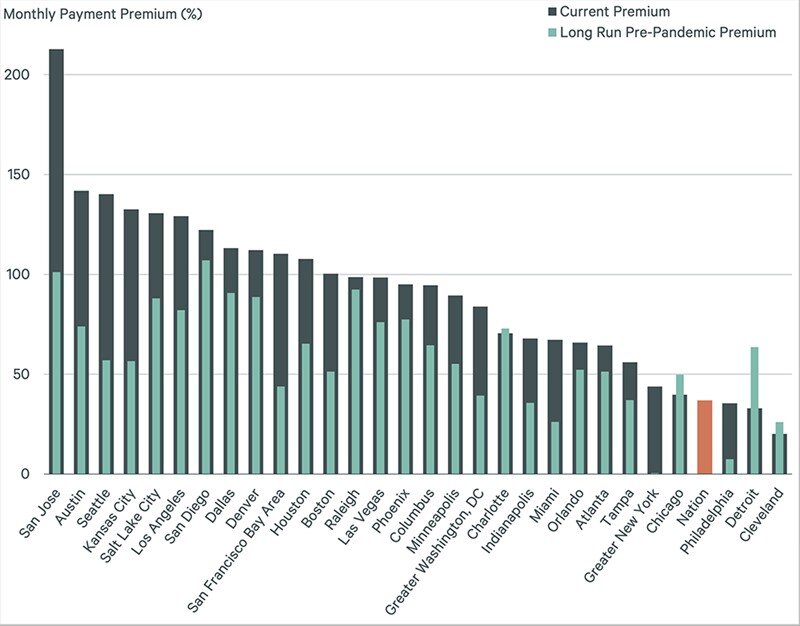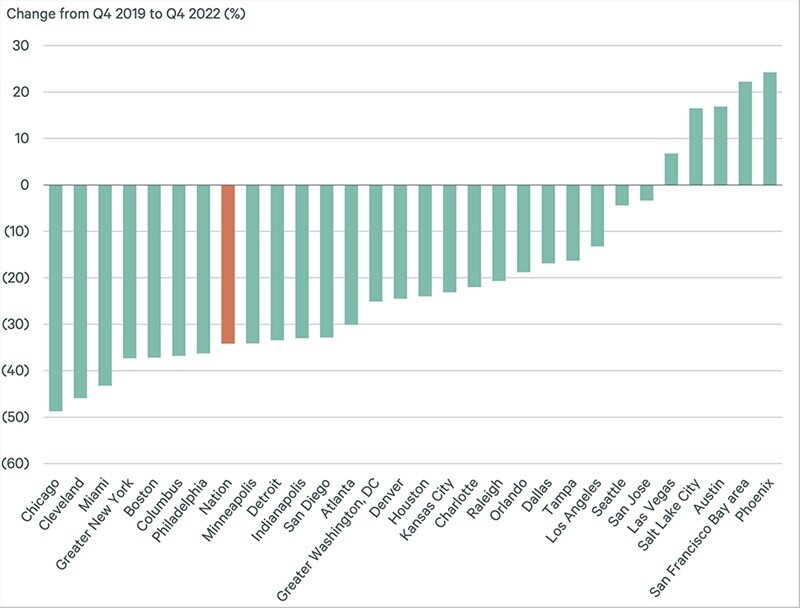 Sign Up Free | The WPJ Weekly Newsletter
Relevant real estate news.
Actionable market intelligence.
Right to your inbox every week.
---
Real Estate Listings Showcase