---
According to a California Association of Realtors (C.A.R.) survey of its members about their interactions with investors, with the depletion of available distressed homes on the market over the past two years, more investors are shifting to investing in multifamily properties and away from single-family homes.
C.A.R.'s 2015 Investor Survey found 21 percent of investors purchased in multifamily properties in the past year, up from 19 percent in 2014 and 14 percent in 2013.
Eighty percent of the transactions were non-distressed, up from 70 percent in 2014, reflecting the recovering housing market. Additionally, consistent with investors purchasing more equity and multifamily properties, the median sales price increased to $375,000 in 2015, up from $320,000 in 2014 and $292,000 in 2013.
Investors also turned to higher-priced properties given a lack of inventory of lower-priced properties. Twenty-three percent of investment properties purchased ranged between $501,000 to $1 million, up from 16 percent in 2014, and 9 percent were above $1 million, up from 8 percent in 2014.
Among the reasons investors cited for buying now include good price (39 percent), followed closely by good location (38 percent), future development potential (9 percent), and size (7
Percent).
Additional findings from C.A.R.'s "2015 Investor Survey" include:
More investors (65 percent) rented their properties, rather than flip them (26 percent), up from 58 percent in 2014 but down from 73 percent in 2013.
Investors held properties for a short period of time at an average of 6.1 years in 2015, down from 8 years in 2014, and 7.9 years in 2013.
Investors also owned fewer properties on average in 2015 (6.4), down from 8.3 in 2014 and 6.5 in 2013.
In a sign of optimism, the vast majority (70 percent) of investors believed their property would increase in value in one year, and three-fourths said the property would increase in value in five years.
Investors expect the property to appreciate an average of 27 percent during their ownership period.
Investors intend to charge a median monthly rent of $1,850 and plan to increase that by $50 (2.7 percent) next year.
Two-thirds (66 percent) of investors paid cash in 2015, essentially unchanged from 67 percent in 2014 and 2013. Investors cited proceeds from a previous investment as the primary source of cash funds (49 percent), followed by personal savings (42 percent), and private investors (20 percent).
While the majority of individual investors were Caucasian/white (55 percent), the share of minority investors grew slightly, increasing from 40 percent in 2014 to 45 percent in 2015.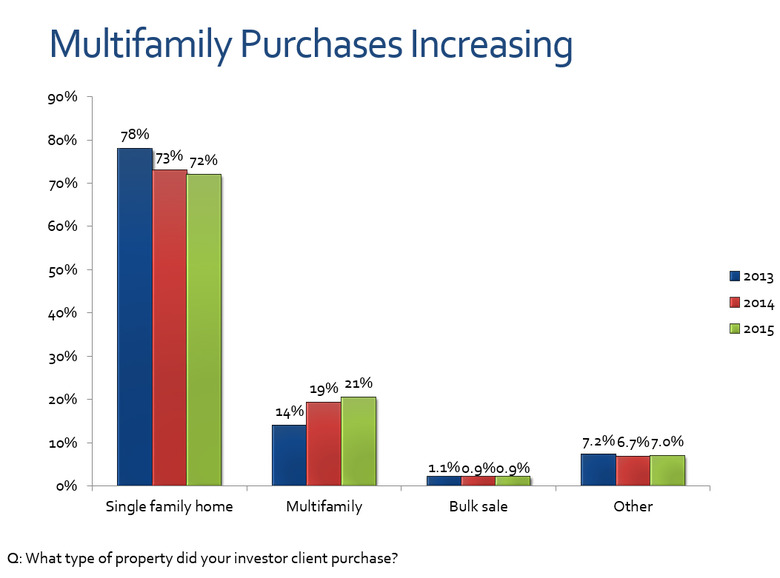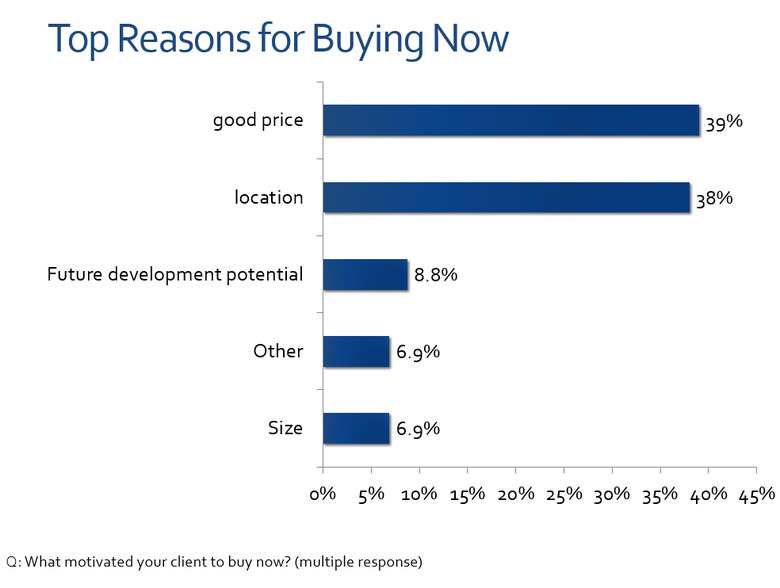 Sign Up Free | The WPJ Weekly Newsletter
Relevant real estate news.
Actionable market intelligence.
Right to your inbox every week.
---
Real Estate Listings Showcase