---
According to a new report by Zillow, federal housing vouchers in the U.S. for low-income renters are too low to cover the market rent in many of the nation's job centers - making them unusable for millions of renters seeking assistance to cover housing costs.
Rents have skyrocketed across the country, especially in growing job markets, where high demand for a limited number of units has made it difficult for renters of any income to find a place to live.
The U.S. Department of Housing and Urban Development (HUD) Housing Choice Voucher program is intended to give renters enough to afford 40 percent of the rentals in their market. The value of the vouchers is set according to HUD's Fair Market Rent index (FMR). However, Zillow's research found that 75 of the 100 largest U.S. counties do not meet this threshold. In 15 counties, voucher holders could rent less than 10 percent of available rentals.
For the typical renter, monthly housing costs require a larger share of income than they did in the 1980s and 1990s. For low-income renters, the situation is much worse. In nearly all of the nation's largest markets, low-income renters can expect to spend more than 45 percent of their monthly income on rent significantly more than the suggested 30 percent that guides most federal policy. Vouchers are designed to help low-income renters afford housing, but long wait lists and the fact that HUD's FMRs aren't keeping up with on-the-ground rents in many markets limit the efficacy of the program.
HUD's FMRs are not increasing at the same pace as actual rents in many places. Fair Market Rent growth trails Zillow Rent Index (ZRI) appreciation in half of the 100 counties analyzed. In Lee County, Florida, home to Fort Myers and Cape Coral, the FMR has risen 2.1 percent since 2012, while the ZRI increased 43.7 percent.
In the counties where voucher-value growth doesn't keep pace with market rents, voucher-holders have fewer options for rental units, and this is especially true in counties where rents are increasing fastest. In Los Angeles County, rents have risen 25 percent since 2012, but FMR has grown only 6.8 percent. Just 7 percent of rental listings in the county are considered affordable even with a housing voucher.
"Many markets with strong rent growth tend to also have the types of jobs that could help renters climb the socioeconomic ladder," said Zillow Chief Economist Dr. Svenja Gudell. "However, many low-income households - even those with a voucher - are increasingly being priced out of these markets, unable to find affordable housing options near these jobs. If rents and HUD's Fair Market Rents continue to move at different paces, this affordability crisis will only worsen for low-income renters."
In most major markets, there are far more renters who need the assistance of a housing voucher than there are vouchers. For people who can't get a housing voucher, the consequences of rising rents can be even more severe. In many major job markets, rising rents lead to a larger homeless population. A five percent increase in rents in the New York metropolitan area would lead to an estimated 3,000 more homeless people. The homeless population in Los Angeles would grow by an estimated 2,000 people if a similar rent increase occurred.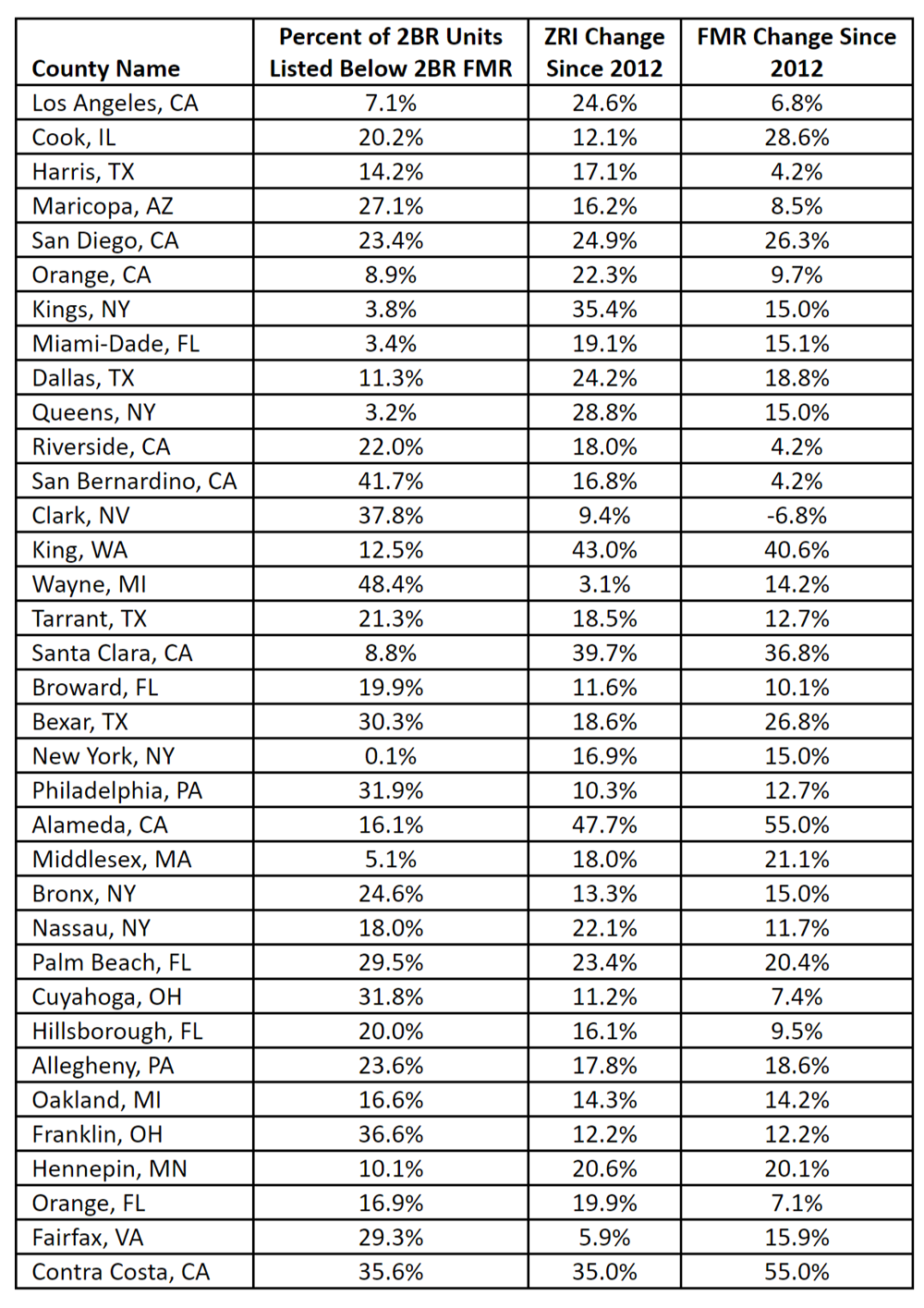 Sign Up Free | The WPJ Weekly Newsletter
Relevant real estate news.
Actionable market intelligence.
Right to your inbox every week.
---
Real Estate Listings Showcase