According to Redfin, sales of new homes in all four major U.S. regions significantly declined in the last two months of 2018. The year-over-year trend was especially drastic in the Northeast, where new-home sales fell by 16.1 percent in December.
Of all four regions, sales of new homes has been in negative territory the longest in the Northeast. That region hasn't experienced growth since January 2017, according to Redfin.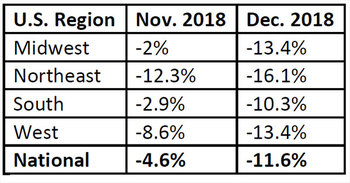 "All around the country homebuyers were backing off at the end of last year due to high prices and high mortgage interest rates, and 2018 tax reform made it even more expensive to buy high-priced homes in high-tax states like Massachusetts, Connecticut and New York. New homes tend to be pricier than existing homes, which is one reason sales of new homes dropped off so much in the Northeast," said Redfin chief economist Daryl Fairweather.
Sales of new homes could pick up in the coming months. Builder confidence is up two points to 58 this month, thanks in part to the recent decline in mortgage rates and continued job growth. Another factor that could contribute to an increase in new-home sales is a decline in the cost of building materials. The price of materials came down 1.8 percent in December.
The U.S. Department of Housing and Urban Development, in conjunction with the Census, typically reports monthly data on new-home sales. Due to the partial shutdown of the federal government, the data for the end of 2018 hasn't been released.
Other market highlights for the fourth quarter of 2018 include:
The median sale price for new homes in the fourth quarter of 2018 was $371,200, essentially unchanged from the same period in 2017. Compare that with existing homes, which had a median sale price of $287,000, up 3.1 percent from the year before.
Supply of new homes was up 7.4 percent annually in the fourth quarter, while supply of existing homes was up 5 percent.
The typical new home was on the market for 91 days, five days less than the year before. Existing homes spent a median of 43 days on market, two days less than the year before.