---
High Rise Towers Now Overshadowing Low-Rises Buildings for the First Time in 30 Years
According to new data from Yardi Matrix, the number of apartment skyscrapers in the U.S. are much more common today than they were three decades ago. From only 8 in the '90s to a skyrocketing 68 in the '10s, residential skyscrapers are fast becoming popular across the country. Between the '00s and the '10s, their number almost doubled.
With demand for apartments strong across the country, combined with the scarcity and value of land sharply increasing, developers in urban areas are looking upwards in their quest to providing a healthy supply of residential units. Thirty years ago, in the '90s, the average apartment building in the U.S. had 3 floors, the following decade the average height was around 4 stories, and this decade, with a boost in high-rise construction, the average building height rose to 6 floors.
The shares of high- and mid-rise buildings are increasing rapidly
The overall trend of apartment buildings growing taller is sustained by a widespread shift to high-rise and mid-rise buildings to the detriment of low-rise buildings. The share of low-rise buildings decreased from 92% in the '90s to 48% of the structures currently being built. The share of mid-rise apartment buildings expanded considerably from 6% of what was built in the '90s, to 41% of what's under construction today. Likewise, high-rise apartment buildings have increased their share from a mere 2% to 11% over the same period of time.
Low-rise buildings losing ground to mid- and high-rise construction
The number of low-rise rental buildings has consistently dropped since reaching a peak in 1999, while mid- and high-rise apartment buildings have really taken off this decade. A clear trend is visible in the data -- that since 2010 mid-rise and high-rise construction has gained in popularity.
This only goes to confirm what has been evident to the naked eye for some time now -- that the larger U.S. cities are getting denser and the apartments we live in are higher and higher off the ground. This is happening in part due to strong demand for urban living and fewer sites to build. Many apartment developers and industry experts agree that there is more vertical development because the cost of land is increasing. The existing and future size of developments is determined by a mix of housing economics, demand and land use regulations, according to Doug Ressler, manager of business intelligence at Yardi Matrix.
High-rise apartment buildings are growing higher and bigger
Developers are building more mid-rise and high-rise buildings to accommodate a larger number of units. Three decades ago, the median number of units of a high-rise building was 243, but it went up by 17 more units in the '00s and 14 more in the '10s, reaching the impressive median number of 274.
Ressler further commented, "Developments are typically constructed to maximize the number of units in each tract of land (within policy governance) and limitations reduce the profitability of development and may discourage development in certain areas which result in fewer units built or higher rents for the units that are constructed".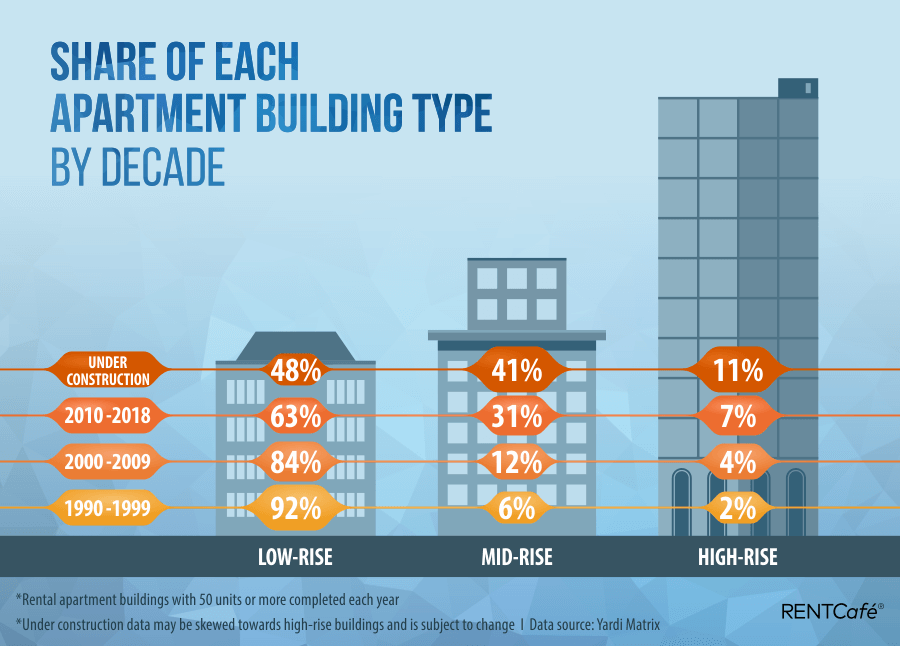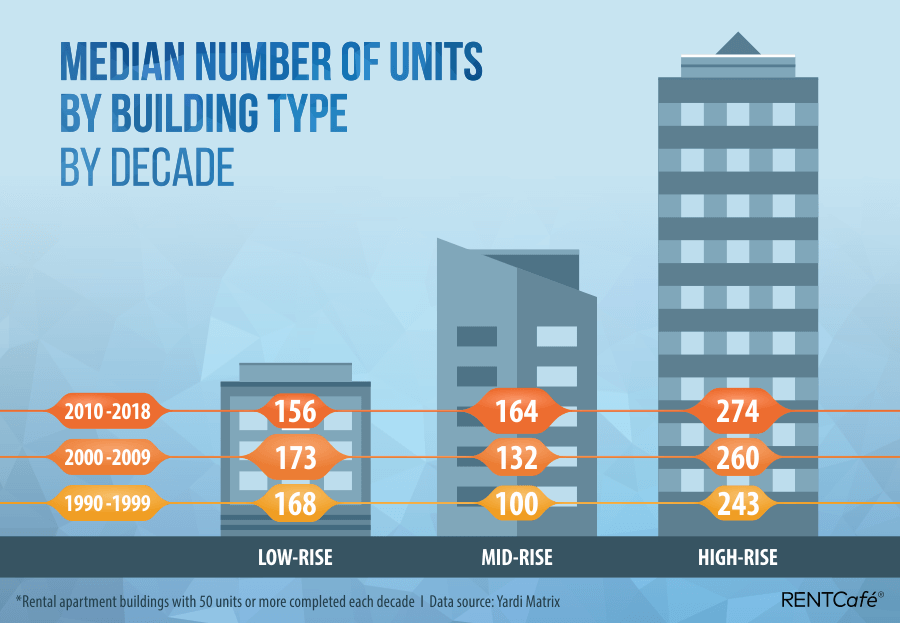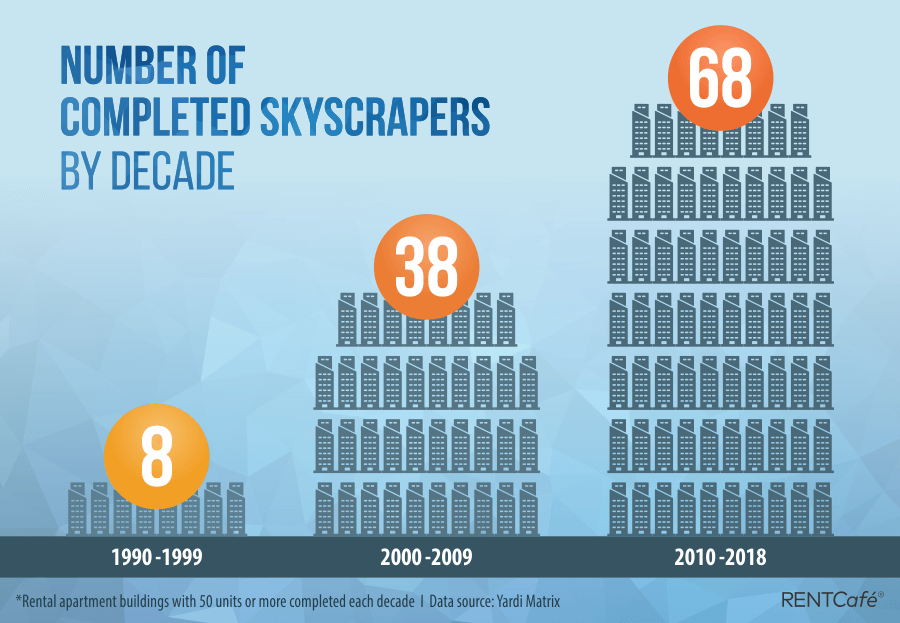 Sign Up Free | The WPJ Weekly Newsletter
Relevant real estate news.
Actionable market intelligence.
Right to your inbox every week.
---
Real Estate Listings Showcase