---
Miami has most risk exposure in U.S., followed by New York City
According to new research by Zillow, rising sea levels are expected to impact $916 billion worth of U.S homes in the next 100 years, most of which are low-end or median-value homes.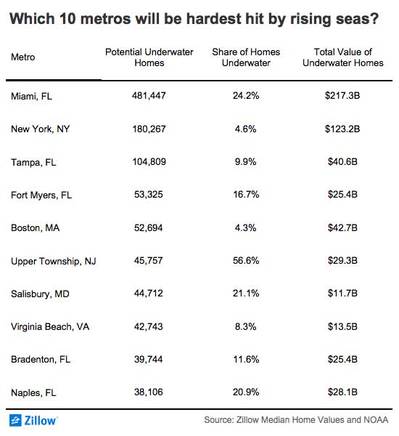 The majority of all homes at risk of flooding due to rising sea levels are in suburban areas - 65.4 percent of homes are in suburban areas, compared to 22.6 percent in urban locations and 12 percent in rural areas.
Overall, 39 percent of the homes expected to be underwater in 2100 are among the nation's most valuable. The rest are near the median value or below - and a quarter are among the least valuable homes. This is significant because less wealthy communities and households are less likely to be able to afford preventative measures to ward off rising seas. For most homeowners, a home is their biggest single investment, and its value is a major share of their overall wealth. Any significant damage to a home is harder to recover from when most of an owner's wealth is tied up in that same home.
Owners of high-end homes are more likely to live in communities with the resources and connections needed to protect their homes, such as building sea walls or making structural changes that help homes withstand floodwaters. But in markets where the majority of homes at risk of rising water are among the least valuable in the area, these options might be out of reach.
Less than 20 percent of homes in Honolulu that are at risk of flooding due to rising sea levels are high-end homes. That means the majority of homeowners who could lose their homes may be less able to make investments to protect their properties, especially lower income homeowners who have to spend a larger share of their income on mortgage payments.
"We've seen the enormous impact flooding can have on a city and its residents," said Zillow Chief Economist Dr. Svenja Gudell. "It's harder for us to think about it on a long-term timeline, but the real risks that come with rising sea levels should not be ignored until it's too late to address them. With organized and committed planning, cities can help protect both current and future residents. Living near the water is incredibly appealing for people around the country, but it also comes with additional considerations for buyers and homeowners. Homes in low-lying areas are also more susceptible to storm flooding and these risks could be realized on a much shorter timeline as we have seen time and time again."  
Miami holds 25.8 percent of all U.S. homes at risk of rising sea levels, which are cumulatively worth $217.3 billion. The three cities with the greatest number of homes threatened by higher sea levels are in the Miami metropolitan area. Fort Lauderdale, Miami Beach and Miami could all lose more than 30,000 homes to sea level increases.
Zillow analyzed the types of homes that could be underwater, absent preventative measures, based on recent estimates of how high sea levels could rise by 2100 due to climate change.
Sign Up Free | The WPJ Weekly Newsletter
Relevant real estate news.
Actionable market intelligence.
Right to your inbox every week.
---
Real Estate Listings Showcase