---
According to Realtor.com's
2014 Housing Review
, this year demonstrated a steady build-up of housing momentum - fueled by significant improvements in economic fundamentals, low mortgage rates, and compressed inventory - and is expected to carry the market into 2015 gains. This review includes the Top 10 Real Estate Trends that defined the 2014 housing market, as well as the Most-Searched Neighborhoods of the year.
"Many of the gains that we recently predicted in the realtor.com 2015 Housing Forecast are built on housing growth established in 2014. Overall, this year's housing market showed steady advances over 2013 with significant improvement in key housing metrics, despite some remaining challenges," said Jonathan Smoke, chief economist for realtor.com. "Increases in job creation and gross domestic product (GDP) have had a significant impact on consumer confidence and home buyer demand. Paired with historically low interest rates, these factors kept properties moving quickly with median time on market at approximately 90 days. Unfortunately, the low number of homes for sale and stringent lending standards prevented a normal number of first time home buyers from closing on their first home in 2014."
Top 10 Real Estate Trends of 2014 Indicators demonstrating a stronger housing recovery:
1. Improving economic fundamentals: After an especially harsh winter earlier in the year, the economy picked up steam and produced a banner year for new jobs. The GDP this year was higher, and is still trending higher, resulting in stronger consumer confidence.
2. Historically low mortgage rates continued: Mortgage rates declined despite the end of quantitative easing this year. Global weakness, along with actions by the European Central Bank and similar central banks in Asia kept our Federal Reserve from raising the Federal Fund Rate, which kept mortgage rates low.
3. Deceleration of abnormal home price gains or return to normal price appreciation: After two years of abnormally high levels of home price appreciation in 2012 and 2013, price increases moderated throughout 2014. We are now experiencing increases in home prices consistent with long-term historical performance.
4. Decline of distressed sales: Foreclosures and short sales declined throughout the year, and while total home sales decreased year over year, normal (non-distressed) home sales increased over 2013 - due to the decline of the distressed sales market. Foreclosure inventories also fell substantially, and are forecasted to be down 30 percent year over year at the close of 2014.
5. End of the era of major investors active in purchases: Related to the drop in distressed sales opportunities, and against backdrop of higher home prices, portfolios of single-family homes for rent potentially reached their peak earlier this year. Large-scale investor purchase activity in the single-family market sector continued to decline, enabling more room for traditional first-time buyers.
Factors holding back recovery:
1. Tight credit standards and limited mortgage availability: Despite historically low rates, many households were prevented from capitalizing on mortgage access because of overlays lenders added to qualification standards in order to limit put-back risk. A tight spread between approved and declined FICO Scores shut out nearly half of the potential population this year. As a result, mortgage credit availability did not improve in 2014.
2. Tight supply of inventory: While absolute inventories increased as the year progressed, supply did not outpace demand. Monthly supply of new homes and existing homes remained beneath normal levels, and the age of inventory was down year over year.
3. Depressed levels of first-time buyers: The share of first-time buyers fell to the lowest level in over twenty years according to the National Association of Realtors. "But the first-time buyer share is showing signs of modest improvement by the year-end," said Lawrence Yun, NAR Chief Economist. Federal policy actions, such as revised regulations for lenders and new low down-payment programs introduced in December are anticipated to have a positive impact in 2015.
4. Record levels of renters and ever-increasing rent prices: Continued declines in homeownership rates resulted in record numbers of renting households. Rent increases became an inflationary concern this year, and looking ahead, the pace of these increases are not slowing down.
5. Lack of recovery in homebuilding and low share of new home sales: Single-family starts barely increased in 2014 over 2013. New home sales remain far from normal share levels - typically near 16 percent, now instead around 9 percent. New home prices increased substantially again this year, revealing that higher priced product is limiting the demand.
"In 2014, we also saw some neighborhoods stand out from the pack, eliciting the most searches on realtor.com for the entire year. The hyper-local markets on this list demonstrate the wonderful diversity of real estate demand across the country," Smoke said. "Median list prices in these most-searched neighborhoods are near $400,000, well above national median of $214,000, as well as their respective metro medians. Homes in these communities are moving quickly as the aggregated median age for the group is almost half of the national median of 90 days."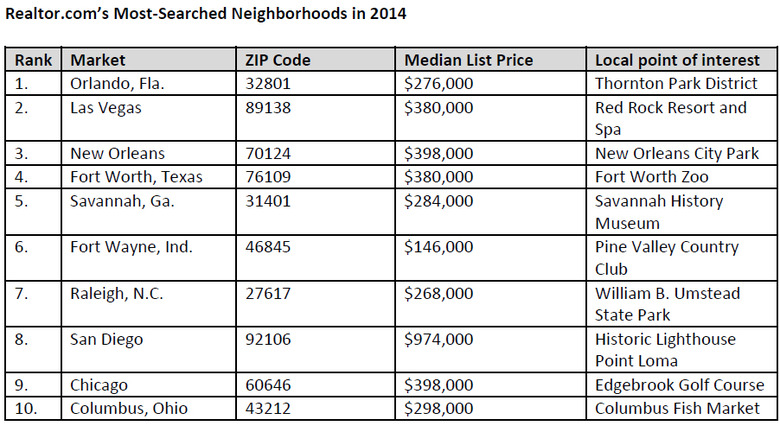 Realtor.com's Top 5 Housing Predictions for 2015
1. Millennials will drive household formations: Both population and households have grown at a slightly higher pace in 2014 and this trend will continue in 2015 with modest improvement over this year's increases. Households headed by millennials will see significant growth as a reflection of economic gains. Millennials will also drive two-thirds of household formations over the next five years. Next year's addition of 2.75 million jobs and increased household formation will be the two key factors driving first-time buyer sales.
2. Existing home sales will increase +8%: Existing home sales will grow as more buyers enter the market motivated by a clear belief that both rates and prices will continue to rise. The increase in home sales year-over-year will be similar to 2012, but this time the composition of properties sold will be more normal with minimal levels of distressed properties. While the majority of housing activity next year will be driven by baby boomers preparing for retirement, millennials will account for 65 percent of first-time home buyer sales in 2015.
3. Home prices will gain +4-5%: Low inventory levels and demand driven by improved employment opportunities will push home prices up next year. While first-time home buyers have many economic factors working in their favor, increasing home prices will make it more difficult to get into high priced markets such as San Francisco and San Jose, Calif. As a result, first-time home buyer activity is expected to concentrate in markets with strong employment and affordability, such as Des Moines, Iowa; Atlanta and Houston.
4. Mortgage rates will end the year at 5%: Mortgage rates will increase in the middle of 2015, as the Federal Reserve increases its target rate by at least 50 basis points before the end of the year. Thirty year fixed rate mortgages will reach 5 percent by the end of 2015. One year adjustable rate mortgages (ARMs) will rise minimally. Lower ARM interest rates will influence an uptick in buyer interest for adjustable and hybrid mortgages. While still at historic lows, rate increases will affect housing affordability for first-timers trying to break into the housing market and will be another factor pushing them to less expensive locales.
5. Home affordability will decrease 5-10: Affordability will decline in 2015 by 5-10 percent, based on home price appreciation and increasing mortgage interest rates. This decline will be somewhat offset by increasing incomes. When considering historical norms, housing affordability will continue to remain strong next year.
Sign Up Free | The WPJ Weekly Newsletter
Relevant real estate news.
Actionable market intelligence.
Right to your inbox every week.
---
Real Estate Listings Showcase