---

Unpaid Federal Workers Now Owe $438 Million in Back Mortgage and Rent Payments

Since the start of the U.S. Government shutdown on December 21, 2018, all aspects of the federal housing, mortgage, and programs of the real estate industry have been impacted.

According to a new survey by the National Association of Realtors of 2,211 NAR members found 75 percent had no impact to their contract signings or closings. However, 11 percent did report an impact on current clients and 11 percent on potential clients.

The National Association of Realtors Chief Economist Lawrence Yun commented, "The housing industry was already facing market challenges before any government closure. The shutdown has made matters worse. A home purchase is a major expenditure that simultaneously involves a high level of excitement and anxiety, and the current government shutdown adds another layer of unnecessary complication to the home buying process. The shutdown is causing tangible harm to potential buyers, the real estate market and economic growth."

If NAR respondents reported an impact on current or potential clients, they were asked further details. Respondents were allowed to pick more than one response, as they may be working with more than one client. The most common impact, at 25 percent, was the buyer decided not to buy due to general economic uncertainty, though they were not a federal government employee. Nine percent of these members had clients who decided not to buy, as their clients are federal government employees. Six percent had a seller who could not sell because their move was impacted by their employment. Three percent had a buyer who was unable to buy due to lender rejection based on furlough (Federal Government employee or contractor).

Three percent had a buyer client who decided not to buy because of lost income or furlough (they are a Federal Government contractor).

Among those impacted by the shutdown, 17 percent had a delay because of a USDA loan, 13 percent had a delay due to IRS income verification, nine percent had a delay due to FHA loans, six percent had a delay due to a VA loan, and nine percent did not cite the reason for the delay.

Other members had lost bids on homes due to the shutdown. These members reported buyers had lost bids due to the following reasons: six percent said buyer was using a FHA loan, four percent buyer was using a USDA loan, and three percent buyer was using a VA loan.

Impacted members also had contracts that were terminated due to the shutdown. Two percent had contracts terminated for each of the following reasons: buyer was using a VA loan, buyer was using a USDA loan, and other reasons not noted. One percent had contracts terminated because the buyer was using a VA loan.

In past shutdowns, 59 percent of respondents were active in real estate and were not impacted. However 13 percent had delayed transactions and three percent had lost transactions.

Zillow research also reports the federal government shutdown will likely delay the processing of approximately 3,500 federally backed purchase mortgages each business day that government offices remain closed.

Zillow further reports about 800,000 workers aren't being paid (some 380,000 are furloughed and another 420,000 are working without pay), and still must find ways to pay for their housing as the shutdown heads into its third week. Zillow estimates that federal employees who are not being paid during the shutdown and own their homes make about $249 million in monthly mortgage payments. A recent HotPads analysis found that renters within that group pay about $189 million for housing each month.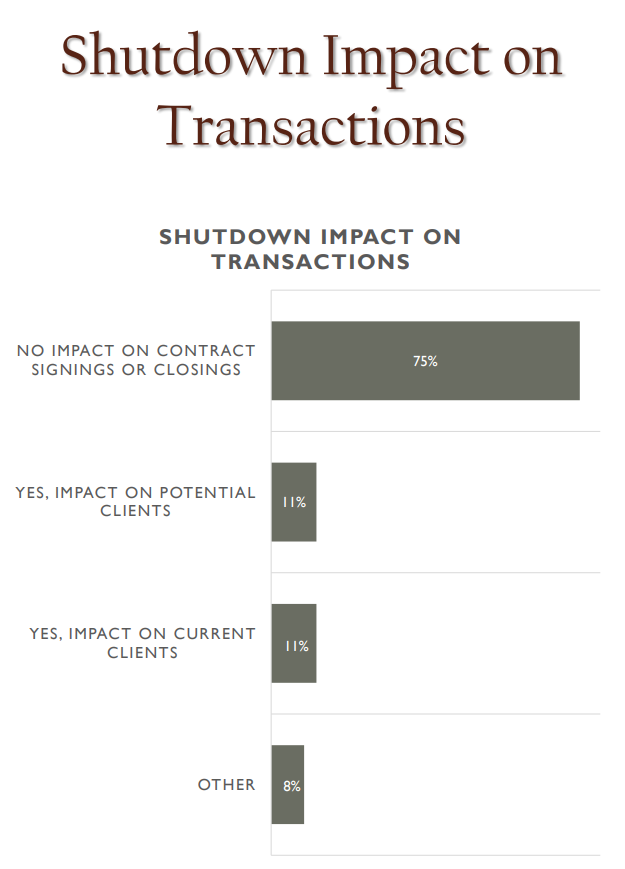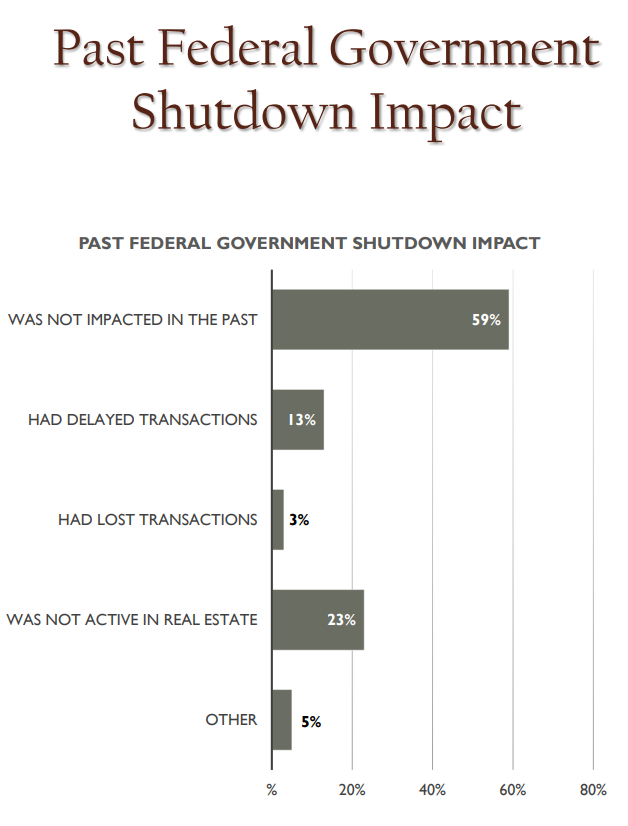 Sign Up Free | The WPJ Weekly Newsletter
Relevant real estate news.
Actionable market intelligence.
Right to your inbox every week.
---
Real Estate Listings Showcase