---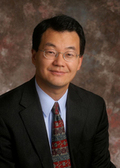 Lawrence Yun
This week the Miami Association of Realtors, in coordination with the National Association of Realtors (NAR), hosted the annual International Real Estate Congress in Miami, which was attended by hundreds of real estate professionals from far away as Russia, Brazil, Mexico, France, Spain and China.
Over the course of this 2-day conference many local, national and international real estate economists, practioneers, developers, bankers and lawyers learned what to expect from the U.S. housing market in 2012.
During a one-hour keynote presentation by Lawrence Yun, NAR's Chief Economist, a detailed presentation showed current housing trends, historical stats and market forces at work at both the local, national and international levels.
According to Yun, U.S. home sales are now running parallel with sales levels from 13-years ago, yet there are approximately 3 million new people added to the U.S. population each year, creating an enormous pent-up demand yet to be realized in the marketplace.
Yun further stated that over 40 million multi-generational family members and friends are now "doubling-up" and living together because of tough economic times--such as, kids moving back in with parents or grandparents, or multiple families sharing a single residence -- who would typically buy homes under normal market conditions.
Origin of Foreign Buyers for Florida Property Purchases in 2011
41% North America (Canada and Mexico)


26% Latin America (including the Caribbean)


23% Western Europe


10% All others
Yun also pointed out that current new home starts are at an all-time low, going back as far as the end of World War II, which indicates that the U.S. market will likely be experiencing a housing shortage in the coming years, once there is a positive turn in the economy and people start getting jobs and buying homes again at normalized levels.
"A large part of the problem hampering new home starts in 2011 (and into 2012) is that home builders can't get construction loans due to very difficult bank credit standards" said Yun.
Yun further commented that "the pendulum has swung from very loose lending standards in the boom years, to very restrictive standards that are choking off the construction market today."
In 2012 Yun predicted that the U.S. economy will continue to putter along at a 1.5% to 2.0% GDP growth rates, and there will be an estimated 1 to 1.5 million new jobs created - still subpar to normal, healthier levels of annualized U.S. growth of 4% or more. Yun also commented that given the expectation that the U.S. unemployment rate of 9% is expected to continue into next year, U. S. home sales in 2012 would be relatively at the same pace as in 2011. Yun also expects interest rates to start rising in 2012 from their historic 60-year lows in mid-2011 by 1% or more.
The main bright spot in Yun's presentation was Miami, Florida.
While he stated he sees somewhat low home price appreciation in most U.S. cities in 2012, Miami was the lone standout with an estimated 10% to 12% double-digit price appreciation expected.
The reason: International buyers.
Miami, once the epicenter of the U.S. housing crisis with almost 25,000 unsold new condos in downtown alone representing over a 19-year inventory supply in 2008 -- now has become the new poster child of the U.S. housing recovery by bucking every national U.S. housing trend since late 2010.
Currently over 68% of all residential sales last month in Miami-Dade County were to foreign buyers, of which over 86% was paid in cash. As for the entire State of Florida, over 25% of all residential sales in 2011 have been to international buyers.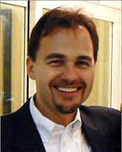 Peter Zalewski
A large reason for such strong buying in South Florida is Latin America's rising economy tied to a very favorable exchange rate against the US dollar. Today, Brazilian's typically buy Miami condos at an additional 40% discount (off the already discounted price) just from the exchange rate. In effect, they are enjoying a double discount.
According to Condo Vultures CEO Peter Zalewski, another presenter at the event, "Over the last 4 years South Florida has effectively become a laboratory of how to resolve and process the U.S. housing crash."
To put Miami's rapid market recovery into perspective; during the boom-era years of rapid real estate development and growth from 2004 to 2008, there were over 180,000 'condo formations' in South Florida (100,000+ apartment units converted to condos, and an additional 80,000 newly built condo units in Palm Beach, Broward & Dade Counties).
In 2008, the rate of pending sales was 9,200 signed contracts a month (all 3 counties in South Florida) from an average monthly inventory pool of 105,000 units.
Now in 2011, the pending sales pace (all 3 counties) is over 28,000 contracts signed each month (300% increase in pace), against a much smaller (over 60% decrease) monthly available inventory of only 42,000 units (all 3 counties).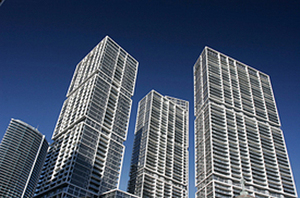 In downtown Miami, the largest condo foreclosure project in South Florida's history was the ICON Brickell, with almost 1,700 unsold condo units foreclosed upon in the spring of 2010. Today less than 60 units remain.
Based on the Miami Association of Realtors, the City of Miami will break every sales record in the history of Dade County in 2011, including the condo boom years of 2006 and 2007, because of the torrid pace of international buyers now flooding the market with cash purchases.
Zalewski told the
World Property Channel
that "Miami has now entered a new era of property expansion with another 17 newly proposed condo towers for Miami in the planning process that could deliver over 4,700 new units into the market within the next 2 years. But the difference now is 'Latin American financing' - developers are getting up to 80% of the purchase price in cash up front."
As one delegate at the conference said this week, "It truly is a difference world down here in Miami; the laws of gravity no longer apply - again."
See related news story on WORLD PROPERTY CHANNEL:
---
Sign Up Free | The WPJ Weekly Newsletter
Relevant real estate news.
Actionable market intelligence.
Right to your inbox every week.
---
Real Estate Listings Showcase