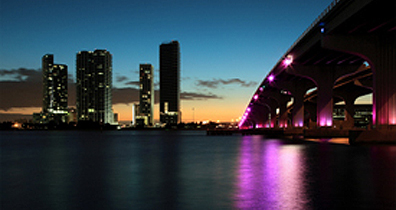 Miami Pending Home Sales in April Up 13%, Buyers Coming From Mexico, India and China
According to the Miami Association of Realtors, the current cumulative pending home sales - including single-family homes and condominiums - in Miami-Dade County increased 13.4 percent compared to a year ago, from 10,456 to 11,860, and dropped a negligible .23 percent, down from 11,887, compared to the previous month
April Contract Activity
The total number of listings, including single-family homes and condominiums, that pended during the month of April increased by 12 percent, from 3,431 to 3,831, compared to the previous year and decreased by 5 percent from 4,030 compared to the previous month.
"Total cumulative pending sales in Miami-Dade County have consistently increased year-over-year for more than two and half years," said Jack H. Levine, 2011 chairman of the board of the Miami Association of Realtors. "While we have seen minor fluctuations month-to-month, overall market fundamentals are strengthening and pointing to rising future demand and sales activity. Home sales this year are expected to exceed sales levels during the height of the real estate boom."
Cumulative Pending Sales on the Rise
Total cumulative pending sales of condominiums continue to outperform that of single-family homes. Pending sales of single-family homes are 8.3 percent higher than they were a year ago, up from 4,542, and are .47 percent below what they were last month, down from 4,896. Pending sales of condominiums are 17.4 percent above what they were a year ago, from 5,914 to 6,941, and .7 percent lower compared to last month, when pending condominium sales totaled 6,991.
"Global interest in our market continues to exceed expectations," said 2011 Miami Association of Realtors Residential President Ralph E. De Martino. "Interest from European, Asian, and Middle Eastern markets is now a reality in South Florida. There is also increasing demand from buyers in countries such as Mexico, India, China that historically have focused on California and western U.S. markets."
Nationally, the Pending Home Sales Index, a forward-looking indicator based on contract signings, dropped 11.6 percent to 81.9 in April from a downwardly revised 92.6 in March, according to the National Association of Realtors. The index is 26.5 percent below a cyclical peak of 111.5 in April 2010.
Increased pending sales are an indication of increased future sales. A sale is listed as pending when a contract is signed but the transaction has not closed, though the sale usually is finalized within one or two months of signing.
---