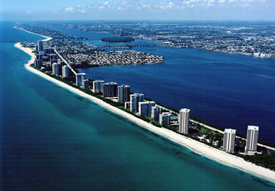 Florida Treasure Coast Developer Drops Oceanfront Condo Prices 43% to Generate Sales
According to Condo Vultures, a Florida developer has slashed the asking price on the remaining 100 units in a new, oceanfront condo project by 43 percent to ignite sales in the luxury complex located in Florida's Treasure Coast.
Prices have slipped below $200 per square foot on some unsold developer units at the two-tower Oceanique condominium located on the barrier island just south of Vero Beach.
When the project first opened in 2007, the average sales price in the 144-unit project was $336 per square foot, according to the report based on St. Lucie County records.
"This veteran developer has finally come to grips with the new world order of pricing for Florida condos, even for oceanfront projects," said Peter Zalewski of Bal Harbour, Fla.-based Condo Vultures, LLC. "Vero Beach is located about three hours north of Miami Beach and two hours southeast of Orlando. The Oceanique does not have a South Beach or Walt Disney World type of location but the new pricing scheme for this oceanfront project may allow the developer to finally overcome that hurdle.
"The reason being, new oceanfront condo units sell for a minimum of $415 per square foot in Greater Miami and nearly $350 per square foot in Fort Lauderdale."
The developer, Oceanique Development Co. with principals Maurice, Michael, and Robert Kodsi of Cocoa Beach, Fla., has sold 41 units at an average price of $277 per square foot through August 2010, according to Florida Secretary of State records.
Boca Raton developer Daniel Kodsi, who is related to the developers of the Oceanique, constructed the 346-unit Paramount Bay condominium in Greater Downtown Miami. In March 2010, a $216-million foreclosure action was initiated against the 47-story tower with more than 610,500 square feet by the project's lead construction lender iStar Financial, according to the South Florida Business Journal.
Starwood Residential is a co-lender on the project that fronts Greater Downtown Miami's Biscayne Bay as a result of acquiring the $3 billion portfolio of the failed condominium construction lender Corus Bank from the Federal Deposit Insurance Corp.
Sales have been slow at the Oceanique project from the onset.
In 2007, the developer of the Oceanique sold 12 units in 2007 at an average of $336 per square foot. An additional three units sold in 2008 at an average price of $323 per square foot. By 2009, prices were cut to $251 per square foot, resulting in 17 sales. In the first eight months of 2010, there have been nine transactions at an average price of $230 per square foot, according to St. Lucie County records.
The new prices for the ready-to-move-in units start at $209 per square foot although there appears to be flexibility as three units transacted during the summer between $193 and $198 per square foot, according to Condo Vultures.
At the end of August, Oceanique had more than 103 units remaining with more than 260,000 square feet of saleable space located in two 13-story towers.
The South Tower has 71 units with nearly 180,000 square feet of saleable space and the North Tower features 32 units with more than 80,000 square feet, according to Condo Vultures.
---