---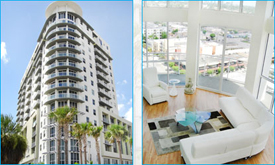 Altos de Miami
According to a new report from Condo Vultures, a Miami bulk buyer struggling to resell individual condos is taking the surprising step of auctioning off most of its remaining units at an asking price of $11 per square foot less than the original acquisition price.
VH Miami Investments LLC with Vicky Haw as principal plans to auction off 37 units out of the remaining 42-unit portfolio at a price of $58 per square foot in the Altos de Miami condominium in Miami's Little Havana neighborhood, according to report based on the auction collateral and government records.
Some 15 months earlier in March 2009, VH Miami Investments purchased 56 units for $4 million, or $69 per square foot, in the troubled 16-story condo tower. At the time of the bulk deal, 69 units had sold in Altos de Miami at an average of $181 per square foot, according to the report based on Miami-Dade County records.
"This is a first for the South Florida bulk market during this latest condo crash," said Peter Zalewski, a principal with the Bal Harbour, Fla.-based Condo Vultures, LLC. "To date, none of the other nearly 50 South Florida bulk buyers that have purchased blocks of new condos in South Florida at deep discounts have taken such a unique exit strategy. Most other bulk buyers are opting to sell units slowly and lease out the remainder.
"Regardless of the results of the auction, there will be some who will undoubtedly wonder whether the original bulk purchase price was simply too high."
VH Miami Investments has had some success reselling its Altos de Miami units on an individual basis, achieving an average price of $135 per square foot. The problem for VH Miami Investments is that only 14 units have retraded, generating $1.6 million in sales, according to Miami-Dade County records.
Industry watchers said a big challenge to selling condos in South Florida today - especially units in projects that are not on the water - is the lack of financing. The U.S. mortgage company Fannie Mae has introduced several programs to make financing more readily available but the lenders have yet to embrace the programs with any vigor.
At the Altos de Miami's proposed average auction price of $58 per square foot, VH Miami Investments would generate at least $2.4 million in sales plus still own five units with 5,200 square feet, according to the report.
It is unknown if the five remaining developer units could ultimately be entered into the auction on the day of the event if the bids are strong.
This is not an absolute auction where the units must be sold to the highest bidder. At this auction, there is an unpublished reserve price that must be reached for a unit to be sold. Under the terms of the auction, the seller has the right to accept or reject all high bids that do not meet the minimum reserve amount, according to the auction literature.
The last auction of a bundle of units in a new Miami condo tower occurred on April 10 when more than five dozen units at the nearby San Lorenzo condominium, also in Miami's Little Havana, attracted a standing-room only crowd of more than 300 people, according to Condo Vultures.
Of the 65 units that were put up for auction, buyers have purchased a combined 31 units to date at an average price of $127 per square foot.
Individual buyers purchased 17 units at an average of $133 per square foot. An additional 14 units were sold to two private equity groups - one entity purchased eight units and the other six units - for an average of about $121 per square foot, according to Miami-Dade County records.
---
Sign Up Free | The WPJ Weekly Newsletter
Relevant real estate news.
Actionable market intelligence.
Right to your inbox every week.
---
Real Estate Listings Showcase