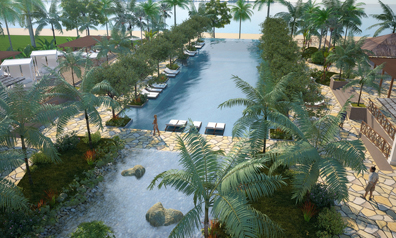 Lux Panama Beach Club Planned for Isla Viveros
Situated just off the coast of Panama City, Newland International Properties Corp. (Newland) announced this week plans for an exclusive Beach Club to be located on Isla Viveros in the Pearl Islands Archipelago. This new Beach Club will be one of the amenities offered by Newland at it's soon to open Trump Ocean Club International Hotel & Tower Panama.
Surrounded by water, beaches, lush landscape and a constant tropical breeze, the Beach Club is positioned to be a spectacular retreat for all who visit. The Beach Club will offer memorable experiences suiting every desire, be it endless days filled with activities or simple relaxation and enjoyment of the tranquil surroundings. Guests and members will be privy to its various amenities and will be catered to by the club's professional and friendly staff who will offer superior service. Amenities at the Beach Club will include a restaurant offering dining both inside and al fresco as well as an oversized pool overlooking the private beach and ocean beyond.
Viveros Resort & Club, the developer of the master plan for Isla Viveros, anticipates that it will make available many other luxurious amenities at Isla Viveros such as a full-service yacht club and marina, which will be large enough to accommodate yachts up to 200 feet, as well as a landing strip. Additionally, Viveros Resort & Club has plans to complete a variety of restaurants and shops.
"After much consideration and planning, we decided that Isla Viveros is the best location in the Pearl Island Archipelago for our Beach Club," explains Roger Khafif, President of Newland. "Not only will our guests and members have access to the many amenities that our private club will offer, but they will also have access to the many other exquisite activities that Isla Viveros has to offer such as the upcoming top-notch, full-service Yacht Club," he added.
The original location for the Beach Club to be provided by Newland as an amenity to the Trump Ocean Club was to be on Contadora Island. Due to zoning laws imposed by island residents on Contadora, Newland had to find an alternative location as commercial development was no longer allowed on Contadora Island. Although Newland still owns the land on Contadora, Newland considers the new location on Isla Viveros to be far better that the Beach Club that was planned for Contadora. According to Khafif, "The Beach Club itself will be larger and will enjoy more than 300 feet of oceanfront."
For those interested in the sparkling waters of the Caribbean, the Beach Club will also offer numerous recreational water activities such as jet skiing, snorkeling and diving. The Pearl Islands are an underwater canvas filled with reefs, rock walls and caves presenting an amazing experience for snorkelers and divers. Fishing charters will be available for deep sea and sport fishing - a preferred activity considering the area's excellent reputation for the sport. Fish are abundant throughout the area and depending on the season, one can find Red Snapper, Grouper, Amberjack, Tuna, Wahoo and Sailfish to name a few. One can also enjoy seasonal whale watching as humpbacks make their way to the Pearl Island's waters each year between July and October.
The Pearl Island Archipelago, or Las Perlas, is a group of 100 or more islands located 30 miles off the coast of the Gulf of Panama. The area is truly blessed as it is free of hurricanes, volcanoes and earthquakes -making it one of the most serene places in the world. Isla Viveros is the fourth largest island in the Archipelago and is located 45 miles southeast of Panama City in the Pacific Ocean. It is approximately eight miles from Isla Contadora and just 250 yards from Isla del Rey.
Construction of the Beach Club has already begun and is anticipated to be completed in 2011.
Newland is the developer of Trump Ocean Club in Panama's exclusive Punta Pacifica peninsula, which it began developing in 2006. Newland has licensed the Trump name for the building Trump Ocean Club from Trump Marks Panama LLC and seeks to set a new benchmark for luxury hospitality at the building not only in Panama, but throughout Latin America.
---