---
Mortgage rate locks for second homes are down nearly 50% from pre-pandemic levels
Based on new data from Redfin, mortgage-rate locks for second homes in the U.S. were down 47% from pre-pandemic levels on a seasonally adjusted basis in August, compared to a 33% decline for primary homes.
August marks the 14th-straight month that second-home demand has hovered at least 30% below pre-pandemic levels, as high housing costs and limited inventory deter would-be buyers. Rate locks for second homes hit a seven-year low in February, dropping to 52% below pre-pandemic levels.
A mortgage-rate lock is an agreement between a homebuyer and a lender that allows the homebuyer to lock in an interest rate on a mortgage for a certain period of time; roughly 80% of rate locks result in purchases.
Demand for second homes is also down from a year ago. Mortgage-rate locks for second homes is down 19% year over year, bigger than the 14% decline for primary homes.
The plunge in mortgage locks for vacation homes comes after they skyrocketed during the pandemic, hitting a peak of 88.5% above pre-pandemic levels in October 2020. Affluent Americans jumped at the chance to snap up second homes with record-low mortgage rates during a time when many of them could work remotely from vacation towns. Demand for primary homes jumped during that time, too, but the increase was much more modest, reaching a peak of 16% above pre-pandemic levels in late 2020.
High prices and loan fees, plus diminishing appeal of rental properties, deter second-home buyers
Mortgage rates rose to a two-decade high in August, keeping demand low for both primary homes and second homes. Still-high home prices, the elevated cost of other goods and services, the uncertain economy, and a lack of new listings are also holding back buyers of both home types.
But the drop in demand for vacation homes is bigger, due to a variety of factors:
It's more expensive to buy a second home. The typical home in a seasonal town--where many second homes are located--sells for $564,000, up 5% from a year earlier. That's compared with $421,000 for homes in non-seasonal towns, also up 5%. Mortgage rates for second homes are also typically higher. Finally, the federal government increased loan fees for second homes in 2022, often adding tens of thousands of dollars to the cost of purchasing a home.
Many workers are returning to the office. The allure of second homes has diminished as many companies call workers back to the office, at least part of the time.
Short-term rentals are less attractive. Buying a vacation home to rent it out on a short-term rental site like Airbnb may be less attractive than it once was. Local governments including New York City are instituting new short-term rental regulations, like new taxes and strict permitting, that cut into profits and make the business more difficult.
The long-term rental market is cooling. Buying a vacation home to rent it out long term is less attractive, too. The rental market has cooled from its pandemic peak; although asking rents are still high, many landlords are being forced to offer concessions to attract renters. Plus, there's a rising number of vacancies for landlords to fill, with many new units set to hit the market soon.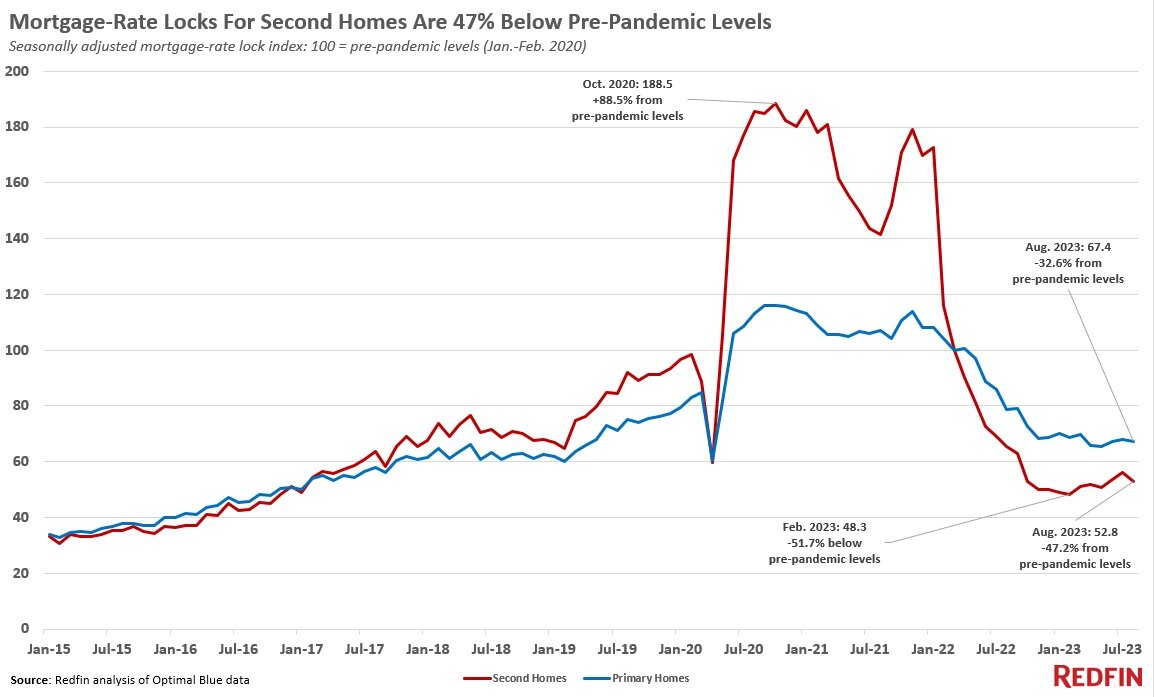 Sign Up Free | The WPJ Weekly Newsletter
Relevant real estate news.
Actionable market intelligence.
Right to your inbox every week.
---
Real Estate Listings Showcase