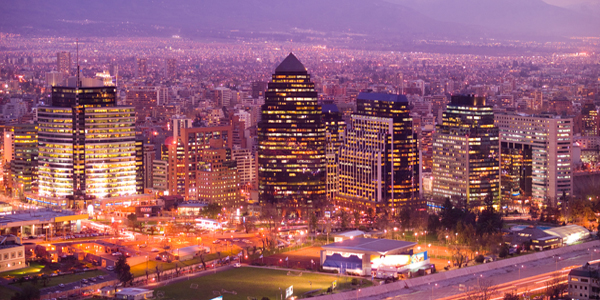 Chilean Residential Real Estate Market Activity at Highest Level in Four Years
Driven by strong economic conditions and increasing credit availability, Chilean residential real estate market activity remains at its strongest level in four years, with at least 56 new projects in Santiago under development. Total authorized area for construction in the first half of the year surpassed 7.5 million square meters. Real estate sales in the second quarter jumped 35 percent year on year.
Based on a report by the Chilean newspaper El Mercurio, 36 apartment building projects in Santiago currently under development constitute a pipeline of 6,212 units. 18 projects comprised of houses represent 1,006 units that will come on line.
On a geographic basis, the highest prices are in the Lo Barnechea district with an average price tag of approximately US $1,055,380 for homes and US $758,590 for apartments. In terms of sale price per square meter, the highest for apartments is in the La Reina area at approximately US $3,686 and the highest for homes is in Lo Barnechea at approximately US $3,524. In Santiago Center, with at least 2,916 units under development, the average sale price per square meter is approximately US $1,922.
In the midst of the Santiago real estate boom, new areas have become magnets for development. In the area near the intersection of Avenida Las Condes and Estoril, for example, it was reported that land values have recently more than doubled from US $574 to US $1,052 per square meter.
Regulations and new infrastructure projects are also playing a role. Due to a new plan regarding height restrictions in Santiago Center, the nearby Central Station area has become an interesting target for potential projects. Nunoa has also witnessed rapid residential real estate growth due to the planned installation of a new metro line.
Reinforcing upward pressure on sale prices and rents, a significant number of current projects will not be delivered for at least a year. In the Las Condes area of Santiago, approximately 45 percent of residential projects reportedly will be delivered in 10-12 months and 26 percent of projects will be delivered between 19-21 months. In Nunoa, 34 percent of projects will be delivered in 16-18 months and nearly 29 percent of projects will be delivered between 22-24 months.
Housing credit markets are also expanding. In the first seven months of the year, it was reported that mortgage placements increased by nearly 9 percent year on year. As of July, total housing loans amounted to approximately US $48 million. Furthermore, on September 14 the Central Bank of Chile and the Superintendency of Banks and Financial Institutions announced a new regulation which will permit banks to issue bonds for the purpose of raising funds for housing credits.