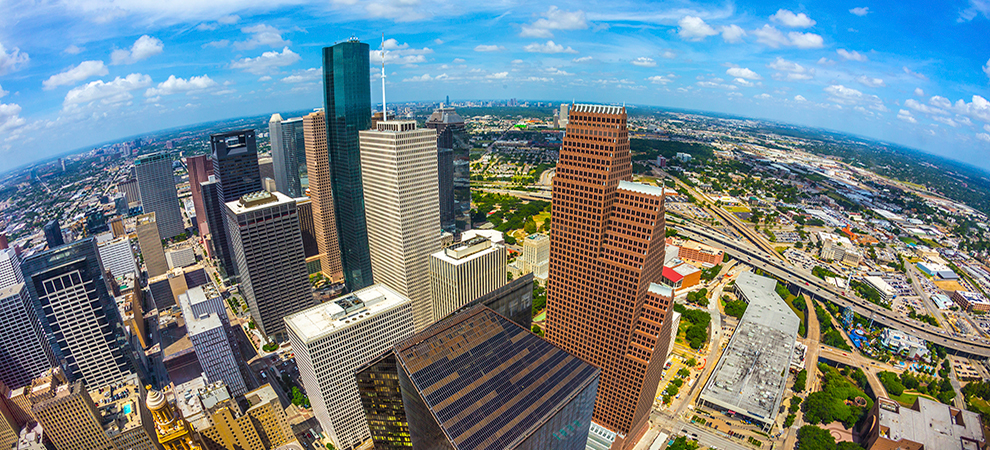 Houston Commercial Market Significantly Improved Post Hurricane Harvey and Oil Crisis
The city of Houston's commercial property markets and oil driven economy seem to have fully rebounded, post Hurricane Harvey and depressed oil prices last year.

That's according to Transwestern's latest TrendLines publication -- Capitalizing on a Transforming Commercial Real Estate Market -- which distills the trends of 2018 and sheds light on issues affecting Houston's future economy and commercial real estate industry in 2019 and beyond.

Transwestern's research is also reporting that through the third quarter of 2018, the Houston economy has displayed marked improvements after weathering the impacts of both Hurricane Harvey and the 2014 oil crash. As energy has recovered over the past year and stabilized with West Texas Intermediate trading in the mid- to high $70s, the job market has turned sharply positive. As of September, year-over-year job growth totaled 128,700, marking an all-time high for the metro.

Rig count is up by 143 year over year, and the Permian Basin is producing more than 3.3 million barrels per day with a forecast to reach 5.4 million barrels per day by 2023, a tremendous benefit to the regional economy. The strengthening of the energy sector only further complements the ongoing diversification and transformation Houston has displayed during recent years. Record breaking year-over-year job growth has highlighted the resurgence of the economy and is currently on pace to finish 2018 with approximately 100,000 net new jobs. In the commercial real estate sector, the economy sets a favorable environment for the future, although each property type has its own unique set of market conditions.

Houston Office Market

The Houston office sector is beginning to show signs of recovery as job growth continues to make strides and the energy industry finds its long-term footing. However, headwinds remain prevalent for the sector, with more than 25 percent of the market listed as available and strong demand for new construction prompting additions to supply in the face of contracting business trends such as rightsizing, telecommuting and hoteling. Despite these concerns, leasing activity is expected to continue to gain momentum.

A full recovery is still down the road and will be measured and submarket driven; however, Houston has shown the ability to absorb large blocks of space in a very short time. It is anticipated that well-located Class A properties will recover first, followed by the backfilling of value-play submarkets. During the near term, absorption should begin to trend in a positive direction with 2019 anticipated to create net positive absorption annually and fourth quarter 2018 remaining positive.

Industrial Market

The industrial sector looks to continue its hot streak as market fundamentals remain strong, activity at the Port of Houston continues to rise, and the evolution of the retail market is increasing demand for last-mile warehouse/distribution space. A robust construction pipeline should only continue to expand during the near term as developers look to satisfy the needs of the market. The rise of new product in conjunction with escalating land costs will continue to apply upward pressure on rental rates; however, price sensitivity of users will constrain growth rates.

Looking to 2019, Transwestern anticipates another strong year for the industrial sector with absorption slightly higher than 10-year averages, ranging from 7 to 10 million square feet. A wave of speculative construction should result in modest increases to vacancy rates, though they will still stay near all-time lows, ranging from 5.1 to 5.4 percent.

Multifamily Market

The Houston multifamily market has continued to display significant increases to occupancy and rental rates following Hurricane Harvey. At the close of the third quarter, market occupancy reached 90 percent, the traditional threshold indicating a stabilized market. This has been driven by solid year-to-date absorption of 9,199 units.

Rental rates have also continued to trend upward year over year, but growth slowed during the quarter with average rates holding steady at $1.17 per square foot. Since Hurricane Harvey, occupancy has increased 2.3 percent, and rental rates have increased by 4.5 percent. Given the market's rapid improvements and strong underlying fundamentals, investors and developers have a sharp focus on the metro area.

Retail Market

Third-quarter activity saw the retail sector continue to thrive as vacancy rates remained below 6.0 percent for the 18th consecutive quarter. Despite the shock waves e-commerce has sent through retailers globally, the Houston retail sector has maintained favorable market conditions while growing rapidly. The market's stability can be attributed to a combination of strong population growth, the intelligent phasing of large developments, and the utilization of prelease commitments prior to construction. As population growth pushes market boundaries further, retail will continue to thrive as it follows rooftops, particularly with grocery-anchored and mixed-use/lifestyle centers.

Healthcare

During the third quarter, Houston medical office metrics strengthened across the board with an increase in asking rents, decreases in both vacancy and total availability, and positive absorption. Year-over-year direct vacancy decreased 50 basis points to 11.4 percent, and total availability decreased 60 basis points to 14.6 percent during the same period. As both vacancy and availability have declined, asking rental rates have increased to $27.46 per square foot, a 460-basis-point jump from $26.26 in third quarter 2017.

Mergers and acquisitions remain elevated as hospital networks look to gain efficiencies of scale to cover rising operational costs and lowered reimbursement rates. With Houston's economy heating up, the underlying fundamentals of high population growth, low cost of living, and urban sprawl place healthcare real estate as a top-tier investment.